Commentary
League cautious when addressing grievances
There isn't a game that goes by without there being a questionable call by an official. And while the league adequately takes notice, there isn't blacklisting, it there? Mike Sando weighs in.
Originally Published:
July 11, 2008
By
Mike Sando
| ESPN.com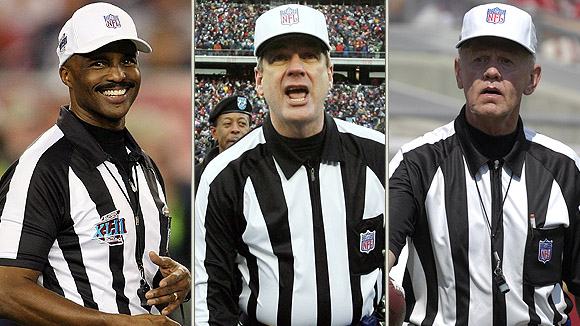 Getty ImagesMike Carey, Jeff Triplette and Gerald Austin each have gone several years without calling games of select teams.
Questionable officiating during his team's tough defeat on national television angered Tom Coughlin enough for the veteran NFL head coach to challenge no fewer than 14 rulings in a complaint to the league office.
While coaches routinely air grievances of varying merit with the NFL's officiating office, the volume and intensity of Coughlin's missive separated this 2001 dispatch from others.
Coughlin, struggling through his seventh season as Jacksonville Jaguars coach at the time, directed much of his anger toward a pass-interference call that allowed the Green Bay Packers to sustain a touchdown drive during their 28-21 victory on Monday Night Football. The penalty had wiped out an interception by the Jaguars even though replays appeared to show little or no contact.
"I've got a hard time trying to figure out how anybody can make that call," Coughlin told the Florida Times-Union at the time.
The NFL acknowledged its error later in the week. The league then assigned the referee in question, Mike Carey, to work games involving every team but the Jaguars over the next four seasons. Carey worked 71 regular-season and playoff games involving each of the other 31 NFL teams from 2002 through the 2005 season, ESPN research showed. He did not work games involving the Jaguars or Coughlin until the 2006 season, after Coughlin had become coach of the New York Giants.
The situation involving Carey, Coughlin and the Jaguars shows how much care the league takes behind the scenes in putting its game officials in position to succeed. The practice also raises questions about whether teams can bully the league into blacklisting referees deemed unsympathetic. The league denied that blacklisting occurs. Officiating director Mike Pereira declined to elaborate beyond a league-issued statement.
"Mike takes many factors into account in making assignments, but the decision is his," league spokesman Greg Aiello said in the statement. "The clubs have no role in the assignment of officials."
Some NFL teams track game officials closely enough to know which ones are more apt to call pass interference or holding. As much as the league advocates consistency in its rules interpretations, standards can vary enough for teams to coach players on how certain of the 17 crews apply specific rules.
That aspect of the game is more widely known, but some coaches and general managers contacted by ESPN.com expressed surprise upon learning that numerous referees hadn't worked games involving specific teams for extended periods after those referees made rulings such as the one Coughlin protested in 2001.
"If I'm an administrator, I'm going to do it exactly that way -- as long as there is no blacklisting of a guy," an AFC team executive said. "Why do you want the situation where the guy walks in building and everyone is barking at him?"
ESPN.com reviewed regular-season and postseason referee assignments for 1,861 games since 2001, identifying more than 50 instances in which a referee went at least three seasons without working a specific team's games.
Obvious factors jumped out as possible explanations in some cases. We rank the cases by duration below:
Seven Seasons
Ed Hochuli and the Denver Broncos, 2001 to present
Circumstantial evidence: On Oct. 8, 2000, Hochuli worked the Broncos' 21-7 victory over the San Diego Chargers. His crew assessed nine penalties for 113 yards against the Broncos, including numerous penalties against the team's offensive linemen. The game also featured three calls against the Broncos for defensive pass interference.
With Hochuli in charge, officials flagged Broncos tackle Matt Lepsis for personal-foul and holding penalties in the first quarter. They flagged guard Dan Neil for illegal use of the hands. The Chargers declined a tripping call against Broncos center Tom Nalen, but a holding penalty against receiver Rod Smith nullified a Denver touchdown when the Broncos were trying to extend a 14-7 lead late in the third quarter.
Hochuli has worked more than 120 subsequent NFL games, including playoffs. He has worked at least three games involving every team but Denver -- and an average of more than seven for every other team -- since the start of the 2001 season.
Six Seasons
Walt Coleman and the Oakland Raiders, 2002 to present
Circumstantial evidence: On Jan. 19, 2002, Coleman's famous tuck-rule reversal during an AFC divisional playoff game turned a sack and lost fumble into an incomplete pass, allowing the Patriots to continue their march toward the tying field goal late in regulation. The Patriots won in overtime. Since then, Coleman has worked games involving every team but the Raiders.
Jeff Triplette and the Philadelphia Eagles, 2002 to present
Circumstantial evidence: On Oct. 23, 2001, Triplette wiped out an Eagles first down on a fake punt when he ruled, after some delay, that Jeff Thomason was an ineligible receiver.
The fourth-quarter call was correct, Eagles coach Andy Reid later acknowledged, but its execution was controversial. Triplette had already announced that the 7-yard gain was legal because Thomason had lined up on the wing. He changed the call after consulting a card showing the Eagles' special-teams alignments. Philadelphia won, 10-9.
Since then, Triplette has worked games for every team but the Eagles and his home-state Panthers.
Gerald Austin and the Green Bay Packers, 2001 to 2006
Circumstantial evidence: On Dec. 17, 2000, Austin's crew called four offsides penalties against the Packers as Green Bay held on for a 33-28 victory. One offsides penalty negated an interception by Green Bay's Bernardo Harris. Another sustained a Minnesota touchdown drive. Austin's crew called the final two offsides penalties against the Packers' kick-return unit after Minnesota scored a touchdown with 28 seconds remaining.
Five Seasons
Larry Nemmers and the Buffalo Bills, 2002 to 2006
Circumstantial evidence: On Dec. 23, 2001, Nemmers worked the Falcons' 33-30 victory over the Bills in the Georgia Dome. His crew assessed 12 penalties for 95 yards against the Bills, compared to five penalties for 43 yards against the Falcons. Bills tight end Jay Riemersma disputed a critical pass-interference penalty called against him. "The guy I was blocking actually told me, 'You didn't hold me, I tripped,'" Riemersma told the Buffalo News.
Four Seasons
Mike Carey and the Jacksonville Jaguars, 2002 to 2005
Circumstantial evidence: Counting the aforementioned pass-interference call against Jaguars cornerback Fernando Bryant, Carey's crew assessed 13 penalties for 111 yards against Jacksonville that night.
Walt Coleman and the Minnesota Vikings, 2003 to 2006
Circumstantial evidence: On Dec. 8, 2002, the Packers came from behind to defeat the Vikings 26-22, but not without some help. The league reportedly admitted nine officiating errors stemming from this game, which culminated with Vikings defensive tackle Chris Hovan pursuing Packers quarterback Brett Favre into the tunnel after the game.
An interference call against Vikings safety Corey Chavous negated an interception during the Packers' winning drive. The Vikings were also upset about the hit Packers safety Antuan Edwards put on Vikings receiver Chris Walsh late in the game.
Tom White and the Pittsburgh Steelers, 2002 to 2005
Circumstantial evidence: On Jan. 27, 2002, Troy Brown's 55-yard punt return for a touchdown helped the New England Patriots upset the Steelers in the AFC title game, 24-17. According to Steelers coach Bill Cowher, White's crew had placed the ball on the wrong hashmark prior to the punt, affecting where the Steelers punted the ball. "In my mind, that's inexcusable," Cowher said afterward.
Three Seasons
Hochuli and the Tampa Bay Bucs, 2002 to 2004
Circumstantial evidence: On Oct. 21, 2001, Hochuli reversed the Bucs' recovery of an onside kick with 28 seconds remaining in the Steelers' 17-10 victory at Tampa Bay. A month earlier, Hochuli upheld a Vikings touchdown with 1:08 remaining as Minnesota held off the Bucs 20-16 in the Metrodome. Hochuli has worked only two games involving Bucs coach Jon Gruden since 2001. Other longtime refs have worked eight or nine Gruden-coached games over the same period.
Terry McAulay and the Cleveland Browns, 2002 to 2004
Circumstantial evidence: On Dec. 17, 2001, fans in Cleveland hurled bottles and other debris onto the field after McAulay's crew used replay to negate a Browns first down. The Browns had already run the next play, it appeared, but replay official Bill Reynolds insisted he had initiated the challenge in time.
McAulay and the San Diego Chargers, 2002 to 2004
Circumstantial evidence: On Oct. 14, 2001, McAulay's crew called a 37-yard pass-interference penalty against the Chargers in overtime, moving the Patriots closer to the game-winning field goal. Regulation had ended with the Chargers missing a 59-yard field goal try after McAulay used replay to turn a Doug Flutie incompletion into a fumble, costing the Chargers 2 yards in field position.
Ron Winter and the New York Giants, 2003 to 2005
Circumstantial evidence: On Jan. 5, 2003, Winter's crew made a critical error that prevented the Giants from running another play during the San Francisco 49ers' 39-38 playoff victory. The league acknowledged the error.
Johnny Grier and the New England Patriots, 2001 to 2003

Circumstantial evidence: On Dec. 25, 2000, Grier's crew ordered the Patriots and Miami Dolphins back onto the field in Foxborough more than 35 minutes after the game had apparently ended. Replays showed Drew Bledsoe had thrown incomplete with 3 seconds left, wiping out a subsequent penalty for an illegal forward pass. The players came back onto the field for one more play, an incomplete Patriots pass that left the Dolphins with a 27-24 victory and the AFC East title.
Tony Corrente and the Carolina Panthers, 2002 to 2004
Circumstantial evidence: On Nov. 25, 2001, Corrente worked the Falcons' 10-7 victory over the Panthers at Ericsson Stadium. With 17 seconds remaining, Corrente upheld a booth-initiated replay challenge of a Panthers interception, allowing the Falcons to take over and run out the clock from their own 43.
Other Notable Cases
Bill Leavy and the Seattle Seahawks, 2006 to present
Circumstantial evidence: In Super Bowl XL, Leavy's crew made several calls that angered the Seahawks. Penalties against Darrell Jackson and Sean Locklear stood out. "We knew it was going to be tough going up against the Pittsburgh Steelers," coach Mike Holmgren told fans in a postgame rally. "I didn't know we were going to have to play the guys in the striped shirts as well."
Triplette and the Carolina Panthers, 2001 to present
Circumstantial evidence: Some referees work games involving teams in their home states. Triplette has not. He lives in North Carolina and once worked at Charlotte-based Duke Energy, which reportedly held 300 personal seat licenses to Panthers games.
Walt Anderson and the Houston Texans, 2002 to present
Circumstantial evidence: Anderson played football at Sam Houston State. He lives in Texas and has never worked a Texans game.
Mike Sando covers the NFL for ESPN.com.
NFL Insider
ESPN Insider NFL columnist and blogger
Covered the NFL since 1998
Member of Pro Football Hall of Fame selection committee
EDITORS' PICKS
Is Jameis Winston still the top pick? Here's how the combine impacted Todd McShay's first-round outlook.
Mock 3.0

The league's extensive analysis of in-game data may yield endless possibilities for the future of the game.
Seifert »

Josh McCown is a great guy. But he isn't a great option to clear up the Browns' unsettled QB position.
McManamon »

MOST SENT STORIES ON ESPN.COM