Commentary
Cutler distances himself from underachieving peers
The 2006 draft boasted several QBs who were billed as big-time talents. But besides Denver's Jay Cutler, the group hasn't lived up to expectations, writes Jeffri Chadiha.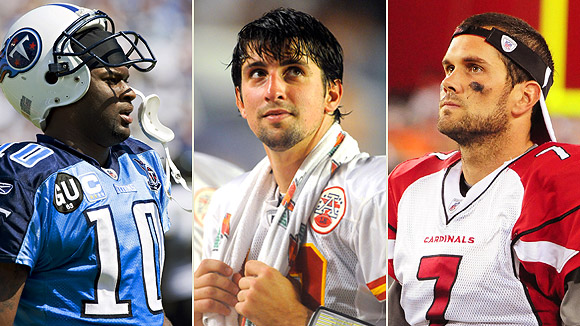 Getty Images/Icon SMI/US Presswire Injuries and inconsistency have plagued third-year QBs Vince Young, Brodie Croyle and Matt Leinart.
It's starting to look like the 2006 NFL draft class isn't going to be remembered as an outstanding crop of quarterbacks. Currently, only Denver's
Jay Cutler
is playing like a seasoned signal-caller with an extremely bright future.
As for his peers? Let's just say it hasn't been a great start for the rest of the quarterbacks who entered the league two years ago with high hopes.
Vince Young
is extremely close to being labeled a head case in Tennessee.
Matt Leinart
is holding a clipboard in Arizona, where he still hasn't found a way to win that team's job outright. Then there are
Kellen Clemens
of the
New York Jets
and
Brodie Croyle
of the
Kansas City Chiefs
, who were selected in the second and third rounds of that draft, respectively. Neither player has done anything to prove he's the legitimate quarterback of the future for his franchise.
Of course, we can't forget about Minnesota's Tarvaris Jackson. He officially lost his starting job last Wednesday when Vikings coach Brad Childress benched him in favor of journeyman backup Gus Frerotte. After watching Jackson complete just over 50 percent of his passes for a team that opened this season with two losses, Childress decided it was better to go with a quarterback whose career record as a starter is just 37-44-1. To be honest, you can't blame the guy.
Jackson simply wasn't getting the job done for a team that was thinking about the Super Bowl when this season started. He's not alone, however. When it comes to the rest of the quarterbacks in the 2006 draft class, there are plenty of players facing all sorts of questions. Here are the three most interesting cases:
Vince Young, Tennessee
The presumption:
Young was supposed to revolutionize the quarterback position when the Titans drafted him third overall in 2006. He had the elusiveness of a tailback in the open field. He had the size (6-foot-5 and 233 pounds) and the arm strength that made coaches believe he could grow into a reliable passer someday. He also showed he had the heart of a champion while leading Texas to the 2005 national championship. Sure, he was raw, but the upside, as far as the Titans were concerned, was tremendous.
The problem: First off, the arm may be strong, but it's not efficient. (Young has thrown 32 interceptions and 22 touchdowns in three seasons.) The running skills also might be more suspect now that he has a sprained left knee that could sideline him for as long as a month. And as for the heart, Young now has a serious public-relations problem, both inside and outside the Titans' locker room.
He couldn't handle the booing he received in the season-opening win over Jacksonville and he wasn't helped by his mother's public comments that all her son needed was a little more love from the fans. If Young can overcome all this drama to reclaim his position as the Titans' leader, it will be the greatest image makeover since Britney Spears found her way back to semi-normalcy.
The prediction: Right now we know one thing -- Titans head coach Jeff Fisher is going to keep starting backup Kerry Collins as long as Tennessee can win games with him. Young will be expected to watch how Collins prepares and to learn from the way Collins handles adversity. You have to assume Young will be back under center at some point this season, if only because the Titans have so much invested in him. But at the moment, it's likely that Titans fans already have seen the best he can offer.
Matt Leinart, Arizona
The presumption:
Leinart would be the steal of the 2006 draft. He dropped to 10th overall after concerns about his arm strength, and his infatuation with the Hollywood scene made some teams think he was a bit overrated. At the time, it was hard to believe a quarterback who won the Heisman and led USC to two national championships would struggle to find his way in the league. If anything, Leinart conveyed so much confidence it seemed likely he would pump his winner's spirit into the moribund Cardinals locker room.
The problem: Two words -- Kurt Warner. If he weren't around, Cardinals coaches might be willing to let Leinart work through some of his flaws -- such as the footwork issues and lack of meticulous preparation.
But the reality is Warner has outperformed him over the last two seasons, and Cardinals head coach Ken Whisenhunt has wisely decided to play the guy who gives his team the best opportunity to win. In defense of Leinart, a broken collarbone hindered his chances of earning the full-time job last season. This year, however, he just played too erratically in the preseason to warrant the confidence of his coaches.
The prediction: The only thing helping Leinart in this situation is the fact that Warner is 800 years old (OK, he's actually 37). But Warner is the NFL's second-highest-rated passer, and you can bet he'd like to hold that job as long as possible. Remember, he spent a good chunk of his career as a nobody with no shot in the league. Players like that don't retire easily. In other words, Leinart had better get used to the bench -- and the possibility that all that talk about his still being this team's quarterback of the future is simply ego-boosting at this stage.
Brodie Croyle, Kansas City
The presumption:
Croyle would give the Chiefs an inexpensive answer at quarterback for a team that would soon be rebuilding. Even though he had a reputation for being injury-prone at Alabama, the Chiefs liked his moxie, mobility and his cannon right arm. This former third-round pick didn't have to be a superstar in the conservative, run-oriented offense head coach Herm Edwards wanted for his team. He only had to manage the game the same way
Chad Pennington
did for the New York Jets when Edwards coached in that organization.
The problem:
Croyle is still injury-prone. He's started seven games in his career and he's been hurt in three of them. His most recent setback came in the season-opening loss to New England when he left that contest with a separated right shoulder that still hasn't healed enough for him to throw a football. It was bad enough that Croyle was playing erratically. But the only thing worse than an inconsistent player is a player who's not consistently available to his team.
The prediction: Unless Croyle improves significantly upon his return, it's hard to imagine the Chiefs having the confidence to stick with him beyond this season. He's a likeable young player with a live arm, but that's just not enough to earn a starting job in this league. You have to make plays, and you have to make the other players believe in you. So far, Croyle appears to be failing on both fronts.
Jeffri Chadiha covers the NFL for ESPN.com.
ESPN.com senior NFL columnist
Reporter for ESPN TV's "E:60"
Sports Illustrated senior writer (2000-07)
Covered Raiders, 49ers for San Francisco Examiner (1996-1999)
EDITORS' PICKS
An OTL report reveals a troubling pattern of behavior by the Ravens, NFL in Ray Rice scandal.
Story »

The commissioner provided contradiction and generalities in a Friday news conference.
Trotter »

Week 3 game predictions from NFL Nation reporters.
Predictions »