Commentary
McNabb bounces back in a big way
Donovan McNabb bounced back with a vintage performance against the Cardinals after being pulled from last week's game, James Walker writes.
Originally Published:
November 27, 2008
By
James Walker
| ESPN.com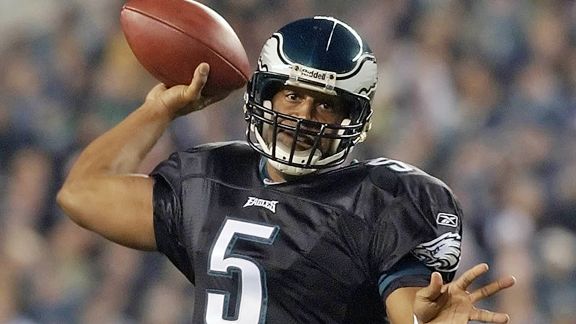 Eric Hartline/US PresswireDonovan McNabb completed 27 of 39 passes for 260 yards and four touchdowns.
PHILADELPHIA -- On Thanksgiving,
Donovan McNabb
had the choice of becoming the toast of Lincoln Financial Field or the holiday turkey.
Philadelphia is known as the city of brotherly love, but too often, that love is conditional.
Ask Allen Iverson, Charles Barkley or even Santa Claus, who hasn't returned to these parts since he was booed and pelted with snowballs 40 years ago.
"He was under some scrutiny, and he was able to block everything out and he went about his business," said Eagles coach Andy Reid, who had benched McNabb just four days prior. "That's a credit to him and the kind of person he is."

After feasting at home all afternoon, Philadelphia fans were anticipating McNabb would be the main course. But the five-time Pro Bowler didn't allow it to happen. He scored a touchdown on the opening drive and completed his first six passes. His seventh throw was an incompletion and drew loud jeers. But that was the last negative vibe in the stadium for the rest of the game. The darts kept coming from McNabb, and so did the points. He was accurate, completing 69.2 percent of his passes. He took care of the football and improvised when necessary, running for 24 yards on broken plays. The same player who had been sullen with a blank stare on the sidelines just four days earlier was once again boisterous and playful with teammates. In many ways, it was vintage McNabb. "You know what, I kind of went back to the basics," McNabb said. "I was watching the film and understanding if the opportunity was there to go down the field, take it. If not, hit the check down and buy time with your legs if you have to. I think that was important." In typical NFL week-to-week fashion, Reid went from goat to prophet. He had predicted a "step back" for McNabb would help him move a "mile" forward. The coach was spot on. And Reid did everything he could to orchestrate a successful night for his franchise quarterback, starting with allowing the defense -- not the offense and the embattled McNabb -- to be introduced before the game. Reid's play calling also improved dramatically. The Eagles were terrific on third downs (10-for-15) and pounded Arizona in short-yardage situations. Philadelphia's coaching staff got tailback Brian Westbrook going early in the running and passing game, and before you knew it, the Eagles led 21-0 early in the second quarter. Westbrook finished with 110 yards rushing and a career-high four total touchdowns. He became the first player since Lydell Mitchell in 1975 to run for 100 yards and score two touchdowns on the ground and two touchdowns through the air. "We need this game to be our springboard," Westbrook said. "We can't lose anymore. We are at that point where we have to man up. We have the team that can do it." With the win, which put them at 6-5-1, the Eagles still have a heartbeat while approaching another must-win game, Dec. 7 at the New York Giants (10-1).

But leave next week for next week. This night was all about McNabb, whose strongest asset always has been his resiliency.

The 10-year veteran overcame being booed the day he was drafted to lead the Eagles to four NFC title games and a Super Bowl appearance. McNabb also survived the Terrell Owens saga and now this season's latest incident. But regardless of what happens the rest of the season, this still could mark the end of the road for McNabb in Philadelphia. He is owed $10.36 million in 2009, none of which is guaranteed, and the Eagles could save $9.2 million in cap space by cutting him. So if these turn out to be McNabb's final weeks in Philadelphia, at least he has left the fans with a lot to cheer for with another signature performance. "I don't focus on what people may say on the outside or how one may feel about me," McNabb said. "When it's all said and done and I decide to hang the shoes up, how do you want to be remembered? This is all important to working on your legacy."

James Walker covers the NFL for ESPN.com
ESPN Miami Dolphins reporter
A Temple graduate and Hyattsville, Md., native who lives in Miami
Joined ESPN in 2008
SPONSORED HEADLINES
MORE NFL HEADLINES
MOST SENT STORIES ON ESPN.COM
EDITORS' PICKS
The NFC North and AFC North are two of four divisions to be settled in a Week 17 packed with intrigue.
Game previews »

Getting these workload warriors to leave the field is no easy task. Here is this year's NFL All-Ironman team.
Pro Football Focus

Can the Lions win in Green Bay? Here are all our Week 17 picks.
NFL Nation »