Commentary
Tip Sheet: Tense times for jobless vets
Players such as LB Thomas still seeking work, but options appear to be severely limited
Originally Published:
June 4, 2010
By
Len Pasquarelli
| ESPN.com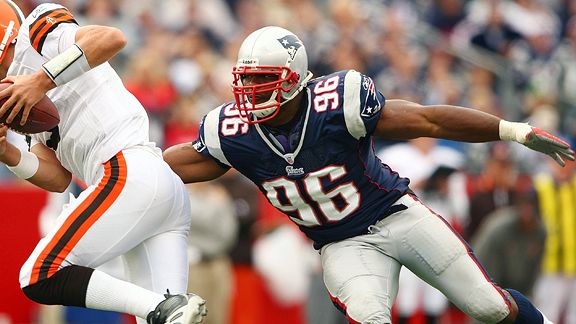 Elsa/Getty ImagesFormer Patriots LB Adalius Thomas is one of several marquee veterans still looking for a job.
In his 10 seasons in the NFL, Adalius Thomas appeared in two Pro Bowl games, was versatile enough to have played both inside and outside linebacker in the 3-4 front, registered five or more sacks in five of the past six campaigns, and pocketed $25 million to $30 million in salaries and bonuses.
But less than two months before training camps open, Thomas, 32 years old and relatively healthy, doesn't yet have a contract for the 2010 season. And although there is still a pretty good chance Thomas will find a roster spot before summer practices commence in late July, this is an uncertain and nerve-racking time for the onetime stud defender.
And for the dozens of veteran players who were standouts in the league for years, yet who remain in the unrestricted market, jobless and unsure of their NFL futures.
"You're still confident in your abilities … but there's some [uneasiness] about not knowing where you're going to be," acknowledged Thomas, who was released by New England in March after playing three seasons of a five-year, $35 million contract that represented a landmark deal when he signed it in 2007.
Or in not knowing whether you're going to be anywhere at all.
This is a tenuous period for some longtime veterans who may have only a short time -- or perhaps no time -- left in the game. Over the past five years, there has been an average of roughly two dozen veterans who didn't officially retire but were instead retired by the NFL because they couldn't find jobs.
This year is probably more of the same.
Top of the heap
Here are five players, who despite various problems, seem likely to sign by the opening of training camps:
OT Flozell Adams:
Veteran blindside protector and five-time Pro Bowl performer has been very durable, playing in all 16 games in 11 of 12 seasons, and starting all 16 in 10 seasons. Twelve-year veteran, released by Dallas in April, might be a valuable insurance policy for a team if he's willing to accept a modest contract.
QB Marc Bulger:
With 95 career starts, former Rams starter is sought after by several teams looking for an experienced backup. Two-time Pro Bowler has thrown for over 22,000 yards in his career, and has three seasons of 3,000 yards and 20-plus touchdown passes each.
LB Keith Bulluck:
Coming off ACL surgery that forced him out of the final two games in 2009. Onetime Titans standout should be recovered later this month and able to work out for interested clubs. Has four seasons of 100-plus tackles, and is solid in pass defense.
G Chester Pitts:
Another player coming off knee surgery, but should be able to work out before camp. Three or four franchises are interested him for line depth. Had started 114 straight games in Houston until his knee injury limited the eight-year veteran to two games in 2009.
RB Brian Westbrook:
A pair of concussions scuttled his '09 campaign, limiting him to eight games, and he had rib and ankle injuries in 2008. But in good demand, and should be able to contribute to a team as a third-down receiver out of the backfield. Has 426 career receptions, and five seasons of 50-plus catches.
-- Len Pasquarelli
The old adage that "a watched pot never boils" translates at this time of year in the NFL into "a watched phone never rings." Silence on the free-agent front is definitely not golden, and clearly unsettling, if you're still unemployed this time of year.
Said former NFL linebacker Willie McGinest, who last year hoped for a call that never came: "The league has a way of telling you that you've retired." Agents who are attempting to pitch clients to teams often don't get callbacks. Players who rely on past associations with coaches or general managers are treated like strangers. Numbers, except maybe those on a minimum-salary contract, don't mean much.
Some clubs are even antsy about investing in the new darling of free agency -- former Rams free safety O.J. Atogwe, who entered the market Thursday -- because he will be 29 later this month and plays a low-priority position. So teams are even more reluctant to spend much on an older player or a veteran of diminishing abilities.
The message might be unspoken at times, but it rarely lacks clarity.
As of Thursday, there were 37 players who started at least eight games in 2009, but who remained unsigned for the upcoming campaign, and who haven't officially retired. The original unrestricted pool has been all but picked over, but there are plenty of veterans who were released by their franchises at various junctures of the spring and are ready to go to work.
The most oft-discussed of those players is arguably wide receiver Terrell Owens, whose résumé includes five Pro Bowl appearances, 1,006 catches and 147 touchdowns. (He is No. 6 in all-time receptions and fifth in touchdowns.) But the loquacious and much-traveled Owens, who started 16 games for Buffalo in 2009 and isn't injured, is hardly alone in the collection of big-name free-agent remnants.
There are reasons, of course, why Owens hasn't been very much pursued by teams: his age (36), financial expectations (rumored to be $5 million per year), declining production, concerns about how he might fit on a club's roster and a problematic history. For many of the unsigned players, even one of those reasons, let alone a combination of them, may be a deterrent. Some of the rationale is overstated -- such as the perception that center Kevin Mawae, 39, who has made the Pro Bowl team in half of his 16 seasons, is president of the NFLPA and thus too closely aligned with the union -- but much of it is real.
Players such as two-time 1,000-yard wide receiver Javon Walker (only 11 games the past two seasons) and two-time Pro Bowl guard Shawn Andrews (two appearances in two seasons) must demonstrate they are rehabilitated from injuries. Defensive linemen are always in demand, but veterans such as Jevon Kearse, Cornelius Griffin, Darren Howard and Leonard Little must prove there are more than just fumes left in the tank. Left tackle Flozell Adams might be an attractive insurance policy for some clubs, but perhaps only at modest salary. Despite his unproductive 2009 season in Cincinnati, when his 43 catches were his fewest since his 2000 rookie year, Laveranues Coles could be a No. 4 wide receiver for a team, some people feel. But a fourth wide receiver must play special teams as well, and Coles doesn't.
Many of the players remaining in unrestricted free agency are simply past their glory days and facing the realization that the statute of limitations on their productive years has expired.
"It's a tough sell, and by nature, you're not talking about the most patient people around," said agent Bill Johnson, who represents former New Orleans defensive end Charles Grant. Grant is facing a four-game league suspension and a civil lawsuit after settling an involuntary-manslaughter case, is coming off a torn triceps that kept him out of the playoffs, hasn't had a double-digit-sack season since 2004, and his team won a Super Bowl without him last year.
"It's hard to tell guys that it might take a while until something develops."
Len Pasquarelli, a recipient of the Pro Football Hall of Fame's McCann Award for distinguished reporting, is a senior writer for ESPN.com.
EDITORS' PICKS
The Lions have decided against using the franchise tag on DT Ndamukong Suh, making him a free agents.
Story »

Clayton's mailbag: The "minimum spend" rule will make free agency interesting. Plus: AP's options and more.
Mailbag »

Kiper: This year's WR class includes three studs, nine potential first-rounders and plenty of potential.
Mel Kiper Jr.

MOST SENT STORIES ON ESPN.COM