Discussion
Surprises, disappointments and predictions for all 32 teams
With the halfway point upon us, Jeffri Chadiha breaks down what all 32 teams have done so far and predicts how they'll fare in the second half.
It's midseason time, and that means there's some evaluating to be done. We know the Patriots and Colts are outstanding. I also know the Giants, Packers and Cowboys are going to battle it out for the top seed in the NFC playoffs.
After that, everything gets a little hazy. That's why I'm offering a quick breakdown of all 32 teams. For each team, I've listed the biggest surprise, the toughest disappointment and, most importantly, how it will finish the season. Enjoy:
NFC East Dallas ...

Read full story
MIDSEASON REPORT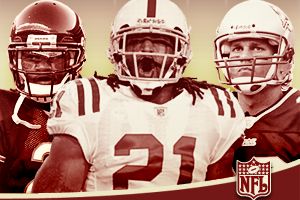 We've reached the midway point of the 2007 NFL season. Time for a review of the first half ... and a sneak peek at the second half.
Looking Back
•
ALL-PROS:
Len Pasquarelli selects his top players on offense and defense, as well as top special teams performers.
Offense/ST
|
Defense
•
TEAM GRADES:
Who passed? Who failed? Scouts Inc. analyzes every team's first half and hands out the grades.
AFC
|
NFC

• Jeffri Chadiha picks out the surprises and disappointments on each team and also predicts each team's season record.
Story
• Scouts Inc.'s Jeremy Green hands out his midseason awards.
Audio

• ESPN experts pick the midseason award winners.
Story
Looking Ahead
• Which games will be most intriguing in the second half? John Clayton picks out his top ones.
Story
• Who'll make the playoffs? Gary Horton makes his predictions ... all the way up to the Super Bowl winner.
Story

SportsNation
•
Vote: First-half player awards
•
Vote: Make your league predictions
•
Vote: Who's an unwatchable pretender?
Fantasy
ESPN.com's fantasy football experts tackled the midseason last week prior to Week 9. Here's what they wrote:
•
Ken Daube: Midseason top 100 players
•
Redrafting at the halfway point