Discussion
Pursuit Of Perfection: Pats chasing the '72 Dolphins
The Dolphins completed a perfect season in 1972. The Patriots appear poised to do the same in 2007.
Originally Published:
December 16, 2007
ESPN.com
• How's your knowledge of sports perfection? Click here to take our latest quiz.
The Perfect Seasons
The Miami Dolphins won each of their 17 games (including playoffs) in 1972, becoming the only team in the modern era to go undefeated in a season. Although other teams have come close, no one has matched the Dolphins' record. But the Patriots, 15-0 after defeating this year's Dolphins on Sunday, are closing in. Here's the breakdown ...

Read full story
PURSUIT OF PERFECTION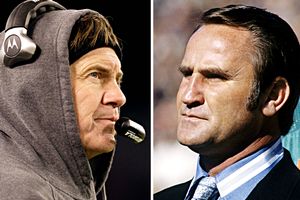 With one more win, Bill Belichick, left, and his Patriots will match Don Shula's 1972 Dolphins, who finished the regular season undefeated. Compare the teams.

1972 Dolphins vs. 2007 Patriots
•
Elizabeth Merrill: '72 Dolphins slowly move on
•
EA SPORTS dream matchup: Who wins?
•
Schlereth: My dream game winner is...

•
Bob Griese: Can't compare 'em

•
Clayton: Miami had perfect formula in 1972
•
ZOOM gallery: 1972 Dolphins vs. 2007 Patriots
•
Pursuit of Perfection: Fins-Pats comparisons
•
Page 2: Pats place in history
|
Rank 'em
Pursuit of Imperfection
•
Sando: '07 Fins have company in futility
•
Reese: Bad season recovery kit
•
Page 2: Worst teams since 1978