Discussion
The Great Improvisers: Romo picks up where Favre leaves off
Tony Romo and Brett Favre are improv experts who take pride in their free-wheeling style. That's not all they have in common, writes Greg Garber.
Originally Published:
November 28, 2007
By
Greg Garber
| ESPN.com
IRVING, Texas -- Careening in that already familiar goofy, loose-jointed style, Tony Romo bolted from the pocket on the Dallas Cowboys' first drive against the Giants on Nov. 11. There were two red-shirted defenders lurking in the middle, however, and he instinctively ducked.
"I was afraid for my life there," the 27-year-old Romo said recently. "As I was going through the line, I took a look at one guy who went to [tight end Jason] Witten.
"There was no one to really ...

Read full story
PACKERS AT COWBOYS (Thursday, 8:15 ET)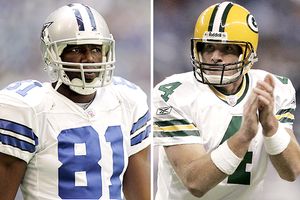 Terrell Owens and the Dallas Cowboys (10-1) play host to Brett Favre and the Green Bay Packers (10-1) on Thursday night in a game that could determine homefield advantage in the NFC playoffs. Only about a third of the homes in the U.S. will be able to watch the game on TV. Here's why

| Discuss the game.

Commentary/features
•
Power rankings: Dallas second, Green Bay third
•
Garber: Romo, Favre are improvising masters
•
Garber: Five improvising QB masters
•
Snoop Dogg raps Tony Romo
•
Clayton: First and 10
•&nbsp
Grant's run to glory
•
Wickersham: Best of weak NFC
•
Packers or Cowboys? Experts make their picks
•
Page 2: Inside Favre's brain
•
Cowboys-Packers through the years
News
•
Clayton: Injury report

ZOOM galleries
•
Top 5 NFL improvisational QBs
•
Top 5 NFL improvisational QBs ever
•
Top 5 college improvisational QBs
Video
•
Steve Young: QB improvisation about awareness
•
Brett Favre: "Play loose but be ready to play"
•
Dissecting Brett Favre's renaissance
•
Keyshawn Johnson's advice for Tony Romo
•
Field Pass: Green Bay vs. Dallas
•
Phillips and McCarthy surprising many
Simulation
•
EA Simulation: The winner in OT is...
Scouts Inc.
•
Tale of the tape: Too close to call
•
Offenses are in high gear
•
Improved Packers' O-line benefits Grant
•
Packers' terrific cornerback tandem
•
Packers' coaches are the key
•
Game could be decided by trench warfare
•
Horton: Notes from the film room