Discussion
T.O. market not robust
Updated:
March 5, 2009, 11:53 AM ET
By
John Clayton
| ESPN.com
Now that he's been released by the Dallas Cowboys, Terrell Owens better not turn on the popcorn machine. He may not have popped his last kernel in the NFL, but his servings are diminishing.
Owens, who advised NFL fans during the past two seasons that they'd better bring their popcorn when watching him and the Cowboys play, may find it hard to get a high-paying job in the NFL. Sure, the Oakland Raiders might be interested. Al Davis loves big-play receivers and he's not ...

Read full story
T.O. TO BUFFALO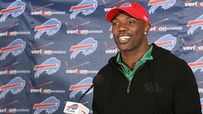 Terrell Owens, released by the Dallas Cowboys, signed a 1-year, $6.5 million with the Buffalo Bills on March 7.
NEWS AND FEATURES
ANALYSIS: BILLS SIGNING
PAGE 2
VIDEO: BUFFALO SIGNING
ANALYSIS: COWBOYS RELEASE
VIDEO: DALLAS RELEASE
AUDIO