Discussion
T.O.'s uphill climb to HOF consideration
Owens has the numbers, but crowded WR field could affect induction
Originally Published:
March 9, 2009
By
John Clayton
| ESPN.com
Terrell Owens has put up Hall of Fame numbers in his NFL career, but that doesn't guarantee first-ballot acceptance into the Pro Football Hall of Fame.
This has nothing to do with Owens' internal struggles with quarterbacks or his troubles in the locker room. Voting rules in the Hall of Fame prohibit balloters from considering off-the-field issues. Unlike HOFs in other sports, voters in the Pro Football Hall of Fame may judge only what a player does on the field.
T.O. TO BUFFALO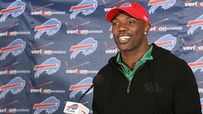 Terrell Owens, released by the Dallas Cowboys, signed a 1-year, $6.5 million with the Buffalo Bills on March 7.
NEWS AND FEATURES
ANALYSIS: BILLS SIGNING
PAGE 2
VIDEO: BUFFALO SIGNING
ANALYSIS: COWBOYS RELEASE
VIDEO: DALLAS RELEASE
AUDIO