Discussion
LBJ and NFL: A fantasy based in reality
Updated:
May 31, 2009, 9:18 AM ET
By
Tim Graham
| ESPN.com
Mark Murphy hasn't merely witnessed the finest receivers of his generation. He has experienced them.
Murphy's 11-year career at strong safety was good enough to get him into the Green Bay Packers' Hall of Fame. He has covered, tackled and occasionally been scorched by legends.
On the subject of greatness, he knows what he's talking about.
"I've been around a lot of great receivers," Murphy said. "I tell people that I rate my top receivers -- coaching, playing or watching -- as ...

Read full story
Could LeBron Play in the NFL?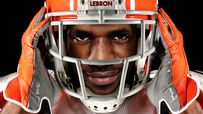 Could LeBron James make the transition from NBA MVP to impact NFL player? You might be surprised by what the experts say.
Story
MORE COVERAGE
PODCAST