Discussion
Toughest job of all sports union heads
An outsider coming in, new NFLPA head DeMaurice Smith faces many challenges
Of all the leaders of major professional sports unions, NFL Players Association executive director DeMaurice Smith clearly has the toughest job right now.
He faces NFL owners pushing for a potential lockout. Retired players still are unwilling to invest complete trust in him. Then there are the high expectations that come with being a hotshot lawyer who impressed the current players into giving him the job five months ago. Basically, Smith doesn't have the luxury of easing into his position. ...

Read full story
PRO SPORTS UNION LEADERS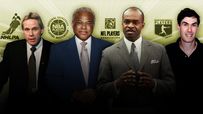 You might not know these men by sight. But chances are, you're all too familiar with the issues their sports face.
ESPN FAN SHOP