Discussion
Schedules loom large in big picture
Originally Published:
July 27, 2009
By
John Clayton
| ESPN.com
For weeks, I've been getting two or three questions a week about my theories regarding the NFL schedule.
Some readers think the schedule's impact is minimal because it's balanced leaguewide. They say teams in the same division play 14 games against common opponents and only two games against non-common opponents. Others say you can't project how a team is going to do before the season when you don't know what its opponents are going to do. Those points are valid.
Still, you ...

Read full story
PRESEASON NFL COVERAGE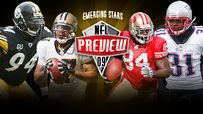 BLOGS
EMERGING STARS
AFC CAMP CONFIDENTIAL
NFC CAMP CONFIDENTIAL
FOOTBALL OUTSIDERS
COLUMNS/FEATURES