Discussion
Knee keeps Haynesworth out again
Updated:
August 3, 2009, 6:54 PM ET
Associated Press
ASHBURN, Va. -- Albert Haynesworth's knee kept him from a full practice for the second straight day, forcing him and the Washington Redskins to play their best defense against any cause for alarm.
"It's not serious," Haynesworth said as he walked off the field following Monday's workout. "If I had to play today, I could play today."
The centerpiece of the Redskins' offseason acquisitions -- with a contract that includes an NFL-record $41 million in guaranteed money -- Haynesworth ...

Read full story
PRESEASON NFL COVERAGE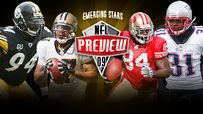 BLOGS
EMERGING STARS
AFC CAMP CONFIDENTIAL
NFC CAMP CONFIDENTIAL
FOOTBALL OUTSIDERS
COLUMNS/FEATURES