Discussion
Cromartie tweets food, then gets fined
Updated:
August 4, 2009, 11:23 PM ET
Associated Press
SAN DIEGO -- Hey Antonio Cromartie, tweet this -- you're busted!
The San Diego Chargers have fined their star cornerback $2,500 for using Twitter to wonder whether the "nasty food" has contributed to the Bolts failing to make it to the Super Bowl in recent years.
Cromartie said he was pulled out of a meeting by Twitter cop/head coach Norv Turner and notified that he was being fined. Cromartie also was a given a letter that spelled out the fine.
The fourth-year pro had ...

Read full story
PRESEASON NFL COVERAGE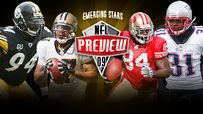 BLOGS
EMERGING STARS
AFC CAMP CONFIDENTIAL
NFC CAMP CONFIDENTIAL
FOOTBALL OUTSIDERS
COLUMNS/FEATURES