Discussion
Wilson valued for impact on past, future
Originally Published:
August 6, 2009
By
Seth Wickersham
| ESPN The Magazine
Saturday in Canton, Ohio, Ralph C. Wilson Jr. will become the oldest person inducted into the Pro Football Hall of Fame.
He's 90, and not getting any younger. In recent years, Wilson often has spoken about his death and what it'll mean for the team he owns, the Buffalo Bills -- and more specifically, for Buffalo and the NFL as we know it.
A champion for small-market teams, Wilson has declared that the Bills won't remain in his family after he dies. The team Wilson has owned ...

Read full story
2009 HALL OF FAME INDUCTION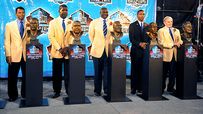 On Aug. 8, the Pro Football Hall Of Fame welcomed the Class of 2009: Rod Woodson, Ralph Wilson, Bruce Smith, Derrick Thomas, Randall McDaniel and Bob Hayes. Blog


NEWS
COMMENTARY/FEATURES
VIDEO
AUDIO
CHATS
PHOTOS
2009 HALL OF FAME CLASS
BOB HAYES

Position: Wide receiver
Teams: Cowboys/49ers
Years: 1965 to 1975
Seasons: 11
Presented by: Roger Staubach
Honors and achievements:
• Seventh-round choice in 1964
• Four-time all-NFL performer
• Cowboys-record 71 TDs
RANDALL MCDANIEL

Position: Guard
Teams: Vikings/Buccaneers
Years: 1988 to 2001
Seasons: 14
Presented by: O.K. Fulton
Honors and achievements:
• First-round pick in 1988 draft
• Blocked for six 1,000-yard rushers
• Selected to 12 consecutive Pro Bowls
BRUCE SMITH

Position: Defensive end
Teams: Bills/Redskins
Years: 1985 to 2003
Seasons: 19
Presented by: Ted Cottrell
Honors and Achievements:
• No. 1 overall pick in 1985 draft
• NFL's all-time leader in sacks (200)
• Member of four consecutive AFC championship teams

DERRICK THOMAS

Position: Linebacker
Team: Kansas City Chiefs
Years: 1989 to 1999
Seasons: 11
Presented by: Carl Peterson
Honors and achievements:
• Finished career with 126½ sacks
• Member of the NFL's all-decade team in 1990s
• Selected to nine Pro Bowls

RALPH WILSON JR.

Position: Founder/owner
Team: Buffalo Bills
Years: 1960 to present
Seasons: 50
Presented by: Chris Berman
Honors and achievements:
• One of the original founders of American Football League
• Formed Bills in 1959
• Served on NFL pension committee among others

ROD WOODSON

Position: Cornerback/safety
Teams: Steelers/49ers/Ravens/Raiders
Years: 1987 to 2003
Seasons: 17
Presented by: Tracy Foster
Honors and achievements:
• Member of NFL's 75th-anniversary team
• Selected to 11 Pro Bowls
• 71 career interceptions