Discussion
Ex-Eagle Runyan cleared to work out
Anybody need a right tackle who has started 192 consecutive NFL games?
Former Philadelphia Eagles right tackle Jon Runyan began running for the first time on his surgically repaired right knee after his surgeon, Dr. James Andrews, medically cleared him to begin putting repetitive pressure on his leg -- with the goal of working out for an NFL team soon.
"I'm cleared to do everything," said Runyan, "except hit people. And I'll be able to do that in about two weeks."
Runyan ...

Read full story
PRESEASON NFL COVERAGE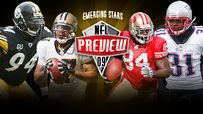 BLOGS
EMERGING STARS
AFC CAMP CONFIDENTIAL
NFC CAMP CONFIDENTIAL
FOOTBALL OUTSIDERS
COLUMNS/FEATURES