Discussion
Ex-Bronco speaks highly of McDaniels
Updated:
August 27, 2009, 12:40 AM ET
Associated Press
ENGLEWOOD, Colo. -- Now that they've been separated for five months, Chicago Bears quarterback Jay Cutler has high praise for Denver Broncos rookie coach Josh McDaniels, whom he'll see in a preseason game at Invesco Field this weekend.
Cutler says in the brief time he spent with McDaniels he could tell Bill Belichick's latest disciple was an offensive mastermind. Cutler said the Broncos are in good hands with McDaniels and quarterback Kyle Orton.
"He's going to be a good coach," ...

Read full story
PRESEASON NFL COVERAGE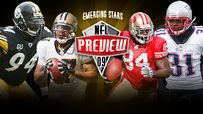 BLOGS
EMERGING STARS
AFC CAMP CONFIDENTIAL
NFC CAMP CONFIDENTIAL
FOOTBALL OUTSIDERS
COLUMNS/FEATURES