Discussion
Ochocinco fined for orange chin strap
Updated:
August 29, 2009, 3:03 PM ET
ESPN.com news services
Cincinnati Bengals receiver Chad Ochocinco was fined $5,000 for wearing an orange chin strap during a preseason game.
Ochocinco first wrote about the fine on his Twitter account Saturday, saying, "WTF I got a damn fine already, it's the damn preseason, this is some b-------!!!!"
Rule 5, Section 4, Article 3(a) specifies that all players must wear a "Helmet with chin strap (white only) fastened and face mask attached."
On his Twitter account, Ochocinco said he was suing ...

Read full story
PRESEASON NFL COVERAGE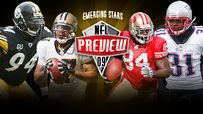 BLOGS
EMERGING STARS
AFC CAMP CONFIDENTIAL
NFC CAMP CONFIDENTIAL
FOOTBALL OUTSIDERS
COLUMNS/FEATURES