Discussion
Mornhinweg: Vick will help, not hinder
Updated:
August 30, 2009, 7:09 PM ET
Associated Press
PHILADELPHIA -- Eagles offensive coordinator Marty Mornhinweg doesn't think the addition of Michael Vick will disrupt the rhythm of Philadelphia's offense.
"Not at all," he said Sunday before practice. "We'll straighten that out. We'll take care of that. Michael is going to help this offense. I'm confident of that."
Vick was involved in just six plays Thursday night in the team's preseason game against Jacksonville. Quarterback Donovan McNabb told Mornhinweg and coach Andy Reid ...

Read full story
PRESEASON NFL COVERAGE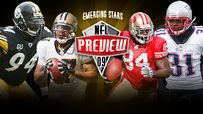 BLOGS
EMERGING STARS
AFC CAMP CONFIDENTIAL
NFC CAMP CONFIDENTIAL
FOOTBALL OUTSIDERS
COLUMNS/FEATURES