Discussion
Gaither takes over for Mays at MLB
Updated:
August 30, 2009, 8:13 PM ET
Associated Press
PHILADELPHIA -- The Philadelphia Eagles are changing their starting middle linebacker two weeks before the start of the regular season.
Omar Gaither is taking over for Joe Mays. Mays had replaced Stewart Bradley, who is out for the season with a torn ACL. Gaither was the starter in 2007.
"I'm going home," Gaither said Sunday. "I feel like Dorothy. I didn't click my heels, but I got down on my knees and prayed a lot."
Gaither had been bothered by a sore knee throughout ...

Read full story
PRESEASON NFL COVERAGE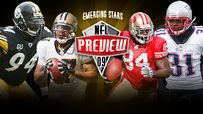 BLOGS
EMERGING STARS
AFC CAMP CONFIDENTIAL
NFC CAMP CONFIDENTIAL
FOOTBALL OUTSIDERS
COLUMNS/FEATURES