Discussion
Orton out with cut on finger
Updated:
August 30, 2009, 11:32 PM ET
Associated Press
DENVER -- Denver Broncos quarterback Kyle Orton has been taken to the locker room after cutting his right index finger on a helmet in the second quarter against the Chicago Bears.
After his follow-through on an incomplete pass to Correll Buckhalter, Orton appeared to graze a helmet. He immediately glanced down at his bloody finger, held it up for the sideline to see and then trotted off the field.
He was taken to the locker room and all the Broncos would say about it was that he had ...

Read full story
PRESEASON NFL COVERAGE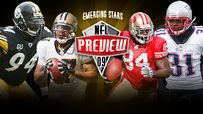 BLOGS
EMERGING STARS
AFC CAMP CONFIDENTIAL
NFC CAMP CONFIDENTIAL
FOOTBALL OUTSIDERS
COLUMNS/FEATURES