Discussion
Robinson ends holdout with deal
Updated:
September 6, 2009, 3:37 PM ET
Associated Press
HOUSTON -- Dunta Robinson and the Houston Texans were moving ahead Sunday after the star cornerback ended his holdout and signed the one-year deal the team had been offering all along.
He took his physical early in the morning, then worked out for coaches.
"I feel like being a rookie all over again," Robinson said. "I walked in here and all the guys they welcomed me with open arms with a lot of high-fives and a lot of hugs. It's good to be back."
Coach Gary Kubiak said there ...

Read full story
2009 NFL PREVIEW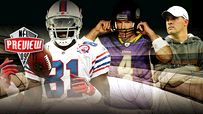 POWER RANKINGS
COMMENTARY/BLOGS
TEAM PREVIEWS
BACKUP QB PLANS
RANKING TODAY'S QBs
Wednesday, Sept. 2: We turned to a former Super Bowl-winning QB to provide a unique take on today's bunch. Trent Dilfer
HOW THEY DO IT
Thursday, Sept. 3: Breaking down AFC offensive, defensive philosophies. Scouts
Friday, Sept 4: Breaking down NFC offensive, defensive philosophies. Scouts
PREDICTIONS
10 BIG QUESTIONS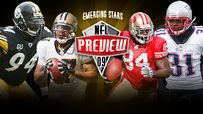 EMERGING STARS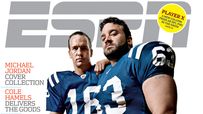 ESPN THE MAGAZINE (INSIDER)
PAGE 2