Discussion
Merriman denies harming reality TV star
Updated:
September 8, 2009, 8:23 AM ET
Associated Press
SAN DIEGO -- San Diego Chargers star outside linebacker Shawne Merriman said he did not harm reality TV star Tila Tequila at his home early Sunday and added he was concerned for her safety because she appeared to be intoxicated.
Merriman was arrested and accused of choking and throwing Tequila to the ground as she tried to leave his home in suburban Poway. Tequila signed a citizen's arrest warrant charging Merriman with battery and false imprisonment. Both are felonies.
Merriman ...

Read full story
2009 NFL PREVIEW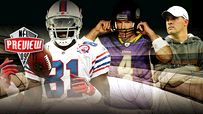 POWER RANKINGS
COMMENTARY/BLOGS
TEAM PREVIEWS
BACKUP QB PLANS
RANKING TODAY'S QBs
Wednesday, Sept. 2: We turned to a former Super Bowl-winning QB to provide a unique take on today's bunch. Trent Dilfer
HOW THEY DO IT
Thursday, Sept. 3: Breaking down AFC offensive, defensive philosophies. Scouts
Friday, Sept 4: Breaking down NFC offensive, defensive philosophies. Scouts
PREDICTIONS
10 BIG QUESTIONS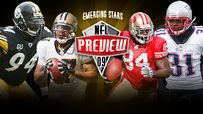 EMERGING STARS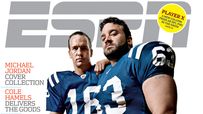 ESPN THE MAGAZINE (INSIDER)
PAGE 2