Discussion
Browns tackle Rogers practices
Updated:
September 7, 2009, 6:09 PM ET
Associated Press
BEREA, Ohio -- Cleveland Browns Pro Bowl nose tackle Shaun Rogers returned to practice, increasing the chances he'll play in the season opener against Minnesota.
Rogers did not play in the exhibition season with an unspecified injury. For the past three weeks, he rode the stationary bike while his teammates practiced. The 6-foot-4, 350-pounder had 81 tackles and 4½ sacks in 16 games last season, his first with Cleveland.
Rogers participated in position and individual drills ...

Read full story
2009 NFL PREVIEW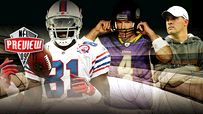 POWER RANKINGS
COMMENTARY/BLOGS
TEAM PREVIEWS
BACKUP QB PLANS
RANKING TODAY'S QBs
Wednesday, Sept. 2: We turned to a former Super Bowl-winning QB to provide a unique take on today's bunch. Trent Dilfer
HOW THEY DO IT
Thursday, Sept. 3: Breaking down AFC offensive, defensive philosophies. Scouts
Friday, Sept 4: Breaking down NFC offensive, defensive philosophies. Scouts
PREDICTIONS
10 BIG QUESTIONS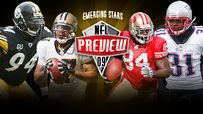 EMERGING STARS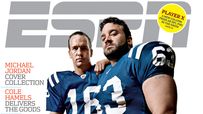 ESPN THE MAGAZINE (INSIDER)
PAGE 2