Discussion
Bulger working with broken pinkie
Updated:
September 9, 2009, 4:53 PM ET
Associated Press
ST. LOUIS -- Four days away from the opener, Marc Bulger took direct snaps for the first time since breaking his right pinkie. The Rams quarterback said Wednesday he's not pain-free, but it's good enough, barring a setback in the next two days, to play at Seattle.
"I wouldn't say no discomfort," Bulger said. "But it was bearable. If it goes like today, I'd say I'm starting 100 percent."
Coach Steve Spagnuolo also announced that offensive tackle Jason Smith, the second overall ...

Read full story
2009 NFL PREVIEW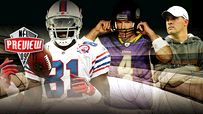 POWER RANKINGS
COMMENTARY/BLOGS
TEAM PREVIEWS
BACKUP QB PLANS
RANKING TODAY'S QBs
Wednesday, Sept. 2: We turned to a former Super Bowl-winning QB to provide a unique take on today's bunch. Trent Dilfer
HOW THEY DO IT
Thursday, Sept. 3: Breaking down AFC offensive, defensive philosophies. Scouts
Friday, Sept 4: Breaking down NFC offensive, defensive philosophies. Scouts
PREDICTIONS
10 BIG QUESTIONS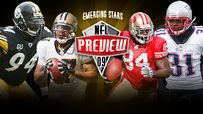 EMERGING STARS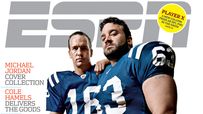 ESPN THE MAGAZINE (INSIDER)
PAGE 2