Discussion
T.O. says he'll 'deal with it'
Updated:
September 9, 2009, 6:47 PM ET
Associated Press
ORCHARD PARK, N.Y. -- Receiver Terrell Owens doesn't have a problem with the Buffalo Bills no-huddle offense, except that it's tiring him out.
Owens raised eyebrows on Wednesday when he said he wasn't much of a fan of the Bills new scheme.
"No, not really, but I gotta deal with it," the receiver said in a conference call with members of the Patriots media as the Bills prepare to open the regular season at New England on Monday.
Owens laughed after making that statement, ...

Read full story
2009 NFL PREVIEW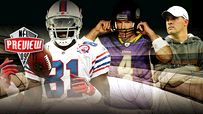 POWER RANKINGS
COMMENTARY/BLOGS
TEAM PREVIEWS
BACKUP QB PLANS
RANKING TODAY'S QBs
Wednesday, Sept. 2: We turned to a former Super Bowl-winning QB to provide a unique take on today's bunch. Trent Dilfer
HOW THEY DO IT
Thursday, Sept. 3: Breaking down AFC offensive, defensive philosophies. Scouts
Friday, Sept 4: Breaking down NFC offensive, defensive philosophies. Scouts
PREDICTIONS
10 BIG QUESTIONS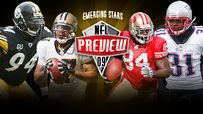 EMERGING STARS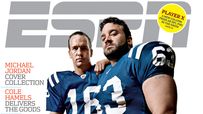 ESPN THE MAGAZINE (INSIDER)
PAGE 2