Discussion
Rivers fined $7,500 for taunting
The NFL fined San Diego quarterback Philip Rivers $7,500 for taunting in San Diego's 24-20 comeback win over Oakland, an NFL spokesman said.
Rivers threw the ball at the ground, took his mouthpiece out and said something in the direction of Oakland defensive tackle Gerard Warren during the third quarter on Monday night. He was penalized 15 yards.
After the game, Rivers denied that he was taunting Warren.
Rivers led two Chargers touchdown drives, including an 89-yard drive ...

Read full story
2009 NFL PREVIEW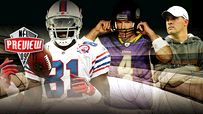 POWER RANKINGS
COMMENTARY/BLOGS
TEAM PREVIEWS
BACKUP QB PLANS
RANKING TODAY'S QBs
Wednesday, Sept. 2: We turned to a former Super Bowl-winning QB to provide a unique take on today's bunch. Trent Dilfer
HOW THEY DO IT
Thursday, Sept. 3: Breaking down AFC offensive, defensive philosophies. Scouts
Friday, Sept 4: Breaking down NFC offensive, defensive philosophies. Scouts
PREDICTIONS
10 BIG QUESTIONS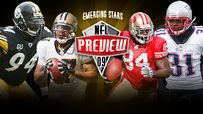 EMERGING STARS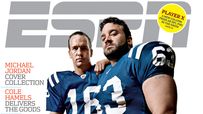 ESPN THE MAGAZINE (INSIDER)
PAGE 2