Discussion
Warner's beyond an icon
In the idol worship hierarchies in St. Louis and Phoenix, No. 13 reigns
Originally Published:
January 29, 2010
By
Gary Belsky
| ESPN The Magazine
A lot of well-deserved accolades are being thrown Kurt Warner's way Friday in the wake of his retirement announcement, but here's one you might not have considered: Warner retires as that rarest of pro athletes, a Two-Town Sports God.
Sports Godness is tough to describe, but to paraphrase Supreme Court Justice Potter Stewart's comment about hard-core pornography: You know it when you see it. The distinction involves a slippery combo of athletic skill, wins, titles, civic loyalty, on-field ...
Read full story
KURT WARNER RETIRES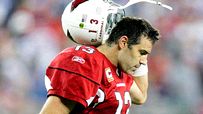 On Jan. 29, Arizona Cardinals QB Kurt Warner ended one of the great storybook careers in NFL history. Follow our coverage.
NEWS/COMMENTARY/BLOGS
VIDEO
FANTASY
SPORTSNATION