Discussion
Jerry Rice, Emmitt Smith enter HOF
Updated:
August 8, 2010, 2:07 AM ET
Associated Press
CANTON, Ohio -- Jerry Rice and Emmitt Smith can stop the chase now.
Linked as the NFL's leading receiver and rusher, two of the greatest players football has seen entered the Hall of Fame on Saturday night. Both admitted their destinies are fulfilled.
"This is finally it," Rice said. "There are no more routes to run, no more touchdowns to score, no more records to set. That young boy from Mississippi has finally stopped running.
"Let me stand here and catch my breath."
An ...

Read full story
2010 PRO FOOTBALL HALL OF FAME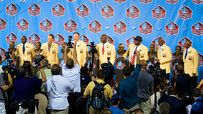 On Aug. 7, the Pro Football Hall of Fame welcomed seven new members: Emmitt Smith, Dick LeBeau, Russ Grimm, John Randle, Rickey Jackson, Jerry Rice and Floyd Little.
HOF page
|
Speeches
|
Photo Gallery
NEWS/COMMENTARY/BLOG POSTS
TRAVEL
VIDEO
PHOTOS