Discussion
Engaging fans through Facebook
Can athletes and fans truly connect? Sure, but it might take a while
Updated:
February 15, 2011, 2:33 PM ET
By
Scott Huler
| Special to ESPN The Magazine
This "Voices" column appears in the Feb. 21, 2011, issue of ESPN The Magazine.
In the age of Twitter and Facebook, we know the social media routine: The athlete broadcasts, and you listen. Chad Ochocinco counts the celebs at his birthday party; Braylon Edwards tells you when he'll appear on TV; LeBron pontificates about karma. Maybe an athlete asks his followers what movie he should see or promises better results next season. But it's mostly one-way stuff.
Now consider ...

Read full story
ESPN The Magazine: February 21, 2011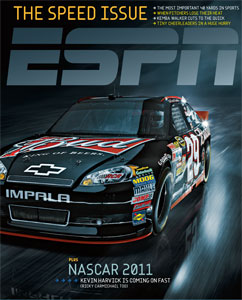 Check out ESPN The Magazine's February 21, 2011 issue below.
Features