Discussion
NFL Draft Confidential
Prospects dish on the combine, agents, and the NFL coach they most want to play for
Updated:
April 6, 2011, 11:19 AM ET
ESPN The Magazine
This story appears in the April 18, 2011 issue of ESPN The Magazine.
IN MARCH, we grabbed 40 likely NFL draft picks between shuttle runs and cone drills. They weren't too interested in talking about the lockout -- "We just want to play football," said one FBS star -- but they happily dished on the draft process.
1. BY DRAFT DAY, HOW MUCH MONEY WILL YOUR AGENT HAVE FRONTED YOU? Potential picks say they will have been lent an average of $23,110. But we've ...

Read full story
ESPN The Magazine: April 18, 2011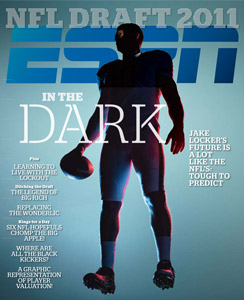 Check out what's in ESPN The Magazine's NFL Draft 2011 issue!
Features
Columns & Go/Play