Discussion
Can he kick it? Yes he can!
But can Kemar Scarlett break the mold in the NFL, where black kickers are virtually nonexistent?
Updated:
April 12, 2011, 1:30 PM ET
By
Scott Ostler
| ESPN The Magazine
This story appears in the April 18, 2011 issue of ESPN The Magazine.
A GUSTING BALTIMORE BREEZE whips across Morgan State University's football field on a March afternoon as a placekicker and a punter blast footballs toward the gray clouds.
"Hitting satellites," they call it. The placekicker, Kemar Scarlett, a departing senior who's prepping for the team's pro day later that week, spins kickoffs deep into the end zone 75 yards away. The punter, Nick Adams, a ...

Read full story
ESPN The Magazine: April 18, 2011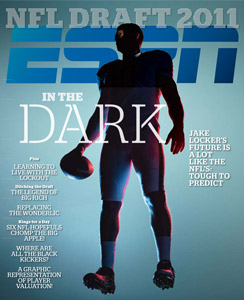 Check out what's in ESPN The Magazine's NFL Draft 2011 issue!
Features
Columns & Go/Play