Discussion
Report: Life coach, QB part ways
Updated:
April 16, 2011, 9:00 AM ET
ESPN.com news services
John Lucas is no longer serving as JaMarcus Russell's "life coach," Yahoo! Sports reported Thursday.
Lucas and Russell, who was released by the Oakland Raiders in May, had been working together since September in an attempt to get the quarterback into shape to return to the NFL. But the 6-foot-6 Russell lost motivation after initially working hard, and Lucas tired of working with an unresponsive Russell, the website reported.
NBA Hall of Famer Charles Barkley -- who, like Russell, ...

Read full story
2011 NFL DRAFT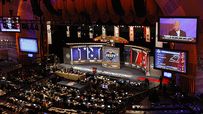 DraftTracker
|
Trade Tracker
|
Team talk
Gallery: Draft photos
|
Draft blog
PICK-BY-PICK ANALYSIS
TEAM-BY-TEAM PICKS
DIVISION DRAFT REVIEWS
ANALYSIS
NFC COLUMNS/BLOG POSTS
AFC COLUMNS/BLOG POSTS
SPORTSNATION
ESPN LOCAL DRAFT CENTERS
ESPN W
RichCimini

Rich Cimini


Projecting $30M or so in cap space after cuts/restructures. Half goes to Mo's tag, another $7M-$10M to Fitz. See? https://t.co/NGD2hEqALF
9 minutes ago

nwagoner

Nick Wagoner


A friendly reminder as some have asked: NFL players don't go into the Hall of Fame representing any one team. Not like baseball with a cap.
13 minutes ago

IndyCar

IndyCar Series


.@GrahamRahal and @courtneyforce are taking in the @SuperBowl this weekend! Here they are at the @MaximMag party! https://t.co/eTJbgNoIcs
16 minutes ago

SandoESPN

Mike Sando, ESPN.com


Early arrival https://t.co/JJNqNKt8An
17 minutes ago

PGutierrezESPN

Paul Gutierrez


That risk, tho... https://t.co/zDqrhgVKZQ
20 minutes ago

RichCimini

Rich Cimini


Oakland didn't make a statement on Mo. It was a report. And, no, it won't impact negotiations. https://t.co/yj2E4TzsXJ
21 minutes ago

RichCimini

Rich Cimini


Brett Favre's 1 season with the Jets: From "Glory Days" to inglorious finish. #nyj https://t.co/LyyLzR2me0
25 minutes ago

vxmcclure23

vaughn mcclure


Super Dave getting Lance ready. https://t.co/qAk4yYpyXe
29 minutes ago

nwagoner

Nick Wagoner


For those asking about QB Foles' possible return to Eagles, wrote this earlier this week breaking down Rams options. https://t.co/ZUtGrUYU5K
34 minutes ago

vxmcclure23

vaughn mcclure


Heat-Clippers with Super Dave https://t.co/acFpd1HBRM
37 minutes ago

DNewtonespn

David Newton


The #Panthers might seem like reality TV, but what they are is a really good team https://t.co/dy01adWqz9
37 minutes ago

nwagoner

Nick Wagoner


And one more from last night: For Kevin Greene, waiting for Hall of Fame to beckon was hardest part... https://t.co/qCAVd8UaUC
37 minutes ago

nwagoner

Nick Wagoner


From last night: Orlando Pace's Hall of Fame dreams started when he was young... https://t.co/2FkO7wWZTC
38 minutes ago

AmyTrask

Amy Trask


Number of rushing yards alone don't tell a full story: did a team run to win, or did they run because they were winning? Need more data.
38 minutes ago

nwagoner

Nick Wagoner


From last night: Emotional Todd Gurley caps long recovery with Offensive Rookie of the Year award... https://t.co/x7OrpyKok8
38 minutes ago

DNewtonespn

David Newton


Cam Newton's mother sends him heartfelt message ahead of Super Bowl https://t.co/pIIh6NVY66
39 minutes ago

PGutierrezESPN

Paul Gutierrez


But...neither 'Vince Ferragamo' nor 'Joe Montana' rhyme with 'Dom Kady' https://t.co/qb4gHBLlA7
45 minutes ago

Edwerderespn

Ed Werder


Panthers DC Sean McDermott on @ThomasDavisSDTM: "I'm not taking him out. If there's a problem, he's going to have to take himself out.''
45 minutes ago

PGutierrezESPN

Paul Gutierrez


Potential Chip Kelly/#49ers target? https://t.co/2BSmR6gmV8
48 minutes ago

Edwerderespn

Ed Werder


Interesting to be in #Panthers hotel and see all friends and family wearing jersey of the player who is responsible for their attendance
49 minutes ago