Discussion
Bengals actively looking for new QB
In need of an heir apparent to Carson Palmer, the Cincinnati Bengals engaged the Green Bay Packers in trade talks for the last pick of the draft's first round Thursday night in an effort to acquire a quarterback.
According to league sources, the Bengals' presumed choice was TCU's Andy Dalton.
Palmer earlier this year told the Bengals that he no longer will play for them and desires a trade.
The Bengals and Packers could not agree on the compensation for the 32nd pick, ...

Read full story
2011 NFL DRAFT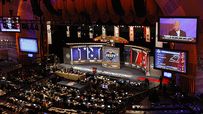 DraftTracker
|
Trade Tracker
|
Team talk
Gallery: Draft photos
|
Draft blog
PICK-BY-PICK ANALYSIS
TEAM-BY-TEAM PICKS
DIVISION DRAFT REVIEWS
ANALYSIS
NFC COLUMNS/BLOG POSTS
AFC COLUMNS/BLOG POSTS
SPORTSNATION
ESPN LOCAL DRAFT CENTERS
ESPN W
SeifertESPN

Kevin Seifert


$27M! MT @davebirkett: If they can't sign him by Monday, Lions should franchise tag Ndamukong Suh. There, I said it. http://t.co/B0cDWmtDPV
8 minutes ago

SeifertESPN

Kevin Seifert


Interesting note from @MikeReiss: 2014 Patriots were only NFL team w/out former player on coaching staff. http://t.co/HeLBazXDav
about an hour ago

MikeReiss

Mike Reiss


Quick-hit thoughts around the Patriots and NFL (Revis, Law, assistant special teams coach sought, Dobson etc.). http://t.co/w8paa2Gomx
about an hour ago

SeifertESPN

Kevin Seifert


#NFL collecting reams of in-game player data. But it's not sure what it will release to public + teams. Inside Slant: http://t.co/tmxmEsGuBW
about an hour ago

Edwerderespn

Ed Werder


Thanks to Lynn and everyone else with @americanair who tried to get me to Hartford, Boston or NY for studio work but thwarted by snow, ice
about 8 hours ago

RyanMc23

Ryan McDowell


Which of these, if any, would you take for the 1.01 rookie pick? Murray, Luck, Benjamin, Hilton, McCoy, Rodgers, Lacy, Graham #dynasty
about 8 hours ago

WilliamsonNFL

Matt Williamson


Dynasty: 2.10 or Mike Wallace?
about 8 hours ago

ChadParsonsNFL

Chad Parsons


Free Preview of the UTH Player Spotlight Premium Podcasts: Amari Cooper http://t.co/xZOZn9i1V1 Expect 30+ of these before #NFLDraft
about 9 hours ago

joshweinfuss

Josh Weinfuss


Another reason this state is backward: MT @jeffmetcalfe: Arizona driver's license doesn't meet federal requirements http://t.co/vsogaXBRKi
about 9 hours ago

DanGrazianoESPN

Dan Graziano


McCourty's not going anywhere. RT @TheGiantsYo: @DanGrazianoESPN so a guy like McCourty for a few extra mil per year but with a future?
about 9 hours ago

DanGrazianoESPN

Dan Graziano


Of course. RT @TheGiantsYo: @DanGrazianoESPN if not do you see us signing a good safety in FA
about 9 hours ago

FootballPost

NationalFootballPost


NFL Draft Preview 2015: CB Quinten Rollins: The Sports Quotient's annual NFL Draft Preview series has returned... http://t.co/WPkrALVoOs
about 9 hours ago

curtisbeast

Bryan Curtis


New press column: Charles Barkley, analytics, and us, the lowly sportswriters: http://t.co/OCjwPWCuG1
about 9 hours ago

imbrittanderson

brittany anderson


final: UNLV 69, Wyoming 57. McCaw - 21 pts, Doolin 10 pts, and Wood with 10 pts (all in second half) and 13 reb
about 10 hours ago

DanGrazianoESPN

Dan Graziano


My gut says no, but I don't have a sense of where that stands. RT @shaun268192: @DanGrazianoESPN do you think Giants will sign Antrel Rolle
about 10 hours ago

CardsMarkD

Mark Dalton


Honors continue for @BruceArians: tonight receives NFC Coach of Year from KC's 101 Club (Bill Belichick is AFC Coach/Yr)
about 10 hours ago

ESPNChiBears

Jeff Dickerson


Part 2 of Dickerson & Hood 8-10 p.m. C.T. on @espnradio. Guests include: @jocktodoc, @AminESPN, @HermEdwardsESPN & @SeanFarnham.
about 11 hours ago

joshweinfuss

Josh Weinfuss


Stuck in Dallas because of weather but the airport already has cots out. This could be a long night.
about 13 hours ago

SeifertESPN

Kevin Seifert


Listening back to an #SSAC15 panel. Struck by @briankrussell thought: What if technology could replace drugs as a performance enhancer?
about 13 hours ago

SeifertESPN

Kevin Seifert


Listening back to an #SSAC15 panel. Struck by @briankrussell thought: What if technology could replace drugs as a performance enhancer?
about 13 hours ago