Discussion
Marv Albert joins CBS for NFL games
Updated:
June 6, 2011, 4:51 PM ET
Associated Press
NEW YORK -- Marv Albert is returning to the NFL, whenever the lockout ends.
The longtime play-by-play announcer is joining the NFL on CBS team, CBS Sports chairman Sean McManus announced Monday.
Albert worked for NBC Sports from 1977-97 and announced the NFL on NBC for 19 years. He was the play-by-play voice for Westwood One Radio's coverage of Monday Night Football from 2002-09 alongside Boomer Esiason.
Albert said he's not sure who will be in the CBS booth with him. ...

Read full story
The NFL on ESPN.com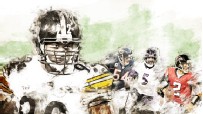 WEEK 1 PICKS
MORE NFL COVERAGE
2011 NFL PREVIEW
JOHN CLAYTON QB RANKINGS
NFL DRAFT
BamDavis_

AD


Cant be soft playing Oline, disrespecting the game. Im preparing my body to play my brand of football. Couldn't just go thru the motions.
about 2 hours ago

mikerothstein

Michael Rothstein


Hang on Sloopy count in the Ann Arbor bar: 7. This is unbelievable.
about 5 hours ago

mikerothstein

Michael Rothstein


The Hang On, Sloopy count at the Ann Arbor bar I am in: 5.
about 5 hours ago

DanGrazianoESPN

Dan Graziano


That's Twitter gold! The stick-to-football-your-not-you're combo! https://t.co/riKs8iuN9M
about 6 hours ago

DanGrazianoESPN

Dan Graziano


37 percent chance Politi makes it to Washington tomorrow night. https://t.co/wuQ1XiewCd
about 6 hours ago

mikerothstein

Michael Rothstein


At @OldGermanA2, my spot in Ann Arbor, and on the eve of OSU they have played Hang On, Sloopy twice in a row. Did @AlbertBreer sneak in?
about 6 hours ago

DNewtonespn

David Newton


Nicely said https://t.co/M7BaUc8MiV
about 7 hours ago

MikeReiss

Mike Reiss


ESPN NFL Matchup show will preview Patriots-Broncos (Saturday, ESPN2, 8:30 a.m. ET; Sunday, ESPN, 6:30 a.m.) https://t.co/7fevy62xNK
about 7 hours ago

DNewtonespn

David Newton


Seasons like this should be enjoyed. Have fun. https://t.co/dyjL1eEoJ1
about 7 hours ago

DNewtonespn

David Newton


Great player. Would be in best interest of the team if they can work out the money. https://t.co/hWwfuFQzef
about 7 hours ago

DNewtonespn

David Newton


I wish there was a tone button for Twitter. Glad I saw your tweet. https://t.co/sL2RNl1pFV
about 7 hours ago

DNewtonespn

David Newton


Wish I had more time to respond to all. Need to find an hour in the week to just answer a Twitter questions. https://t.co/O2Uh6QErIB
about 7 hours ago

DNewtonespn

David Newton


I love disco as well. https://t.co/mBzDFNf8lp
about 7 hours ago

DNewtonespn

David Newton


Just showing differences in people. My two sons have totally different personalities and I love them both. https://t.co/TMAC9BJ5Sk
about 7 hours ago

DNewtonespn

David Newton


Cam is playing like one of the top QBs in the league. He is having fun. What's not to like? https://t.co/SC9xVRnpRU
about 7 hours ago

DNewtonespn

David Newton


I am waiting for Disco Cam https://t.co/YNrEbh3MaI
about 7 hours ago

ESPNdirocco

Michael DiRocco


Fight on, my brother! Spider causes man to trash flat, scream death threats -- police called https://t.co/N3bbJaULjO
about 8 hours ago

DNewtonespn

David Newton


The 1958 Impala from American Graffiti. A great American make out car. Heck of a cast from that movie. https://t.co/frFaF8zh04
about 8 hours ago

JamesWalkerNFL

James Walker


Jarvis Landry, Jelani Jenkins, Koa Misi all questionable for #Dolphins https://t.co/AQYFxgv8r9"-ICYMI.
about 8 hours ago

qbcentric

QBcentric


Time to go #BeyondXsAndOs Train this February 20-21 @LakePointSports with the #QBEpic staff! Sign up today https://t.co/scVS9rvL2x
about 8 hours ago