Solid drafts move Cardinals, Vikings forward
Updated:
April 27, 2005, 2:19 PM ET
By
Len Pasquarelli
| ESPN.com
It was the ageless and legendary baseball hurler Satchel Paige who first pitched the cautionary bromide that you don't want to look behind you very often, since someone could be quickly gaining ground.
THE 2005 NFL DRAFT
Day 2
• Pasquarelli: Vikings, Cards big winners
• Orton slips to Bears in fourth round
• Heisman winner White undrafted
• TE Stokes made "Irrelevant" by Pats
• Scouts Inc.'s Day 2 analysis

• Clayton: Teams think big on offense
• Clayton: Quiet trade market
• Mueller: Positional battles

• Davie: Draft as recruiting tool

• Clarett gets fresh start with Broncos

Day 1
• Smith No. 1, Rodgers free-falls
• Pasquarelli: Jags snatch Jones early
• Clayton: Rodgers slides to Packers
• Clayton: Day 1 winners and losers
• Clayton: Broncos gamble on Clarett
• Pasquarelli: First round about passing
• Pasquarelli: Draft Notebook
• Mueller: Day 1 observations

• Insider: First-round analysis

• Insider: Second-round analysis

• Insider: Third-round analysis

• Q&A: Who rose, who fell, why?

• Comparing mock drafts
• Draft Fact or Fiction?
• Trade tracker: Analyzing the deals
• Complete draft coverage
With what transpired this weekend in the NFL draft, a couple of division champions from the 2004 season, the
Green Bay Packers
and
Seattle Seahawks
, might consider heeding that advice and avoid swiveling too quickly. Stare too long into the rear-view mirror, and the Seahawks are going to find an ascendant
Arizona Cardinals
team creeping up from behind. And if the Packers peek over their shoulders, they are apt to discover that it is the
Minnesota Vikings
breathing hot air on their necks.
Since this marks the second year in a row in which the boss has allowed us to escape doing one of those post-draft report cards -- the kind of instant-pudding analysis that usually earns you an early Monday morning telephone call from some incensed personnel director questioning the grade you awarded him -- we don't know exactly which team had the best draft. And (again, thanks, boss), we don't have to publicly embarrass ourselves any more than usual in trying to divine the definitive answer to such a subjective item.
But, in our humble opinion, the Vikings and Cardinals, the franchise that Dennis Green once coached and the outfit by which he is now employed, were certainly among the weekend's biggest winners. And given the limp divisions in which each competes, the impressive draft bounties that the two teams amassed could be enough to further close the already narrow talent gap between themselves and the defending division champions.
It was anticipated that the Vikings, who had a pair of first-round choices by virtue of the trade that sent Randy Moss packing, would have a solid draft. But saying a team is going to choose wisely, and then having the club do it, are sometimes polar extremes. And as colleague Chris Mortensen noted on-air Sunday afternoon, credit Minnesota owner Red McCombs, who is on the brink of peddling his franchise, for having the vision to see beyond the "For Sale" sign, hold things together, and conduct business pretty nicely.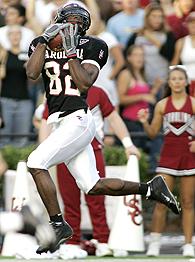 Rex Brown/WireImage.comTroy Williamson averaged 19.4 yards per catch last season at South Carolina.
The Vikings got playmakers on both sides of the ball in the first round, surprising some pundits by choosing wide receiver
Troy Williamson
over
Mike Williams
and adding to a fast-improving, young defensive front with pass-rush end
Erasmus James
. But the Vikes not only started fast, they finished nicely as well, adding "value board" prospects such as offensive lineman
Marcus Johnson
(who could replace right guard David Dixon), corner
Dustin Fox
(a potential "nickel" contributor as a rookie) and tailback
Ciatrick Fason
. If coach Mike Tice is as serious as he claims to be about returning to the power run game that Minnesota abandoned in 2004, Fason could be a factor.
Green went into the draft wanting to get quicker, and he accomplished that with most of his early choices, in particular cornerback Antrel Rolle. The Cardinals are not shy about throwing rookies into the fray -- four of their seven draft picks from a year ago started as rookies -- and Rolle has already been penciled into the lineup. Second-round tailback J.J. Arrington, a player the sometimes transparent Green has been touting since the combine workouts, could start as well. Linebacker Darryl Blackstock and guard Elton Brown were flat-out steals, respectively, in the third and fourth rounds. Even down to the final pick, Indiana (Pa.) wide receiver LeRon McCoy, the Cardinals were going for playmakers.
Other very strong draft classes included those at Dallas, San Diego and Atlanta. Bill Parcells probably moved his Cowboys, a team being fashioned defensively into a 3-4 unit, much closer to respectability but not yet within shouting distance of the powerful Philadelphia Eagles. The Cardinals, though, could be within striking range, legitimately, of a division crown.
"We've got this franchise going in the right direction," Green acknowledged, "and this [draft] moves us closer to being where we need to get. We're close to winning time."
Here are some more winners and losers, insights, observations, random thoughts and erratic synaptic spasms in looking back on the 2005 draft:
• Head scratchers: As he has demonstrated with his tailback choices (but certainly not those at cornerback or on the defensive line), Denver coach Mike Shanahan certainly knows how to locate solid runners outside of the first round. Shanahan unearthed 1,000-yard rushers like Terrell Davis (1995) in the sixth round, Olandis Gary ('99) in the fourth, Mike Anderson (2000) in the sixth, Clinton Portis (2002) in the second. Pretty tough to argue with his track record. Until now. Maurice Clarett with a third-rounder! When no one else probably had him higher than a fifth-round possibility. ... Maybe the Oakland Raiders knew something we didn't -- it certainly wouldn't be the first time -- but we're still wondering why they felt compelled to trade up three spots in the first round to snatch Nebraska cornerback Fabian Washington. Once Jacksonville didn't take Washington with the No. 21 slot (the Jags had been rumored to have him targeted there), it's pretty likely that he would have fallen right into the Raiders' laps even without the trade. ... Seattle got locked into some tough spots, especially after some trade-up attempts failed, but it seems they could have come out of the first couple rounds better than they did. The Seahawks can't be ripped for choosing center Chris Spencer in the first round, since incumbent Robbie Tobeck is 35 years old. But taking inside linebacker Lofa Tatupu in the second round was a bit of a reach. ... There seemed to still be some better corners on the board when Denver went for the undersized Darrent Williams in the second round.
• Bang for the buck: The best value picks in each round: Quarterback Aaron Rodgers of the University of California to Green Bay (No. 24) in the first round. Clemson cornerback Justin Miller to the New York Jets (No. 25) in the second round. In the third round, Virginia linebacker Darryl Blackstock (No. 30) to Arizona. Virginia defensive end Chris Canty (No. 31) to Dallas in the fourth round. In the fifth round, safety Donte Nicholson of Oklahoma to Tampa Bay (No. 5). Oregon State defensive end Bill Swancutt (No. 10) to Detroit and Marshall linebacker/defensive end Jonathan Goodard (No. 32), also to the Lions, in the sixth round. Southern Mississippi offensive tackle Jeremy Parquet (No. 24) to Kansas City in the seventh round.
• Chutes ... Five players who skidded from a half-round to a full round lower than most people had them projected: Oklahoma defensive end Dan Cody, chosen by Baltimore with the 21st choice in the second round. Clemson cornerback Justin Miller, to the New York Jets, with the 25th selection in Round 2. Stanford tight end Alex Smith, chosen with the seventh pick in the third round by Tampa Bay. Defensive end Justin Tuck of Notre Dame, by the New York Giants, with the 10th choice in the third round. Linebacker Darryl Blackstock of Virginia, to Arizona, with the 30th pick in Round 3.
• ... and Ladders: Five players who climbed by a half- to a full-round higher than most expectations: Houston cornerback Stanford Routt, the sixth pick in the second round, by Oakland. Cornerback Ronald Bartell of Howard, to St. Louis, with the 18th choice in Round 2. Wisconsin cornerback Scott Starks, to Jacksonville, with the 23rd slot in the third round. Maurice Clarett, the Ohio State tailback, to Denver on the final pick of Round 3. UCLA fullback Manuel White, with the 19th choice in the fourth round, to the Redskins.
• Slippery slope: His surname certainly is a recognizable one in NFL circles, but a college career marred by injuries kept University of Tennessee standout offensive tackle Michael Munoz from even being selected among the 255 prospects. When Munoz signed with the Vols, after a tremendous prep career in the Cincinnati area, many felt he would join his famous father, former Bengals star and Hall of Fame member Anthony Munoz, as a great tackle in the NFL. If that is to be the case, the younger Munoz will have to beat long odds as a free agent, and demonstrate to teams that he can stay healthy.
Munoz wasn't the only notable snub, of course, in the seven rounds of the draft. Two big-time defensive backs who just cannot run very well, safety Ernest Shazor of Michigan and Oregon State cornerback Brandon Browner, were not selected. Nor were the NCAA career leaders in passing yards (Hawaii quarterback Timmy Chang) or receptions (Taylor Stubblefield of Purdue).
One other marquee name who went undrafted was Oklahoma quarterback Jason White, who won the Heisman Trophy two years ago.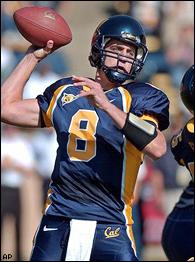 Aaron Rodgers threw 24 TDs and eight INTs last season.
•
The contrarian view:
Reading through the usual Sunday morning rehashes of the "winners" and "losers" on the first day of the draft, it was obvious most analysts felt the Green Bay Packers got a steal when University of California quarterback Aaron Rodgers plummeted all the way down to their No. 24 spot in the first round. But we're not buying into that assessment just yet. We still harbor some reservations about Rodgers' arm strength, which certainly will be tested when Lambeau Field is attacked by those blustery winter winds.
And there is this angle as well: Coach Mike Sherman, entering the final year of his contract (although the indications are that he will eventually sign an extension) had a whole lot of holes to fill, especially on defense, where the Packers statistically ranked No. 25 in 2004. It had to be a difficult decision, and a tough swallow, for the Packers to serve as the safety net for Rodgers, who does not figure to help much (if at all) in 2005, when there were ready-to-play defenders still on the board at that point. Coaches tend to be instant gratification guys, people whose view of the future usually extends only to the tips of their noses, largely because of the lack of security their jobs entail. Based on Brett Favre's plans beyond this season, Rodgers might not get the chance to play, or be ready to perform as the starter, for a few more years yet. And whither Sherman, particularly if Green Bay does not solve some of its defensive woes, by then?
Credit the Packers organization, for sure, for embracing the long view. But excuse us if we take a cross-eyed view of the decision to end Rodgers' misery.
Three final points in this area: Although they did not have a uniform prepared with Rodgers' name across the back, we hear that Green Bay officials, by Friday, sensed there were some scenarios under which the quarterback might fall to their spot. And for the analysts who noted Saturday that Rodgers might be the "heir apparent" to Favre, doesn't the "apparent" part of the equation negate any of the "might." Lastly, to good buddy Bob Glauber, the outstanding NFL reporter for Newsday, kudos for purposely keeping Rodgers out of the first round of your mock draft. Now that took a lot of, uh, fortitude, and Glauber came very close to being right.
• No-trade zone: Citing the degree of uncertainty surrounding the draft, and the heightened subjectivity that figured to be imposed, Seattle team president Tim Ruskell predicted a record number of trades. Certainly, given the tenor going into the draft, it seemed a viable prediction. Yet the two days of the lottery produced 17 trades. There were only seven deals on Saturday, fewer than in the first round of the 2004 draft.
Only one veteran player, second-year quarterback Luke McCown, was traded. The Cleveland Browns, with their depth chart full following the choice of Akron star Charlie Frye in the third round, sent McCown to Tampa Bay (where coach Jon Gruden can never have enough quarterbacks, it seems) for a sixth-round pick.
Even the Eagles, expected to be dealing through the draft, were relatively quiet. Philadelphia went into the draft with 13 picks and finished with 11 selections. Teams expecting to cut below-market deals to move up in rounds, because they felt clubs wanting to slide back would accept less, were disappointed.
• The impact receiver: The top wide receiver from among the seven first-rounders at the position in the 2004 draft? That's easy. Michael Clayton of Tampa Bay, who caught 80 passes for 1,193 yards and seven touchdowns. In so doing, Clayton, the 15th overall selection a year ago, became just the fourth player from among the 54 wide receivers chosen in the first round since 1990 to post a 1,000-yard season as a rookie. So who, from the group of six wideouts taken in the first round on Saturday, has the best chance to duplicate that rare feat? Well, even with the scatterarmed Kyle Boller (over)throwing to him, we're betting on a guy with the same surname, former Oklahoma standout Mark Clayton.
The 22nd choice in the opening round, and the fifth wide receiver to come off the board (as was Michael Clayton in '04), Mark Clayton doesn't have great speed. But he possesses superb short-area quickness, can explode out of his breaks, runs very precise routes, and almost always adds yards after the catch. Nothing against any of the four receivers chosen ahead of him -- Braylon Edwards, Troy Williamson, Mike Williams and former quarterback Matt Jones -- but the belief here is that Clayton is the most accomplished of the bunch.
• 'Roids over reefer: At least at the defensive tackle position, testing positive for steroids is apparently a far more benign violation of NFL policy than being flagged for marijuana use. Northwestern defensive tackle Luis Castillo, who tested positive for steroids at the scouting combine two months ago, was nonetheless chosen in the first round by San Diego in the No. 28 slot. One of the draft's fastest risers over the past month, Castillo admitted he used steroids out of frustration over a slow-healing elbow injury that plagued him nearly the entire 2004 season. He sent a letter to all 32 teams apprising them that, if he ever tested positive again, he would return his signing bonus. Castillo could be subject to testing "for cause" now under league policy, with as many as two screenings monthly.
That inconvenience pales, though, in comparison to the fate of Wisconsin defensive tackle Anttaj Hawthorne. The former Badgers star began the season as the consensus No. 1 tackle prospect. But he was one of four draft prospects, by far the most prominent of the quartet, to test positive for marijuana at the combine. Hawthorne's stock was sliding already, but the positive test sent him into free-fall, and no one provided him a parachute until the top of the sixth round, where the Oakland Raiders (who else?) grabbed him.
Hawthorne was the 175th pick, 147 slots behind Castillo, and it's hard to believe there is that big a disparity in their talent levels. The 28th choice in the 2004 draft, Carolina cornerback Chris Gamble, got guaranteed money of $1.42 million. The top pick in the sixth round got $150,000. By the way, at least one team, the Atlanta Falcons, penalized Castillo one full round on their draft board. The Falcons had targeted Castillo as a viable choice for them in the first round before the steroid report.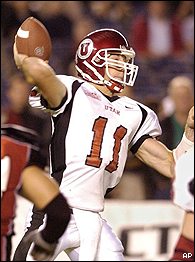 Alex Smith tossed 32 TDs and only four INTs last season for Utah.
•
A draft for the aged:
Utah quarterback Alex Smith, who won't celebrate his 21st birthday until May 7, became the second-youngest player in draft history, behind only Michael Vick, to be chosen with the first overall selection. And Maryland defensive end/linebacker
Shawne Merriman
, grabbed by San Diego with the 12th pick in the first round, is actually 18 days younger than Smith. It is believed they were the only two players chosen over the weekend who have yet to turn 21.
On the flip side, there are plenty of overage prospects in the '05 draft pool. In fact, the same school that produced Alex Smith also laid claim to the graybeard member of the draft class. Utah defensive tackle Sione Pouha, chosen by the New York Jets in the third round, turned 26 on February 3. Pouha signed with the Utes in 1997, but spent 1998-2000 on a church-related mission. He's an interesting guy, and for more than just his chronological age, since Pouha is credited with rescuing a woman from a smoke-filled apartment in 2002.
Another 26-year-old rookie is Louisville linebacker Robert McCune, chosen by Washington in the fifth round. McCune spent three years in the Army National Guard, and that included stints in Kuwait and Korea. New England third-round choice Nick Kaczur, a guard from Toledo, will be 26 on July 28. Oklahoma State tailback Vernand Morency (Houston, third round) is 25.
• Freebies: Here are seven players who went undrafted and who should be priority free agents as teams hit the phones right after the completion of the lottery to begin signing players for camp: defensive end George Gause (South Carolina), safety Junior Rosegreen (Auburn), safety James Butler (Georgia Tech), wide receiver Taylor Stubblefield (Purdue), tight end Cody McCarty (TCU), quarterback Gino Guidugli (Cincinnati), and defensive tackle Santonio Thomas (Miami).
• Adios: In the New York Jets' division-round matchup at Pittsburgh nearly four months ago, kicker Doug Brien missed 47- and 43-yard fields, both in the last two minutes of what would eventually be an overtime defeat. And now the 11-year veteran is going to miss out on the $375,000 roster bonus he is due on June 1. There are veteran players every year who lose their jobs because of moves that their team made on draft weekend and, make no mistake, the Jets' choice of Ohio State kicker Mike Nugent in the second round is going to result in Brien getting his pink-slip very soon.
Some other veterans of note who are on the way out because of moves made over the weekend: Chatty Philadelphia wide receiver Freddie Mitchell was probably a goner anyway, given his various rants, but the Eagles' second-round choice of Reggie Brown of Georgia guarantees his exit. Some coaches in Washington keep insisting that third-stringer Tim Hasselbeck might be their best veteran quarterback, but the addition of Auburn's Jason Campbell in the first round likely seals his fate. St. Louis' choice of Florida State offensive tackle Alex Barron in the first round helps grease the skid for the departure of Kyle Turley.
• Punts: Matt Leinart, the Southern California star quarterback and Heisman Trophy winner, opted to remain in school rather than enter the draft. But the Trojans still had a quarterback selected. Leinart's backup, Matt Cassell, was chosen by New England in the seventh round. ... Last year, Tennessee general manager Floyd Reese, in an effort to address a huge need, chose five defensive linemen among his seven picks. This year, he switched sides of the ball, tabbing three offensive tackles among his 11 selections. ... Condolences to Atlanta Falcons president/general manager Rich McKay, who learned during the latter portions of Saturday's draft session that his mother had passed away following a lengthy battle with cancer. ... It is believed that IMG Football, with agents Tom Condon and Ken Kremer, again led in first-round picks, with four. That included top overall choice Alex Smith of Utah.
Len Pasquarelli is a senior writer for ESPN.com.
EDITORS' PICKS
If Adrian Peterson's court victory doesn't mean he's been reinstated, what does it mean? We sort it all out.
Seifert »

Is Jameis Winston still the top pick? Here's how the combine impacted Todd McShay's first-round outlook.
Mock 3.0

How would an everyday schlub fare in an NFL game? "Madden" utilized a human guinea pig to find out.
FiveThirtyEight »

MOST SENT STORIES ON ESPN.COM