ESPN360 - All Access Week!
2004 DRAFT SECTION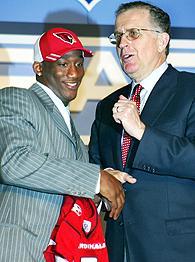 The Cardinals helped themselves by taking cornerback Antrel Rolle.
Which teams helped themselves the most during this year's NFL draft? What picks were head-scratchers? And who were some of the big-name college performers not selected at all? Len Pasquarelli answers those questions and more in our draft review.
Story
•
Mel Kiper's draft grades
•
Rovell: Agent's busy day
•
Mueller: Positional breakdowns
•
Scouts: Inside Day 2
•
Inside:
First
|
Second
|
Third
•
Fact or Fiction
|
Vote: Grades
•
A. Smith goes 1st
|
Niners starter?
•
Fantasy: Pick-by-pick analysis
•
Expert Q&A
|
Trade tracker
More From ESPN.com

Pasquarelli: Escaping the shadows
Several players who were second bananas on campus have a chance to make excellent impressions in the NFL.

Mueller: What's next?

Our resident GM takes a look at what decisions lie ahead for the Buffalo Bills, Detroit Lions and Green Bay Packers.

Davie: Recruiting tool

College programs benefit, too, when a number of their former players do well in the NFL draft.

Clayton: Thinking big
The Lions and Jags are hoping to exploit the rule emphasis on illegal contact by adding more big targets.

Clayton: No deal
It was supposed to be a wild NFL draft featuring big trades and big names being moved. But then the trade market crashed.

Mueller: Day 1 highlights

Here is a look at some highlights from Day 1 of the draft – from a front office perspective.

Pasquarelli: Living on the edge
The first round of the draft was dominated by speed players who make their living on the perimeter of the field.

Clayton: First-day winners and losers
The Cowboys and Vikings took a step in the right direction while the Broncos and Bills took steps backwards.

Pasquarelli: High five
Auburn RBs Ronnie Brown and Carnell Williams pulled off a rare feat by each getting drafted in the first round.

Broncos gamble on Clarett in third round
Despite talk that he could actually go undrafted, former OSU RB Maurice Clarett was picked in the third round.

Pasquarelli: Surprise party
The Jaguars surprised some people by picking Matt Jones. But his athletic ability is hard to ignore, writes Len Pasquarelli.

Clayton: Waiting is the hardest part
After sliding all the way to Green Bay at No. 24, Aaron Rodgers enters the league with a point to prove, writes John Clayton.
End text -------------------------

Clayton: Drama and unpredictability
How far will Aaron Rodgers fall? That's just one of John Clayton's 10 things to watch in the NFL draft.

Pasquarelli: Top 65 prospects
WR Braylon Edwards and QB Alex Smith head ESPN.com's list of the top 65 prospects in this weekend's draft.

Pasquarelli: Dreams and nightmares
The draft can be an anxious time for veterans like quarterback Jeff Blake, writes Len Pasquarelli in his weekly Tip Sheet.

Clayton: Major impact
The success of Ben Roethlisberger and Byron Leftwich has changed the way teams look at mid-major QBs, writes John Clayton.

Pasquarelli: Future starts now
The first three picks in the 2005 draft are held by rookie coaches who will be looking to shape the futures of their franchises, writes Len Pasquarelli.

Pasquarelli: Athlete first
More NFL teams are looking for athletic players who have the versatility to play a number of different positions, writes Len Pasquarelli.

Pasquarelli: Unsettling feeling
While Alex Smith seems to have emerged as the No. 1 prospect, this year's draft is still extremely unsettled at the top.

Clayton: Stepping back
The depth of this year's draft has more teams clamoring to move back instead of trading up.

Clayton: Priorities in line
49ers coach Mike Nolan realizes the importance of getting the best player -- and deal -- with the team's No. 1 pick.

Scouts: Safety advances

To counter today's complex offenses, teams are looking for safeties who can defend both the run and the pass.

Clayton: Position of need
Poor QB play usually means a top-10 pick. Which is why the top of the draft will continue to be dominated by signal callers.

Pasquarelli: Safety last
Despite the emergence of young stars like Ed Reed, the safety position remains more of an afterthought in the draft.

Pasquarelli: Rating the QBs
Aaron Rodgers could be the first player drafted, but he's only ESPN.com's third-rated QB prospect.

Smith: Titanic importance
With 10 picks, including the No. 6 overall selection, this draft is a chance for the Titans to get their franchise back on track.

Pasquarelli: Rating the safeties
Thomas Davis, who could play linebacker in the NFL, is the top-rated safety prospect, writes Len Pasquarelli.

Clayton: Lets get versatile
Shawne Merriman can play linebacker or defensive end and that versatility has made him a hot prospect.

Draft diary: Jammal Brown
OL Jammal Brown is getting more excited about the draft and starting his pro career.

Pasquarelli: Rating the LBs
Former Texas standout Derrick Johnson, who has a few question marks, is the top-rated LB prospect.

Pasquarelli: Out of harm's way
DT Travis Johnson's family moved him away from South Central L.A. – before the gangs could successfully recruit him.

Pasquarelli: Rating the DTs
Travis Johnson, a full-time starter for just one year at FSU, is the top DT prospect in this year's draft.

Pasquarelli: Rating the DEs
David Pollack, a three-time All-American at Georgia, is the top DE prospect in this year's draft.

Pasquarelli: Buyer beware
DE is a popular first-round pick. It's also a position that has produced a number of recent disappointments.

Pasquarelli: Rating the TEs
Heath Miller is regarded as the draft's top-rated TE prospect even though he has health concerns.

Clayton: Dropped pass
While TEs have emerged as a major force in the NFL, this year's draft class isn't very strong.

Cody chooses 'real' process to select agent
Prospect Shaun Cody turned to reality TV to find an agent to represent him for the upcoming draft.

Scouts: Second coming

Some players who have dropped out of first-round consideration could end up being good value in round two.

Pasquarelli: Not catching on
Five or six WRs will be selected in the first round and most of them won't make much of an impact as rookies.

Kiper: Why Big Board, mock draft differ

Why do Mike Williams and Braylon Edwards swap spots on the Big Board and mock draft? Mel explains the difference.

Clayton: Long-term gain
Former USC WR Mike Williams has made the best of a bad situation after being ruled draft ineligible last year.

Rovell: Coveting thy rival's client
Boutique agent David Canter works hard to keep top draft prospect Troy Williamson as a client.

Pasquarelli: Rating the OLs
Former FSU standout Alex Barron, an Outland Trophy finalist, is the highest-rated OL prospect.

Mort: Niners in good hands

The 49ers have hit rock bottom, but the hiring of coach Mike Nolan was a big step in the right direction.

Pasquarelli: Mixed reviews
The top of this year's draft is loaded at RB, but the reviews for the rest of the runners have been mixed.

Pasquarelli: Rating the RBs
Ronnie Brown, one of two highly regarded Auburn tailbacks, is the highest-rated RB prospect.

Pasquarelli: Special bond
The tight relationship between Ronnie Brown and Cadillac Williams has put the Auburn RBs in a unique position.

Draft diary: Khalif Barnes
Khalif Barnes is starting to feel like a kid at Christmas as he awaits the NFL draft.

49ers to negotiate with Rodgers, Smith, Edwards
The 49ers, who have the first choice in the NFL draft, have notified the agents of Aaron Rodgers, Alex Smith and Braylon Edwards to begin contract negotiations before the draft.

Schatz: Don't draft Big 10 RBs
Big Ten running backs have a history of becoming NFL flops while the SEC has produced late-round stars.

Kiper: Rodgers tops mock draft

Aaron Rodgers has moved into the top spot in Mel Kiper's latest mock draft, while Antrel Rolle is back in the top 10.

Kiper Mail: Will Bills stay put?

How will the Colts bolster their defense and how does QB J.P. Losman affect the Bills' draft strategy?

Mortensen: One of a kind

Matt Jones is not a projected first-round pick, but he's the best player available in the draft.

Scouts: Changes at the top?

Aaron Rodgers remains the No. 1 pick in our mock draft, but a rumored trade could shake things up before draft day.

Scouts: Safety switch

Two of the top three safety prospects in the 2005 draft could soon become outside linebackers in the NFL.

Pasquarelli: Race for No. 3
Jason Campbell and David Greene made their cases to be the third QB drafted with strong workouts this week.

Scouts: Deep corner pocket

The demand isn't as high as it's been in the past, but CB is one of the stronger positions in the 2005 NFL draft.

Scouts: Steep decline

This year's OLB class boasts a foursome of impact prospects, but after that the talent drops off quickly.

Pasquarelli: Catch a Sooner
Known more for producing RBs, Oklahoma could have four WRs taken in the NFL draft.

Draft diary: Khalif Barnes
Times are good for Khalif Barnes as he roots for the Huskies hoops team and signs 3,000 trading cards.

Scouts: Talent runs deep

Besides three potential top-10 picks, what makes this year's running back class special is the depth it offers.

Scouts: Armed and ready?

In terms of overall talent and depth, this year's quarterback class falls well short of last year's crop.

Scouts: Endless possibilities

Predicting when the first defensive end will be drafted is a lot easier than predicting who that player will be.

Draft diary: Jammal Brown
Former Oklahoma OL Jammal Brown just wishes that the draft was tomorrow and not more than a month away.

Draft diary: Khalif Barnes
The past three months have been busy for former Husky Khalif Barnes.

Pasquarelli: In the name of love
Despite his father's troubled past, draft prospect Stanley Wilson has a loving relationship with his namesake.

Scouts: Vikings looking to fill void

Our latest mock draft accounts for the Vikings' need for a impact receiver as a result of the Randy Moss trade.

Scouts: Matter of timing

Few question Antrel Rolle's ability, but some doubt teammate Frank Gore and Oklahoma State's Vernand Morency.

Kiper: Top 5 prospects by position

Ronnie Brown is now the top RB in the draft, while three players debut among the top five at their position.

Scouts: Johnson puts on show

Texas OLB Derrick Johnson helped himself with one of the most impressive linebacker workouts in years.

Scouts: In the line of fire

Some of the premier defensive ends in the draft, including David Pollack and Erasmus James, had uninspiring workouts.

Pasquarelli: Need for speed
Nothing is as scrutinized as the 40 time. Even for QBs like Aaron Rodgers, it's all about speed.

Pasquarelli: To be No. 3
At the combine in Indianapolis, it's a battle to be the third quarterback selected in the NFL Draft.

Scouts: Baas shows versatility

Michigan's David Baas improved his stock as much or more than any player at this year's combine to date.

Scouts: Clarett left behind

All the momentum RB Maurice Clarett built came to a screeching halt in a 10-minute span Saturday.

Kiper: Top 25 NFL prospects

The combine shook up the Big Board, bumping RB Ronnie Brown to No. 1 and getting Fabian Washington on the list.

Mike Williams clocks pedestrian in 40 times
The other orphan from the 2004 draft, former Southern California wide receiver Mike Williams, lost the farm here on Sunday afternoon in the 40-yard dash.

Clarett's 40 times: 4.72, 4.82
Former Ohio State tailback Maurice Clarett could keep himself from being chosen in the 2005 draft.

Clayton: The wait is over
With his path to the NFL no longer barred, all Mike Williams has to do now is make a good impression.

Scouts: Combine weights and measures

NFL draft prospects begin the poking and prodding with running backs and offensive linemen checking in.

Pasquarelli: Something extra
Wanting to separate himself from the other top backs, Carnell Williams bulked up for the combine.

Clayton: Humble pie
Maurice Clarett returned to the combine this year with a much different attitude, and look, than he had last year.

Pasquarelli: Head of the class
Alex Barron is clearly at the top of what isn't a great draft class for offensive lineman.

Pasquarelli: Centers of attention
While it's a down year overall for offensive lineman in the draft, there is a lot of depth at center.

Draft diary: Jammal Brown
Former Oklahoma OL Jammal Brown is looking forward to the combine.

Pasquarelli: Prep time
Getting players prepared for the combine has become a big business in recent years.

Kiper Mail: Pats, Eagles standing pat?

Mel's latest mailbag looks at a player who slid down the board and the draft needs of this year's Super Bowl teams.

Kiper: Workouts can work wonders

For prospects involved in key position battles, postseason workouts are all about generating some buzz.

Scouts: Missing in action

RB Maurice Clarett continues to mystify NFL teams with his decision to not participate in postseason all-star games.

Scouts: Post-Senior Bowl status

Scouts Inc. saw a good deal of movement on its NFL draft board following the 2005 Senior Bowl.

Maisel: Get the knack
Elite competion at the Senior Bowl hasn't slowed DE Matt Roth's knack for getting to the quarterback.

Mueller: Educated guess

While offensive linemen are fairly easy to evaluate, the cornerback position causes nightmares for scouts.

Senior Bowl Show wrap
Cadillac Williams, Kyle Orton, Shaun Cody and many other stopped by to chat on Wednesday.

Maisel: Gospel of Gruden
Jon Gruden's Senior Bowl sermon baptized the South squad into the world of professional football.

Maisel: Transition game
Matt Jones has opted to start catching passes instead of throwing them in order to improve his shot at the NFL.

Williams diary: Something to prove
At the Senior Bowl, Auburn RB Carnell Williams is determined to prove he's the nation's top back.

Clayton diary: On the Mark
At the Senior Bowl, Oklahoma WR Mark Clayton gets his first taste of what professional football is all about.

Scouts: 49ers on the clock

The Niners will likely look to trade down, but our first mock draft has them taking Cal QB Aaron Rodgers.

Mueller: Crash course

Arkansas QB Matt Jones will be looking to prove to scouts that he can succeed as a WR at the next level.

Maisel: Target practice
Carnell Williams plans on a strong week of Senior Bowl practices shooting him past the other backs in the NFL draft.

Sweet home Alabama
Much has changed in Mobile over the last 54 years, including the ever-growing stature of the Senior Bowl.

Scouts: Best of the rest

Scouts Inc. breaks down which prospects helped their stock the most at a pair of lower-tier all-star games.

Scouts: Diamonds in the rough?

The majority of the players in the Las Vegas All-American Classic are late-round and free-agent prospects.

Kiper: Initial first-round projection

Utah quarterback Alex Smith tops Mel Kiper's initial first-round projection for the 2005 NFL draft.

Oklahoma safety signs with agent
Oklahoma free safety Brodney Pool signed with an agent Wednesday, solidifying his status as an early entry into the NFL draft.

Scouts: Rise and Shrine

QB Stefan Lefors and WR Taylor Stubblefield increased their draft values in the East-West Shrine Game.

Scouts: Executive decision

Several potential Day 1 prospects such as Iowa LB Abdul Hodge chose school over a sizeable paycheck.
Contest and Special Sections