Allen, Woodson simply the best
Marcus Allen and Rod Woodson top the list of the best selections with the No. 10 pick.
Originally Published:
April 16, 2007
By
David Rose
and
Russell S. Baxter
| Special for ESPN.com
Most teams picking in the top 10 of the draft expect to land impact players. Of course, it doesn't always work out that way, but we decided to show the kind of player who can be added when a front office gets it right by ranking the 10 best selections at each spot in the top 10 since 1967 (the first common draft between the AFL and NFL). We'll start with the all-time best No. 10 picks and count down to the best No. 1 picks by Friday, April 27.
Top 10 No. 10 Picks
Vote: Best No. 10 Pick ?
We want to know what you think of our list. Take a look at the choices, cast your vote and compare your answer to the rest of SportsNation.
• Vote: Best No. 10 Pick?
1. Marcus Allen (1982) -- Raiders
The Heisman Trophy winner in 1981, Allen came into the NFL in 1982 and made an immediate splash, leading the Raiders to the Super Bowl title in just his second NFL season. He rushed for a Super Bowl-record 191 yards (later broken by Timmy Smith with 204 yards in Super Bowl XXII) to earn MVP honors.
In 1985, Allen was the league's most valuable player, rushing for a career-high 1,759 yards with 67 pass receptions. With his career total of 12,243 rushing yards and 5,411 receiving yards, Allen is one of only three players (joining Marshall Faulk and Tiki Barber) in league history to have gained at least 10,000 yards rushing and 5,000 yards receiving, and his 145 total touchdowns rank third in NFL history. Allen was inducted into the Pro Football Hall of Fame in 2003.
2. Rod Woodson (1987) -- Steelers
An 11-time Pro Bowl selection, Woodson starred in the NFL for 17 seasons with the Steelers, 49ers, Ravens and Raiders. He amassed 71 career interceptions, third most in NFL history. His 12 career interception returns for touchdowns are the most in league history. Woodson, who won a Super Bowl title with the 2000 Ravens, was named Defensive Player of the Year in 1993, and was also a member of the NFL's 75th Anniversary All-Time Team at cornerback.
3. Jerome Bettis (1993) -- Rams
"The Bus" rolled through the NFL for 13 seasons, rushing for 13,662 yards (fifth most in NFL history). Bettis was one of the most durable backs in league history; his 3,479 rushing attempts rank fourth all time, behind only Emmitt Smith, Walter Payton and Curtis Martin. A six-time Pro Bowler, Bettis' career ended in style as he helped the Pittsburgh Steelers to victory in Super Bowl XL in his hometown of Detroit.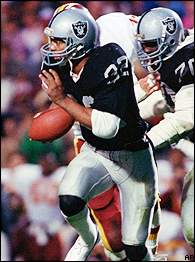 Allen rushed for 191 yards and two TDs during Super Bowl XVIII, his brightest moment.
4. Isiah Robertson (1971) -- L.A. Rams
While he is perhaps most remembered for being run over by Earl Campbell, Robertson had a successful NFL career. He spent 12 seasons in the NFL with the Rams and Bills, and was selected to six Pro Bowls. Robertson recorded 25 interceptions and scored four touchdowns in 168 career games.
5. Herman Moore (1991) -- Lions
Moore played for 11 seasons, making his biggest splash in 1995, when he set a single-season record with 123 receptions (later broken by Marvin Harrison with 143 catches in 2002). Moore recorded at least 100 receptions in three straight seasons (1995-97), amassing 333 receptions over those three years. He finished his career as the Lions' all-time leader in receptions (670), receiving yards (9,174) and TD receptions (62).
6. Al Toon (1985) -- Jets
Toon's career was cut short due to concussions. A three-time Pro Bowler, he amassed 517 career receptions, third on the Jets' all-time list, in eight NFL seasons. Toon recorded 1,000-yard seasons in 1986 and 1988, and led the NFL with 93 receptions in 1988.
7. Keith Byars (1986) -- Eagles
A fullback who enjoyed great success as a receiver out of the backfield. Byars registered 610 receptions in a 13-year career, including a career-high 81 in 1990. Byars reached his only Pro Bowl in 1993, after catching 61 passes for the Miami Dolphins.
8. Chris McAlister (1999) -- Ravens
An eight-year NFL veteran and part of a Ravens defense that is among the best in the NFL, McAlister has been selected to three Pro Bowls. He notched four interceptions during the 2000 season, helping the Ravens to one of the most dominant defensive performances in NFL history and a victory in Super Bowl XXXV. McAlister has collected 22 career interceptions and his 107-yard return of a missed field goal for a touchdown against the Broncos in 2002 is the third-longest play in NFL history.
9. Jeff Siemon (1972) -- Vikings
A key member of the Vikings' defense during the 1970s, Siemon spent 11 seasons in the NFL. He recorded an astounding 229 total tackles during the 1978 season. A four-time Pro Bowl selection, Siemon was part of three Vikings teams that reached the Super Bowl (1973, '74, '76).
10. Willie Anderson (1996) -- Bengals
A cornerstone of the Bengals' offensive line, Anderson has started 168 of 174 career NFL games, including the last 102 games for Cincinnati (2000-06). Selected to the Pro Bowl each of the past four seasons, Anderson was part of the 2005 Bengals squad that went 11-5 and won the franchise's first division title in 15 years .
Honorable Mention
Terrell Suggs (2003) -- Ravens
Matt Leinart (2006) -- Cardinals
David Rose and Russell S. Baxter work for ESPN Research.
The NFL staff has ranked the 10 best selections at each spot in the top 10 since 1967.

MOST SENT STORIES ON ESPN.COM