Commentary
Combine wrap-up: Five key observations from Indy
The track was fast and the speeds were blazing. What else did we learn from this year's combine? John Clayton has five key observations.
Originally Published:
February 26, 2008
By
John Clayton
| ESPN.com
INDIANAPOLIS -- The NFL just completed its final scouting combine at the RCA Dome, with the event moving across the street next year to the Lucas Oil Stadium. There are rumblings the NFL might sell suites so that interested fans can attend the workouts.
Next year's prospects can only hope the fast track of the RCA Dome carries over to the combine's new home. Speed was definitely the story of this year's combine.
Twenty-two prospects, including 13 defensive backs, ran sub-4.4 40s, including a 4.24 by East Carolina running back Chris Johnson. That total is an increase from the 19 sub-4.4s recorded a year ago. In all, 54 players in this combine ran sub-4.5s. (Click here for the top performer in each combine drill.)
All this speed gave a track-meet feel to the combine. Players are serious about their training for the event, and teams were pleased with the number of players who worked out.
Aside from seeing fast athletes, what else did we learn at the combine?
---
1. Running backs, thanks to underclassmen, exceeded expectations.
[+] Enlarge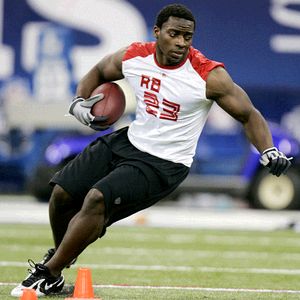 AP Photo/Michael Conroy If the Texans decide to take a running back in Round 1, Illinois' Rashard Mendenhall could be an option.
Darren McFadden of Arkansas was clearly the underclassman star after running a 4.33 40, but all seven underclassmen backs ran 4.48 40s or better.
Rashard Mendenhall of Illinois probably moved ahead of Jonathan Stewart of Oregon by running a 4.45 40 and doing great in the drills. Stewart was the "slowest" of the young backs, but he ran 4.48, had the best vertical jump of the backs (36½ inches) and was the third-strongest back with 28 reps at 225 pounds.
Jamaal Charles of Texas helped himself by running a 4.38, and Felix Jones of Arkansas ran a 4.47. Ray Rice of Rutgers did a 4.44, as did Steve Slaton of West Virginia. Backs with speed break big plays, and these are all proven college backs with breakaway speed.
Johnson, the only senior in the top eight, ran the best combine time of any athlete with that 4.24.
---
2. Very little sorted itself out at quarterback.
[+] Enlarge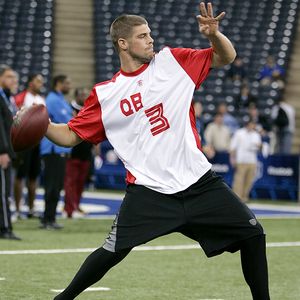 AP Photo/Michael ConroyColt Brennan
It probably didn't help that the consensus No. 1 quarterback, Matt Ryan of Boston College, decided to wait until his school's pro day to do his throwing. Andre' Woodson of Kentucky also was sidelined because of a hamstring injury suffered a couple of weeks ago.
Chad Henne of Michigan helped himself with a good throwing day Sunday, while Joe Flacco of Delaware continued to show the strongest arm in the draft, nudging even closer to first-round status.
Colt Brennan of Hawaii didn't run, but he was the most accurate thrower Sunday. He completed all 18 of his passes, confirming he is a sharpshooter despite a strange, side arm-type release.
Josh Johnson of San Diego wowed everyone with his athletic skills, being the fastest quarterback in the draft with a 4.55 40 and doing a quarterback-best 33½-inch vertical jump. Brian Brohm of Louisville did just enough to retain his first-round rating.
---
3. This draft will be loaded with great defensive athletes.
[+] Enlarge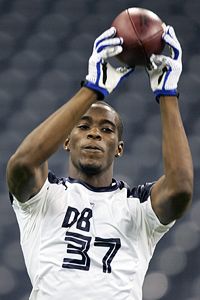 AP Photo/Michael ConroyDominique Rodgers-Cromartie
Virginia defensive end Chris Long was the smoothest of the defensive linemen, running his drills effortlessly and posting an impressive 4.75 40. No doubt his father, Howie Long, is proud.
Ohio State defensive end Vernon Gholston put his stock in the top-five category by running a 4.67 and lifting the 225-pound weights 37 times. In other words, he's as fast as a linebacker and as strong as an offensive lineman, matching the weight-lifting performance of Michigan offensive tackle Jake Long.
Antonio Cromartie's cousin, Dominique Rodgers-Cromartie, was the star of the secondary, running a 4.33 and showing footwork few cornerbacks have shown in years.
Safety Josh Barrett of Arizona State was the big winner at strong safety by running a 4.35 despite his being a muscular 223 pounds. Top cornerbacks Mike Jenkins of South Florida and Leodis McKelvin of Troy locked up first-round ratings with sub-4.4 40s.
---
4. Size and speed highlight the wide receiver position.
[+] Enlarge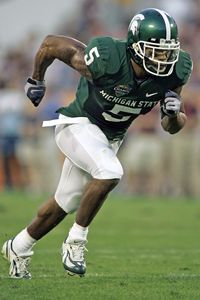 Icon SMI Devin Thomas
Devin Thomas of Michigan State helped himself the most by running the sixth-fastest time among receivers, at 4.4. He has good size at 6-1 7/8 and 216 pounds.
James Hardy of Indiana (a 4.47 40 despite being 6-5 and 217 pounds) made a push to challenge to be the No. 1 receiver -- but it doesn't appear that a receiver will go in the top 10 of the draft.
DeSean Jackson of Cal, once considered the top receiver in this class, ran the fastest 40 among the wideouts at 4.35, but he's just 5-9, 169 pounds. That's fairly light to survive as a No. 1 receiver in the NFL.
Limas Sweed of Texas helped himself with a 4.46 40. Mario Manningham of Michigan looked smooth in the pass-catching drills, but he might have dropped into the second round after running a 4.59.
---
5. Offensive tackle may be the strongest position, but we learned the least about them.
[+] Enlarge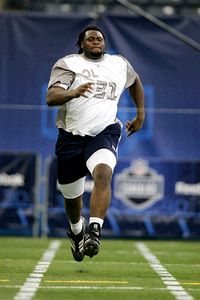 AP Photo/Michael ConroyPitt's Jeff Otah is a standout in a deep offensive tackle class in this draft.
First-round candidates Sam Baker of USC, Ryan Clady of Boise State and Anthony Collins of Kansas didn't work out. With Clady and Collins being underclassmen, teams will have to flock to their schools for workouts.
Jake Long clearly is the star of the position and potentially the No. 1 pick in the draft. He checked in at 6-7, 313 pounds, ran a 5.17 40 and was the strongest lineman with 37 reps at 225 pounds.
Also impressive were Vanderbilt tackle Chris Wiliams (5.07 40 at 6-6, 315 pounds), Carl Nicks of Nebraska (5.18 40 at 6-4 7/8, 341 pounds) and Gosder Cherilus of Boston College (5.21 at 6-6 3/8, 314 pounds).
Jeff Otah of Pitt had the slowest time among the offensive linemen at 5.56 but he's just eight weeks removed from a high ankle sprain and started re-training only two weeks ago. He's considered a first-round prospect.
NFL Combine's Top Performances
Here are the top results recorded in the various drills at the 2008 scouting combine.
| | | | | |
| --- | --- | --- | --- | --- |
| Drill | Name | Pos. | School | Result |
| 40-yard dash | Chris Johnson | RB | East Carolina | 4.24 seconds |
| Bench press | Jake Long | OT | Michigan | 37 reps |
| | Vernon Gholston | LB | Ohio State | 37 reps |
| Vertical jump | Carl Stewart | RB | Auburn | 39 inches |
| Broad jump | Jerome Simpson | WR | Coastal Carolina | 11 feet, 4 inches |
| 3-cone drill | Harry Douglas | WR | Louisville | 6.57 seconds |
| 20-yard shuttle | Arman Shields | WR | Richmond | 3.96 seconds |
| 60-yard shuttle | Arman Shields | WR | Richmond | 10.87 seconds |
John Clayton, a member of the Pro Football Hall of Fame writers' wing, is a senior writer for ESPN.com.
NFL senior writer
Senior NFL writer and commentator
Joined ESPN in 1995
Member of the writers' wing of the Pro Football Hall of Fame in Canton, Ohio
2008 SCOUTING COMBINE

The annual NFL scouting combine ended Tuesday at the RCA Dome in Indianapolis. More than 330 prospects attended.
• Draft Central
• First-round order


Commentary/Features
•
Reese: Five things about scouting
•
Sando: Teams wary of high picks
•
Clayton: Combine wrap-up
•
Hashmarks blog
•
Reese: Five best talent evaluators
•
Clayton: Best ways to draft QBs
•
Chadiha: Gholston's ready for his closeup
•
Chadiha: CB could join 2 other Troy stars in NFL
•
Yasinskas: OL Long makes sense for Miami
•
Clayton: Deep left tackle pool
•
Yasinskas: Deaf player's pro aspirations
•
Sando: Combine superstars
•
Yasinskas: Workout warrior Mamula
•
Clayton: Pats, Colts among top talent evaluators
•
Sando: Combine questions (and answers)
•
Alipour: Helpful tips from Mario Williams
•
Reese: 10 great combine workouts
•
Reese: Five important intangibles
•
Kiper: Five players with something to prove

•
Research: Top combine performers since 2000
News
•
Vincent: No big HGH problem
Scouts Inc.
•
McShay combine buzz:
Day 6
|
5
|
4
|
3
|
2
|
1
•
Pos. rankings:
QB
|
FB
|
RB
|
WR
•
More:
TE
|
OL
|
DL
|
LB
|
DB
Video
•
McShay: Character concerns for McFadden?
•
Sando: Psychological tests
•
McShay: Stock rising, stock falling
•
Flacco and Woodson stand out among QBs
•
McShay: Breaking down McFadden
•
McShay: Speed sets WRs apart
•
Clayton: News and notes
•
Mosley: Relaxed times in Indianapolis
•
Yasinskas: No QB controversy in Washington
•
Chadiha: Catching up with front-office personnel
•
NFL hopeful's story of survival
•
Kiper: Five players to watch
•
Todd McShay's combine preview
•
Schlereth's top 5 teams at evaluating talent
•
Salisbury's top 5 teams at evaluating talent
•
LSU's Dorsey learning the drills
•
All access: Michigan OL Jake Long
•
QB Flacco trying to measure up
•
Proving ground for relative unknowns

MOST SENT STORIES ON ESPN.COM