Commentary
Trade winds affecting early first-round forecast
Potential trades and lingering questions regarding Darren McFadden's character have created a lot of uncertainty at the top of the draft, writes John Clayton.
Originally Published:
April 21, 2008
By
John Clayton
| ESPN.com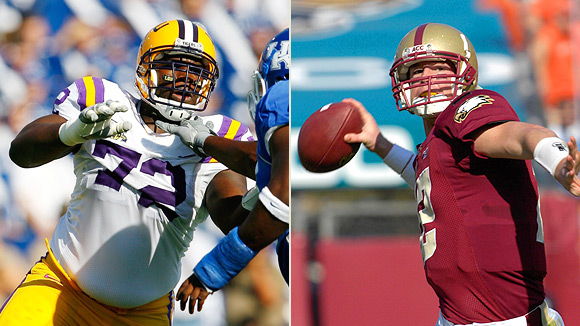 Getty Images Could New Orleans move up to get Glenn Dorsey, and will Matt Ryan, right, fall to the Ravens?
As the NFL draft approaches, story lines -- some new, others old -- have emerged to pique interest.
For the first time since 2003, a trade involving a top-seven pick could happen. Meanwhile, Radio City Music Hall, home of the two-day event that starts Saturday at 3 p.m. ET, could experience great drama if Darren McFadden slips out of the top five.
Simply put, this draft is fascinating. Miami Dolphins executive Bill Parcells has everyone guessing regarding his intentions for the No. 1 pick. The Falcons, loaded with four of the top 48 picks, hope to be the draft's big winners. But events over the past week have intensified the intrigue swirling around the draft.
Here are the top-five story lines:
1. A possible Jared Allen trade: The Kansas City Chiefs may let Allen, the league's leading sacker, slip out of town. On Thursday the Chiefs confirmed they are listening to offers for their franchise defensive end. Allen had a great visit to Minnesota over the weekend. Both sides talked parameters of a contract, but no deal was struck. Allen's plan is to visit Tampa Bay soon. The Chiefs would receive two first-round picks -- the price of a franchise player -- if they let Allen sign with either team.
The Chiefs' acknowledgment of trade discussions suggests they might take less than two first-round picks. Allen has made it clear he won't sign a long-term deal with the Chiefs. If that's the case, the Chiefs would have to find a replacement, and now would be the time. Chris Long of Virginia or Vernon Gholston of Ohio State should be available at No. 2. Let's say the Chiefs trade Allen to the Vikings for first- and third-round picks or a first- and a second-rounder. Other than Jake Long, the top offensive linemen are expected to go between the No. 12 and No. 18 picks. Armed with the Vikings' pick at No. 17 and several others, the Chiefs could move up and get the left tackle of their liking.
The Vikings have a better chance than the Bucs of making a trade with the Chiefs because the Bucs have only five picks. From a football standpoint, it would be interesting to see Allen in a Vikings uniform. The Vikings have Kevin Williams and Pat Williams at defensive tackle occupying three blockers. Allen would be a nightmare for teams in the NFC North to block.
2. Trading into the top seven: The New Orleans Saints, owners of the No. 10 pick, might do it. They are interested in trading with the Rams to get the No. 2 pick and take defensive tackle Glenn Dorsey. The Rams haven't gotten back to the Saints to indicate whether they would consider a trade.
If the Saints can't get Dorsey, they would target USC defensive tackle Sedrick Ellis, whom they could get by jumping ahead of the Bengals at No. 9. Defensive tackles are one of the hardest positions to hit big on in the first round. In 2003, the Saints used the No. 6 pick to get Johnathan Sullivan, who was a bust and is no longer in the league.
In 2003, the New York Jets traded to No. 4 for defensive tackle Dewayne Robertson, who is currently being shopped for second-day choices. Trading down might be a temptation for the Rams, who aren't sure whether it would be better to take Dorsey, Chris Long or Jake Long (depending on whom the Dolphins take). The Rams have to think about that over the next few days, but they do have a bidder if they want to make a trade.
3. The Darren McFadden story: Many believe McFadden is the most talented athlete in the draft, but there are questions about his character, including a fight in January outside a bar in Arkansas. He wasn't charged. His selection is the biggest drama in the draft. Act 1 will start at the No. 4 pick. Oakland Raiders owner Al Davis may have visions of Bo Jackson in looking at McFadden's ability to break long touchdown runs. Even though the Raiders have Justin Fargas, Dominic Rhodes, Michael Bush and LaMont Jordan, Davis could pick McFadden over Chris Long at No. 4.
But if McFadden slips to No. 6, imagine the scene at Radio City Music Hall: Jets fans will be screaming for the Jets to take him. McFadden would add speed and explosiveness to an offense that plans to run more. The Jets are a franchise big on analyzing character. If they have questions about McFadden, they could pass on him, and the 10-minute scene could get even wilder in Radio City. At No. 7, the Patriots could take him. McFadden was a human highlight reel in Arkansas, but he could be the star of the draft from the fourth pick on down.
4. Quarterback maneuverings: As many as five teams could be angling for quarterbacks: Atlanta, Miami, Baltimore, Carolina and the Jets. If Jake Long and Dorsey are off the board after two selections, the Falcons might settle for quarterback Matt Ryan of Boston College. If not, Ryan could fall to the Baltimore Ravens at No. 8 and replace Steve McNair, who retired last week.
That leaves three possible first-round quarterbacks: Brian Brohm of Louisville, Chad Henne of Michigan and Joe Flacco of Delaware. To get its choice of quarterback, one of the quarterback-needy teams may have to trade into the lower part of the first round. The Cowboys and Chargers have already indicated that their picks in the lower part of the first are up for bids. Other teams will be tempted to move down by competitive offers. I include the Jets here because they like Flacco as a prospect and might try to pursue him if the price is right.
5. Draft economics: Owners believe they are drowning in the rookie pool. Agents have been so creative with clauses and ways to get around the rookie pool that the price of the first pick is now $10 million a year. The Raiders had to wait to September to sign quarterback JaMarcus Russell to a six-year, $61 million with $32 million in guarantees. Economics are already playing into this year's first pick. The Dolphins would like to get Jake Long signed to a deal before the draft, but they also would like to move the first-pick contract number downward.
Because of the ridiculous cost of high draft choices, teams at the top want to trade down while few teams want to move up and pay the high prices. Draft economics have limited the number of trades at the top of the draft. How bad have things gotten? The Patriots appeared to have hit the lottery in getting the No. 7 pick in the draft from the 49ers, but No. 7 picks now get $40 million contracts. The Patriots, like most teams, aren't sure if any player at that part of the draft is worth it.
John Clayton, a member of the Pro Football Hall of Fame writers' wing, is a senior writer for ESPN.com.
NFL senior writer
Senior NFL writer and commentator
Joined ESPN in 1995
Member of the writers' wing of the Pro Football Hall of Fame in Canton, Ohio
2008 NFL DRAFT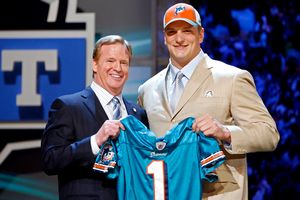 The 2008 draft lasted 14 hours, 26 minutes. Michigan offensive tackle Jake Long (above), selected by Miami, was the No. 1 overall pick. This year's Mr. Irrelevant -- the last pick in the draft -- is David Vobora, a linebacker from Idaho selected by St. Louis with the 252nd pick.


Round-by-round, team-by-team picks
•
Round:
1
|
2
|
3
|
4
|
5
|
6
|
7
•
AFC East:
Buffalo
|
Miami
|
N. England
|
NY Jets
•
AFC North:
Baltimore
|
Cinc.
|
Cleve.
|
Pitt.
•
AFC South:
Houston
|
Indy
|
Jax
|
Tennessee
•
AFC West:
Denver
|
K.C.
|
Oakland
|
San Diego
•
NFC East:
Dallas
|
NYG
|
Philadephia
|
Wash.
•
NFC North:
Chicago
|
Detroit
|
G.B.
|
Minnesota
•
NFC South:
Atlanta
|
Carolina
|
N.O.
|
Tampa
•
NFC West:
Arizona
|
S.F.
|
St. Louis
|
Seattle
Inside Radio City Music Hall
•
Panoramic views
Commentary/Features
•
Wickersham: Bears, Ravens take opposite turns
•
Williamson: Remembering Heath Benedict
•
Yasinskas: Falcons should be patient with Ryan
Day 2
•
Clayton: Six draft trends
•
Chadiha: 10 great marriages
•
Walker: NFC East draft review
•
Sando: NFC West draft review
•
Willamson: NFC North draft review
•
Yasinskas: NFC South draft review
•
Sando: AFC East draft review
•
Williamson: AFC West draft review
•
Walker: AFC North draft review
•
Yasinskas: AFC South draft review
Day 1
•
Clayton: Day 1 winners and losers
•
Williamson: Davis couldn't resist McFadden
•
Walker: Ravens had to work for Flacco
•
Sando: Long addresses Rams' D-line needs
•
Chadiha: AFC East hustle continues on draft day
•
Yasinskas: Ryan gives Falcons hope, identity
Mel Kiper
•
Kiper's team-by-team draft grades
•
Day 1 good, bad moves: Questionable Titans
News
•
2008 breaks previous trade record
•
Jets sign NCAA career rushing leader Woodhead
•
Lions pick Smith with first pick of second day
•
Miami, Long make it official
|
NFL Local
Video
•
Green: First-round pick instant analysis
•
Complete draft analysis
•
One-on-one with Jake Long
•
One-on-one with Chris Long
•
One-on-one with Matt Ryan
•
One-on-one with Darren McFadden
•
One-on-one with Glenn Dorsey
•
One-on-one with Vernon Gholston
•
Ed Werder on Cowboys
•
Norv Turner interview
•
Fantasy Spin
Audio
•
Jake Long
|
Chris Long
|
Matt Ryan
•
Darren McFadden
|
Vernon Gholston
•
Glenn Dorsey
|
Keith Rivers
|
Chris Williams
•
Lawrence Jackson
SportsNation
•
Vote:
Best first-round pick?
|
Potential busts?
•
Grades: How did your team fare?
Scouts Inc.
•
Analysis:
Round 1
|
2
|
3
|
4
|
5
|
6
|
7
Cheat Sheets
:
RB
|
DL
|
DB
|
LB
|
OL
|
REC
|
QB
•
McShay: Seven-round mock draft
•
Revisiting the 2005 draft
|
2005 re-draft
Nike Youth Home Game Jersey Atlanta Falcons Julio Jones #11 Shop »

MOST SENT STORIES ON ESPN.COM