Commentary
Draft's opening act closed, but plenty of intrigue in store
In the course of an hour, BC QB Matt Ryan could lose $10 million, while Michigan QB Chad Henne could make millions. Those are just two things to watch for on Saturday as the draft unfolds, John Clayton writes.
Originally Published:
April 25, 2008
By
John Clayton
| ESPN.com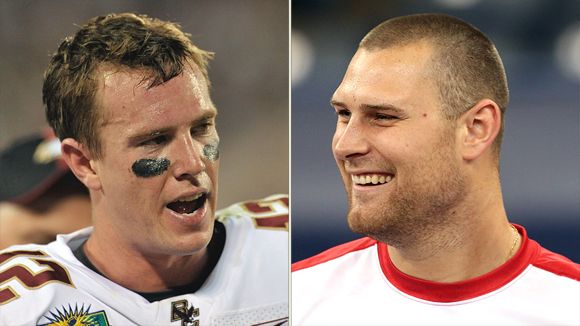 Icon SMI/Ben Liebenberg/NFL Photos/Getty ImagesSaturday, BC's Matt Ryan (left) could lose millions as teams that have more pressing needs at other positions pass on selecting the top QB on the board. At the same time, Michigan QB Chad Henne could find himself vaulting up the charts.
The
Jake Long
selection by the
Miami Dolphins
should have made this a reasonably simple draft to figure out. So much for simple.
The St. Louis Rams, who earlier in the week rated Glenn Dorsey as their top player, are now looking at the possibility of taking Virginia defensive end Chris Long instead. Because Dorsey is the Atlanta Falcons' most coveted player, the Rams will try to entice the Falcons, who hold the third pick, to swap choices and give up another pick in order to move up and draft Dorsey at No. 2.
If Chris Long and Dorsey go second and third, Boston College quarterback Matt Ryan would be up for grabs, and the New York Jets could be the odd team out, unable to get a pass-rusher or McFadden.
>
Even with the suspense drained a bit by the Jake Long signing, the first few hours of the draft on Saturday in New York should make for interesting theater. Here are five scenarios to watch:
1. Ryan's hope: Naturally, Ryan wished he was the first pick in the draft, but that hope ended when the Dolphins signed Jake Long. Now, Ryan plays a pivotal role in how the draft is structured and how the Atlanta Falcons view themselves as a rebuilding franchise. With Chris Redman and Joey Harrington as their pivots, it's pretty evident the Falcons are just biding time until their next franchise quarterback appears.
Selecting Ryan with the third pick in the first round would be an easy way to solve the problem, but it's creating a lot of debate in Atlanta. The Rams might resolve it by giving them Dorsey. Falcons owner Arthur Blank wants to sell tickets, and a quarterback helps with the marketing. The new front office would prefer to build the parts around the quarterback first because no quarterback could make this team an instant winner. If the Falcons take Dorsey, Ryan will suffer some financial losses. He could drop to the No. 8 slot occupied by the
Baltimore Ravens
. The situation is good for the Ravens and bad for Ryan, who could lose $8-10 million in guarantees if he were to drop from the third to the eighth pick. The Chiefs don't plan to draft him, so the Jets might have to make a decision whether to take him or see if they can get a draft choice from the Ravens to move down to No. 8.
2. The next quarterback:
An interesting scenario started to circulate on Thursday. If Ryan were to go to the Falcons, the Ravens could trade out of the eighth pick in the first round, dropping down to take Michigan quarterback
Chad Henne
. Most draft experts believe Henne should go in the bottom of the first or the top of the second round, but it's not out of the question for the Ravens to consider him as high as the 10th pick. That would require a trade with the
New Orleans Saints
, who would be trying to acquire USC defensive tackle Sedrick Elllis. Henne at No. 10? It's not as preposterous as you might think. Ravens general manager Ozzie Newsome shies away from small-college players in the first day of the drafts. In 13 drafts, his only small-college choice was cornerback
David Pittman
of Northwestern State, a 2006 third-round choice who hasn't emerged. With
Steve McNair
retired, the Ravens need to get a quarterback in the first two rounds. If they can't get Ryan, they are in a bad spot in the second round with the 38th pick. Trading up to get Henne,
Brian Brohm
or
Joe Flacco
would be tough because the Dolphins and Jets are ahead of them. If those teams move up to get a quarterback, the teams that swap first-round choices would rather drop to Nos. 32 or 36 rather than No. 38. Newsome could be looking at Troy cornerback
Leodis McKelvin
or Boise State tackle
Ryan Clady
. Don't be surprised if Henne goes to the Ravens in a higher spot in the first round than anyone anticipated. Of course, that depends on whether the Falcons take Ryan or Dorsey.
3. The Cover 2 dilemma:
This is the first draft of hybrids, and we're not talking about cars.
With roughly a third of the league going to 3-4 defenses, defenders such as Vernon Gholston of Ohio State, Long of Virginia, Quentin Groves of Auburn and several others fit as defensive ends in a 4-3 or as linebackers in a 3-4.
More colleges are going to go to 3-4 defenses to counter the spread offenses. That makes it tougher for the Cover 2 teams such as the Tampa Bay Buccaneers to decide if a 3-4 linebacker fits into their 4-3 scheme.
The Bucs considered trading for defensive end Jared Allen, but they were outbid by the Minnesota Vikings. If Derrick Harvey of Florida isn't available to the Bucs, they have to look at Auburn's Groves and others to see if they fit in their 4-3.
The Jaguars are in a similar position if they can't get Harvey or Phillip Merling of Clemson in the first round. That's why they are willing to make low bids for Jason Taylor of the Dolphins, even though they won't get him. No one is giving up a first-round pick for a 33-year-old pass-rusher.
4. The seven-minute crunch: Teams can make the adjustment to the first round's 10-minute window because they have had months to prepare for the draft and all this week to figure out trade and selection scenarios. However, with the first-round selection time limit shrinking from 15 to 10 minutes this year, the reduction might cost the first round one or two trades. More trade action happens in the second round.
There were eight second-round trades last spring and nine second-round trades in the 2006 draft. Many of the teams in the top 10 of the second round have needs that the players available in those spots might not fit. Still, to make a trade, they have to make quick calls, shop those deals and make a second-round selection in seven minutes. This seven-minute version of "Deal or No Deal" could have a few teams scrambling to get their picks and/or trades to the NFL on time.
5. Wide receivers with the drops: Figuring out where the wide receivers will go is the toughest thing in this draft. Devin Thomas of Michigan State could go as high as the 11th pick to the Buffalo Bills, but he could lower if the Bills get cornerback McKelvin or trade down into a lower spot in the round.
Malcolm Kelly of Oklahoma should go to either the Washington Redskins at No. 21 or the Dallas Cowboys at No. 22. Limas Sweed of Texas could go to the Tennessee Titans at No. 24.
DeSean Jackson of Cal is the hardest receiver to figure out. Though he has first-round receiving skills, he only weighs 169 pounds. He could be the speed element Jon Gruden would like to add to the Bucs' offense, but if he doesn't go to the Bucs, where does Jackson fall?
John Clayton, a member of the Pro Football Hall of Fame writers' wing, is a senior writer for ESPN.com.
NFL senior writer
Senior NFL writer and commentator
Joined ESPN in 1995
Member of the writers' wing of the Pro Football Hall of Fame in Canton, Ohio
2008 NFL DRAFT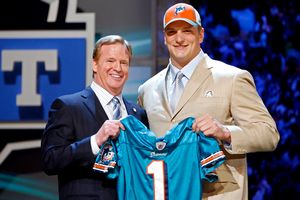 The 2008 draft lasted 14 hours, 26 minutes. Michigan offensive tackle Jake Long (above), selected by Miami, was the No. 1 overall pick. This year's Mr. Irrelevant -- the last pick in the draft -- is David Vobora, a linebacker from Idaho selected by St. Louis with the 252nd pick.


Round-by-round, team-by-team picks
•
Round:
1
|
2
|
3
|
4
|
5
|
6
|
7
•
AFC East:
Buffalo
|
Miami
|
N. England
|
NY Jets
•
AFC North:
Baltimore
|
Cinc.
|
Cleve.
|
Pitt.
•
AFC South:
Houston
|
Indy
|
Jax
|
Tennessee
•
AFC West:
Denver
|
K.C.
|
Oakland
|
San Diego
•
NFC East:
Dallas
|
NYG
|
Philadephia
|
Wash.
•
NFC North:
Chicago
|
Detroit
|
G.B.
|
Minnesota
•
NFC South:
Atlanta
|
Carolina
|
N.O.
|
Tampa
•
NFC West:
Arizona
|
S.F.
|
St. Louis
|
Seattle
Inside Radio City Music Hall
•
Panoramic views
Commentary/Features
•
Wickersham: Bears, Ravens take opposite turns
•
Williamson: Remembering Heath Benedict
•
Yasinskas: Falcons should be patient with Ryan
Day 2
•
Clayton: Six draft trends
•
Chadiha: 10 great marriages
•
Walker: NFC East draft review
•
Sando: NFC West draft review
•
Willamson: NFC North draft review
•
Yasinskas: NFC South draft review
•
Sando: AFC East draft review
•
Williamson: AFC West draft review
•
Walker: AFC North draft review
•
Yasinskas: AFC South draft review
Day 1
•
Clayton: Day 1 winners and losers
•
Williamson: Davis couldn't resist McFadden
•
Walker: Ravens had to work for Flacco
•
Sando: Long addresses Rams' D-line needs
•
Chadiha: AFC East hustle continues on draft day
•
Yasinskas: Ryan gives Falcons hope, identity
Mel Kiper
•
Kiper's team-by-team draft grades
•
Day 1 good, bad moves: Questionable Titans
News
•
2008 breaks previous trade record
•
Jets sign NCAA career rushing leader Woodhead
•
Lions pick Smith with first pick of second day
•
Miami, Long make it official
|
NFL Local
Video
•
Green: First-round pick instant analysis
•
Complete draft analysis
•
One-on-one with Jake Long
•
One-on-one with Chris Long
•
One-on-one with Matt Ryan
•
One-on-one with Darren McFadden
•
One-on-one with Glenn Dorsey
•
One-on-one with Vernon Gholston
•
Ed Werder on Cowboys
•
Norv Turner interview
•
Fantasy Spin
Audio
•
Jake Long
|
Chris Long
|
Matt Ryan
•
Darren McFadden
|
Vernon Gholston
•
Glenn Dorsey
|
Keith Rivers
|
Chris Williams
•
Lawrence Jackson
SportsNation
•
Vote:
Best first-round pick?
|
Potential busts?
•
Grades: How did your team fare?
Scouts Inc.
•
Analysis:
Round 1
|
2
|
3
|
4
|
5
|
6
|
7
Cheat Sheets
:
RB
|
DL
|
DB
|
LB
|
OL
|
REC
|
QB
•
McShay: Seven-round mock draft
•
Revisiting the 2005 draft
|
2005 re-draft

MOST SENT STORIES ON ESPN.COM