Commentary
Swapping picks, but not veterans, among 2008 draft trends
It was the draft to be an offensive tackle. It was not the draft to be an unhappy veteran star wishing for a new home. These were among the trends of this weekend's draft, John Clayton writes.
Originally Published:
April 28, 2008
By
John Clayton
| ESPN.com
NEW YORK -- Despite the proliferation of two-back rotations, NFL running games have been stumbling of late.
In 2005, the average NFL game had 224.9 yards rushing, an 8.3-yard drop from the previous season. The average increased to a respectable 234.6 yards in 2006 before decreasing to 221.8 yards in 2007. So it will be interesting to see whether this year's draft creates a positive spike on the ground.
Twenty-seven running backs were drafted Saturday and Sunday, 11 in the first three rounds. And an NFL-record eight offensive tackles went in the first round, with 23 total selected. While the NFL continues to evolve into more of a passing league each year, 2008 should be a miniresurgence for running offenses.
No wide receivers were considered good enough to go in the first round, and this was considered just an average to below-average year for tight ends. Clearly, the 2008 draft might have helped teams build better protection plans for their quarterbacks, since it was strong on linemen, but it wasn't a draft that bolstered many passing offenses.
What were the five other top trends in the draft?
1. Building equity for Chad Johnson or another wide receiver trade: If you looked at the need charts of three NFC East teams -- Philadelphia, Washington and Dallas -- heading into the draft, wide receiver was a prime need.
Of the three, the Redskins were the only team to try to fill that need. They drafted
Devin Thomas
and
Malcolm Kelly
in the second round. The Eagles used the 49th pick on wide receiver
DeSean Jackson
, but it's hard to project the 170-pound target as a No. 1 receiver. Watching both the Eagles and the Cowboys operate, it was easy to think they were building future equity to trade for wide receivers. The Eagles picked up a 2009 first-round choice along with a fifth and a sixth for next year. The Cowboys kept trading back and ended up with third- and fourth-round choices in 2009. The Bengals insist Johnson won't be traded. Arizona's
Anquan Boldin
and Detroit's
Roy Williams
also aren't being shopped. But coming off a draft in which no receivers went in the first round, you have to figure the Eagles and the Cowboys will target the Lions' Williams if he's franchised in 2009.
2. The right way to rebuild: As it turned out, Atlanta drafted quarterback Matt Ryan, even though it sounded like defensive tackle Glenn Dorsey was its preference. Dorsey went to Kansas City, a franchise, like the Falcons, in complete rebuilding mode. Over the next two years, it will be fascinating to study which strategy worked best. The Chiefs, who traded away NFL sack leader Jared Allen, drafted 12 players, four of them potential early starters: Dorsey, tackle Branden Albert, cornerback Brandon Flowers and safety DaJuan Morgan.
The Falcons drafted 11 players, but Ryan looks to be the only potential star. Tackle
Sam Baker
, linebacker
Curtis Lofton
and cornerback
Chevis Jackson
should be solid players. Right now, there seems to be more buzz about the Chiefs' draft, but if the Falcons hit it with Ryan, they could end up being the winners.
3. Why 34 draft-weekend trades?
The 2008 draft set a record with 34 trades, six more than the previous record set in 2004. Clearly, this was a "need" draft. It was rich in offensive tackles, running backs and cornerbacks, but thin in nose tackles, defensive tackles and safeties. And it wasn't particularly strong at linebacker. Now that teams have looked back on the 2008 draft, they have concluded it wasn't as good as the 2007 draft. That's a little scary. Drafts are dependent on the quality and quantity of the underclassmen who enter the draft. There were 39 underclassmen drafted, more than a full round of non-seniors. Imagine how bad this draft would have been without this group of underclassmen.
4. Unhappy shoppers?
The Giants decided to keep tight end
Jeremy Shockey
unless they received more than a second-round choice. The Saints refused to increase their offer and now aren't planning on acquiring him. Three teams were interested in cornerback
Lito Sheppard
, but nothing happened. Dolphins linebacker
Jason Taylor
was shopped for a first-round choice, and now he feels a little disrespected and uncertain about how the team's new organization feels about him. The Bengals aren't listening to offers for disgruntled wide receiver Johnson. With nothing happening with these tradable commodities, how they fit back in with their teams will be interesting. Shockey probably won't be a happy camper. Johnson isn't expected to show up in Cincinnati any time soon. Sheppard is in a tough spot, because he could lose his starting job to
Asante Samuel
. But it might be hard to resurrect any of these trades.
5. Quarterback shuffle:
Thirteen quarterbacks were drafted, but more than half of them ended up with teams that didn't have quarterback needs. San Diego State's Kevin O'Connell went to New England in the third round. Tennesee's
Erik Ainge
isn't expected to move ahead of
Kellen Clemens
or
Chad Pennington
with the Jets. Oregon's
Dennis Dixon
will be a third quarterback in development in Pittsburgh behind
Ben Roethlisberger
and
Charlie Batch
. The Bucs drafted the University of San Diego's
Josh Johnson
-- as if they needed
another
quarterback. The Packers took not only Louisville's
Brian Brohm
, but also selected LSU's
Matt Flynn
. The only teams in need of quarterbacks that received them were the Falcons (Ryan), the Ravens (
Joe Flacco
) and the Dolphins (
Chad Henne
). Perhaps the most interesting choice was
John David Booty
going to the Vikings, who say they are locked into
Tarvaris Jackson
's being the starter.
John Clayton, a member of the Pro Football Hall of Fame writers' wing, is a senior writer for ESPN.com.
NFL senior writer
Senior NFL writer and commentator
Joined ESPN in 1995
Member of the writers' wing of the Pro Football Hall of Fame in Canton, Ohio
SPONSORED HEADLINES
MORE NFL HEADLINES
MOST SENT STORIES ON ESPN.COM
2008 NFL DRAFT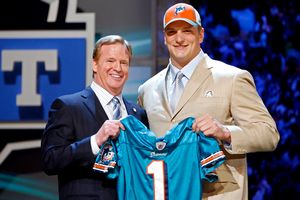 The 2008 draft lasted 14 hours, 26 minutes. Michigan offensive tackle Jake Long (above), selected by Miami, was the No. 1 overall pick. This year's Mr. Irrelevant -- the last pick in the draft -- is David Vobora, a linebacker from Idaho selected by St. Louis with the 252nd pick.


Round-by-round, team-by-team picks
•
Round:
1
|
2
|
3
|
4
|
5
|
6
|
7
•
AFC East:
Buffalo
|
Miami
|
N. England
|
NY Jets
•
AFC North:
Baltimore
|
Cinc.
|
Cleve.
|
Pitt.
•
AFC South:
Houston
|
Indy
|
Jax
|
Tennessee
•
AFC West:
Denver
|
K.C.
|
Oakland
|
San Diego
•
NFC East:
Dallas
|
NYG
|
Philadephia
|
Wash.
•
NFC North:
Chicago
|
Detroit
|
G.B.
|
Minnesota
•
NFC South:
Atlanta
|
Carolina
|
N.O.
|
Tampa
•
NFC West:
Arizona
|
S.F.
|
St. Louis
|
Seattle
Inside Radio City Music Hall
•
Panoramic views
Commentary/Features
•
Wickersham: Bears, Ravens take opposite turns
•
Williamson: Remembering Heath Benedict
•
Yasinskas: Falcons should be patient with Ryan
Day 2
•
Clayton: Six draft trends
•
Chadiha: 10 great marriages
•
Walker: NFC East draft review
•
Sando: NFC West draft review
•
Willamson: NFC North draft review
•
Yasinskas: NFC South draft review
•
Sando: AFC East draft review
•
Williamson: AFC West draft review
•
Walker: AFC North draft review
•
Yasinskas: AFC South draft review
Day 1
•
Clayton: Day 1 winners and losers
•
Williamson: Davis couldn't resist McFadden
•
Walker: Ravens had to work for Flacco
•
Sando: Long addresses Rams' D-line needs
•
Chadiha: AFC East hustle continues on draft day
•
Yasinskas: Ryan gives Falcons hope, identity
Mel Kiper
•
Kiper's team-by-team draft grades
•
Day 1 good, bad moves: Questionable Titans
News
•
2008 breaks previous trade record
•
Jets sign NCAA career rushing leader Woodhead
•
Lions pick Smith with first pick of second day
•
Miami, Long make it official
|
NFL Local
Video
•
Green: First-round pick instant analysis
•
Complete draft analysis
•
One-on-one with Jake Long
•
One-on-one with Chris Long
•
One-on-one with Matt Ryan
•
One-on-one with Darren McFadden
•
One-on-one with Glenn Dorsey
•
One-on-one with Vernon Gholston
•
Ed Werder on Cowboys
•
Norv Turner interview
•
Fantasy Spin
Audio
•
Jake Long
|
Chris Long
|
Matt Ryan
•
Darren McFadden
|
Vernon Gholston
•
Glenn Dorsey
|
Keith Rivers
|
Chris Williams
•
Lawrence Jackson
SportsNation
•
Vote:
Best first-round pick?
|
Potential busts?
•
Grades: How did your team fare?
Scouts Inc.
•
Analysis:
Round 1
|
2
|
3
|
4
|
5
|
6
|
7
Cheat Sheets
:
RB
|
DL
|
DB
|
LB
|
OL
|
REC
|
QB
•
McShay: Seven-round mock draft
•
Revisiting the 2005 draft
|
2005 re-draft
ESPN FAN SHOP