Commentary
Doucet, Harris both have something to prove
Virginia Tech-LSU features an outstanding matchup between Tigers WR Early Doucet and Hokies CB Victor Harris.
Originally Published:
August 10, 2007
By
Todd McShay
| Scouts Inc.
The college football season is in full swing and draft buzz is beginning to swirl. Week 2 of the regular season features one of the biggest early-season games on the schedule with No. 9 Virginia Tech visiting No. 2 LSU, a game that features the best one-on-one matchup of the coming weekend.
Can't-miss individual matchup
LSU WR Early Doucet vs. Virginia Tech CB Victor Harris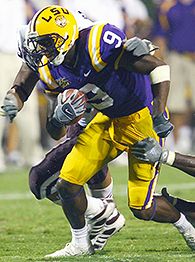 Marvin Gentry-US PRESSWIREEarly Doucet is Scouts Inc.'s top-rated senior wide reciever.
Early Doucet
and Victor Harris are two of the rising stars in college football right now. Doucet, a senior, hauled in nine passes in Week 1 against Mississippi State in his first game as LSU's the go-to receiver after spending last year at the No. 3 target behind first-round picks Dwayne Bowe (Chiefs) and Craig Davis (Chargers). Harris, a junior, is not as polished as teammate Brandon Flowers but possesses rare physical skills and playmaking instincts. Harris followed up a strong showing in spring practice with an outstanding season debut against East Carolina, which included a 17-yard interception return for a touchdown.

What makes this matchup so intriguing is that Doucet and Harris share similar measurables. Both are right around 6 feet tall and Doucet is approximately 10 pounds thicker, while Harris possesses the closing burst to recover if Doucet is able to use his size to gain a step in his route.
Under first-year offensive coordinator Gary Crowton, LSU likes to spread the field with a lot of three-receiver looks, which will put Virginia Techís highly-touted secondary to the test. Defensive coordinator Bud Foster will play a lot of man-free coverage, which means Harris will be responsible for handling Doucet one-on-one but will also get some deep support from free safety D.J. Parker. However, Parker wonít always be able to save Harris vertically and there will be instances when Foster asks Harris to hold up on an island versus Doucet. Thatís when college football fans and NFL scouts will get their money's worth.
Doucet did not run as well as expected for NFL scouts this spring so it is important for him to prove that heís faster in pads and cleats than in shorts and track shoes. Harris, on the other hand, has an opportunity to prove his technique and recognition skills are finally catching up to his pure physical ability. Both players have first-round potential, and if one of the two stands out as the superior athlete in this matchup he could solidify a spot in the first-round.
Harris is a junior but this yearís crop of senior cornerbacks is average at best and NFL scouts are paying particularly close attention to the junior ranks. From what I've seen on film Harris is one of five juniors who could come off the board in the first two rounds of the 2008 draft, along with his teammate Flowers, Malcolm Jenkins (Ohio State), Justin King (Penn State) and Aquib Talib (Kansas).
Small-school standout of the week
Corey Lynch, S, Appalachian State
Like the rest of his Appalachian State teammates,
Corey Lynch
experienced magical moments last week in Ann Arbor that he will never forget. In addition to holding his own in the secondary against Michiganís talented receiving corps, Lynch made the game-saving play by blocking Jason Gingell's last-gasp, 37-yard field goal attempt as time expired.
What Lynch may not realize is that he maximized his exposure in front of NFL scouts. Lynch is a 6-foot, 205-pound safety with excellent tackling and ball skills. As a junior in 2006 he finished with 85 total tackles, five interceptions and three blocked kicks. A lack of top-end speed will limit his draft potential but thereís a lot to like about Lynchís toughness and instincts as a possible late-round pick who could contribute on special teams and as a reserve safety. Lynch is currently ranked 33rd on my board among senior safety prospects but his draft value is obviously on the rise after a remarkable beginning to his redshirt senior campaign.
Scouts Inc. Top 32 Senior Prospects

Player
Position
School
Height
Weight
Speed
1. Chris Long
DE
Virginia
6-3 1/4
266
4.80
2. Glenn Dorsey
DT
LSU
6-1 1/4
310
5.10
3. Brian Brohm
QB
Louisville
6-3
2225
4.78
4. Jake Long
OT
Michigan
6-7
309
5.30
5. Samuel Baker
OT
USC
6-5
312
5.30
6. Andre' Woodson
QB
Kentucky
6-4
219
4.84
7. Keith Rivers
OLB
USC
6-2 3/4
236
4.60
8. Early Doucet III
WR
LSU
6-0
210
4.56
9. Sedrick Ellis
DT
USC
6-1 1/4
305
4.95
10. Dan Connor
OLB
Penn State
6-3
228
4.60
11. Limas Sweed
WR
Texas
6-4 3/8
219
4.45
12. Chad Henne
QB
Michigan
6-2
225
4.80
13. Phillip Wheeler
ILB
Georgia Tech
6-1 5/8
234
4.55
14. Gosder Cherilus
OT
Boston College
6-6 5/8
312
5.10
15. Adarius Bowman
WR
Oklahoma State
6-3 1/5
225
4.48
16. Quentin Groves
DE
Auburn
6-3 1/8
249
4.43
17. Tommy Blake
DE
TCU
6-2 1/2
252
4.61
18. Matt Ryan
QB
Boston College
6-4 5/8
221
4.80
19. Terrell Thomas
CB
USC
6-1 1/4
200
4.47
20. Mike Hart
RB
Michigan
5-9
200
4.50
21. Xavier Adibi
OLB
Virginia Tech
6-1 5/8
219
4.56
22. Antoine Cason
CB
Arizona
6-0
190
4.55
23. DeMario Pressley
DE
N.C. State
6-4
290
4.85
24. Dwight Lowery
CB
San Jose State
6-0 3/8
185
4.49
25. Barry Richardson
OT
Clemson
6-6 5/8
345
5.20
26. Frank Okam
DT
Texas
6-4 3/8
325
5.20
27. Dejuan Tribble
CB
Boston College
5-9
190
4.50
28. D.J. Hall
WR
Alabama
6-2 1/4
210
4.95
29. John David Booty
QB
USC
6-2 1/2
210
4.95
30. Andre Fluellen
DT
Florida State
6-1 3/4
279
5.05
31. Colt Brennan
QB
Hawaii
6-2 1/2
190
4.75
32. Kendall Langford
DE
Hampton
6-5 1/4
290
4.95
Todd McShay is the director of college football scouting for Scouts Inc. He has been evaluating prospects for the NFL draft since 1998.
Scouts Inc.
ESPN College Football and NFL Draft Analyst
Joined ESPN in 2006
Played quarterback in high school and was a backup QB for the University of Richmond.
Introducing the Class of 2008

It's never too early to look ahead to the 2008 NFL draft. Scouts Inc.'s Todd McShay grades the prospects and it's the linemen who move to the head of the class.
Overview | '08 Draft Tracker
Position Rankings
• Quarterback
• Running Back
• Wide Receiver
• Tight End
• Offensive Line
• Defensive Line
• Linebacker
• Defensive Back