Commentary
Byner uses 'The Fumble' as tool in his coaching arsenal
Updated:
April 18, 2008, 4:11 PM ET
By
James Walker
| ESPN.com
At age 45, former NFL running back Earnest Byner finally is living his lifelong dream.
Though he amassed 8,261 rushing yards during his 14-year career, it was never Byner's intention to play professional football. His top priority instead was to coach at the highest level.
[+] Enlarge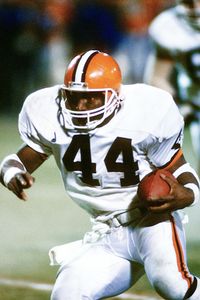 Getty ImagesEarnest Byner, taken in the 10th round by the Browns in 1984, finished his career with 8,261 yards rushing.
Today, Byner is a first-year running backs coach for the
Tennessee Titans
, after a four-year stint in the same capacity with the
Washington Redskins
. Byner already is having success in his second career. He's coached a 1,000-yard rusher every season in Washington from 2004-07. "This is the only thing I ever wanted to do; I played football as a means to get to coaching," Byner said. "It was really something that was told to me at age 6 or 7. I remember being in the front yard, and the spirit just came to me and said, 'You're going to be a coach.' " Former
Cleveland Browns
head coach Sam Rutigliano said he knew early that Byner was a draft day steal. Byner was taken by the Browns out of East Carolina in the 10th round (No. 280 overall) of the 1984 draft. He won a Super Bowl, played in two Pro Bowls and finished with more career rushing yards than Herschel Walker (8,225), Roger Craig (8,189) and Larry Csonka (8,081). Byner's accomplishments earned him a spot at No. 24 on ESPN.com's list of all-time draft steals. "He was the consummate pro," Rutigliano said. "I often say consistency confirms authenticity, and that best described Earnest Byner." Byner's most infamous play was "The Fumble" against the
Denver Broncos
that sealed the AFC Championship Game after the 1987 season. Down 38-31, the Browns were driving to tie before Byner fumbled near the 3-yard line. Cleveland lost, 38-33. Byner admitted that it took years to get over his mistake because he felt he let a lot of people down. Today, Byner uses his fumble as a powerful coaching tool to teach others how to overcome adversity. "To be honest, it helped me be a better man and a better person," Byner said. "Going through something like that really gives you perspective that life is not over when you have something tragic happen or something that definitely challenges you."
James Walker covers the NFL for ESPN.com.
ESPN Miami Dolphins reporter
A Temple graduate and Hyattsville, Md., native who lives in Miami
Joined ESPN in 2008
RANKING NFL DRAFT STEALS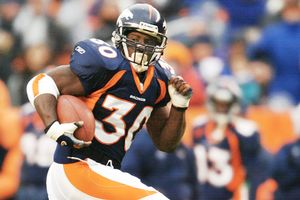 Terrell Davis was selected by the Broncos in the sixth round of the '95 draft with little to no expectations. He finished his career with four 1,000-yard seasons and two Super Bowls titles. Below are ESPN.com's top 50 NFL draft steals. In Part 1, ESPN.com ranked draft busts.

• Top 50 draft steals: 1-15 | 16-30 | 31-50
• Kiper: 10 guys who surprised me


• Williamson: Waiting was hard for Sharpe
• Walker: Byner use 'Fumble' as coaching tool
• Mosley: Wright a respected ex-player, voice
• Sando: Houston keeps football, life in perspective
• Zoom Gallery: Notable steals
• SportsNation: Rank the top 10 steals
• Hashmarks: Draft steals for the ages, pre-1967
• Watch: Marcellus Wiley analysis
•
Draft Central
FROM BRADY TO WESTBROOK
1.
Tom Brady, Patriots (2000)
2.
Joe Montana, 49ers (1979)
3.
Steve Largent, Oilers (1976)
4.
Shannon Sharpe, Broncos (1990)
5.
Ken Houston, Oilers (1967)
---
6.
Terrell, Davis, Broncos (1995)
7.
Andre Reed, Bills (1985)
8.
L.C. Greenwood, Steelers (1969)
9.
Charles Haley, 49ers (1986)
10.
Rodney Harrison, Chargers (1994)
---
11.
Charlie Joiner, Oilers (1969)
12.
Art Shell, Raiders (1968)
13.
Dan Fouts, Chargers (1973)
14.
Richard Dent, Bears (1983)
15.
Zach Thomas, Dolphins (1996)
---
16.
John Stallworth, Steelers (1974)
17.
Rayfield Wright, Cowboys (1992)
18.
Harry Carson, Giants (1976)
19.
Dwight Clark, 49ers (1979)
20.
Seth Joyner, Eagles (1986)
---
21.
Mark Clayton, Dolphins (1983)
22.
Mike Webster, Steelers (1974)
23.
Harold Carmichael, Eagles (1971)
24.
Earnest Byner, Browns (1984)
25.
John Taylor, 49ers (1986)
---
26.
Clyde Simmons, Eagles (1979)
27.
Hardy Nickerson, Steelers (1987)
28.
Matt Hasselbeck, Packers (1998)
29.
Jamal Anderson, Falcons (1994)
30.
Karl Mecklenburg, Broncos (1983)
---
31.
Bob Kuechenberg, Eagles (1969)
32.
Mark Schlereth, Redskins (1989)
33.
Hines Ward, Steelers (1998)
34.
Mark Bavaro, Giants (1985)
35.
Keenan McCardell, Redskins (1991)
---
36.
Trent Green, Chargers (1993)
37.
Greg Lloyd, Steelers (1987)
38.
Marc Bulger, Saints (2000)
39.
Tyrone Braxton, Broncos (1987)
40.
Ahman Green, Seahawks (1998)
---
41.
Larry Brown, Cowboys (1991)
42.
Brian Sipe, Browns (1972)
43.
La'Roi Glover, Raiders (1996)
44.
Jesse Sapolu, 49ers (1983)
45.
Leon Lett, Cowboys (1991)
---
46.
T.J. Houshmandzadeh, Bengals (2001)
47.
Troy Brown, Patriots (1993)
48.
Aaron Kampman, Packers (2002)
49.
Joe Horn, Chiefs (1996)
50.
Brian Westbrook, Eagles (2002)
---
RANKING NFL DRAFT BUSTS
In the first of a special two-part report on the draft, ESPN.com's ranked the top 50 draft busts.
•
Top 50 draft busts:
1-15
|
16-30
|
31-50
•
Kiper: 10 guys I can't believe failed

•
Walker: Shuler enjoying second stint in D.C.
•
Mosley: Leaf now at peace with NFL failure
•
Yasinskas: No room for football for Westbrook
•
Zoom Gallery: Notable busts
•
SportsNation: Rank the top 10 busts
•
Watch: Marcellus Wiley analysis

MOST SENT STORIES ON ESPN.COM