Commentary
High drama: Will Ravens grab a QB?
As the NFL draft approaches, James Walker looks at the biggest question facing each AFC team.
Originally Published:
April 25, 2008
By
James Walker
| ESPN.com
At this point everyone is well aware of the Miami Dolphins' intention with the No. 1 overall pick. But there is still plenty of high drama that will play out in New York City during this weekend's NFL draft.
Seven AFC teams had double-digit victories last year and this will be the last chance to add to the yearly arms race.
Here's a look at the biggest draft question facing each AFC team. (Click here for NFC questions.)
Q:
When will they take a quarterback, and can that person replace the recently retired
Steve McNair
?
A:
If the Ravens had their druthers, that quarterback would be Boston College's
Matt Ryan
and with the No. 8 overall pick. But there is a good chance that scenario won't happen Saturday. So Baltimore will explore trading into the top five, perhaps with the
Atlanta Falcons
at No. 3, or fill another need and wait until the second round for quarterbacks such as Louisville's
Brian Brohm
or Delaware's
Joe Flacco
. Any of these signal-callers would have a chance to compete with
Kyle Boller
for the starting job next season.
Q:
Could the Bills be the first team to take a cornerback at No. 11?
A:
Buffalo is an interesting team because it finished 7-9 last year but still has a lot of needs. The Bills could be one of those unpredictable "swing" teams in the first round that could take the best player available or fill the biggest need, which would be a cornerback. Many top corners, if not all, will be available at No. 11. Troy's
Leodis McKelvin
and Tennessee State's
Dominique Rodgers-Cromartie
are among the hottest prospects at the position. Wide receiver also is a possibility in the first round, and the Bills at some point should look to grab a pass-catching tight end.
Q: Will the Bengals trade receiver Chad Johnson this weekend? A: Johnson will remain in a Bengals uniform. The team's decision to decline a first- and third-round pick from the Washington Redskins this week is further proof Cincinnati isn't budging from its initial stance. The $8 million salary-cap hit to trade Johnson is too great and likely would force the team to restructure other contracts. As for the draft, look for the Bengals to address the front seven in the first round, perhaps with USC defensive tackle Sedrick Ellis. Cincinnati then could take a look at receivers to replace Chris Henry (released) and serve as protection in case "Ocho Cinco" holds out.
Q: What can the Browns realistically hope for with zero picks until the fourth round? A: Cleveland doesn't plan on hitting home runs this weekend. The Browns are looking for specialists; players who aren't complete but can do one thing very well. Ideally, that would be a pass-rushing outside linebacker or a big, physical cornerback who can play in the slot on nickel or dime situations.
Q: Will the Broncos reverse their draft misfortunes? A: Denver used to be one of the better teams at drafting players, but that has changed in recent years. Outside of Denver's class of 2006 that included quarterback Jay Cutler and receiver Brandon Marshall, the Broncos have failed to consistently produced home-grown talent. Denver needs to reverse that trend and could go a number of ways early in this weekend's draft. It could use help on both the offensive and defensive lines, and likely will spend the first day of the draft addressing those needs.
Q: Will Houston solidify its running game? A: The Texans' offense was solid at No. 14 in the NFL last year, but Houston did it without a consistent rushing attack. Houston has two ways to fix this problem: It can either draft a running back or patch up the offensive line. If the Texans are smart, they will attempt to do both. Illinois' Rashard Mendenhall, Oregon's Jonathan Stewart and Arkansas' Felix Jones could all be available to Houston at No. 18. The Texans could take the highest-rated tailback on their board in the first round and look to the third round and beyond to start building depth on the offensive line. Houston lost its second-round pick to the Falcons in the trade for quarterback Matt Schaub.
Q: Will the Colts trade into the first round? A: It's unlikely. Even without a first-round pick, the Colts are stacked and will be Super Bowl contenders again next season. Indianapolis doesn't need high picks to acquire top-level talent. The most recent examples are former second-rounders Tony Ugoh at tackle and safety Bob Sanders.
Q: Can the defense recover from losing Marcus Stroud? A: Jacksonville's defense is predicated on a physical front seven, and shipping defensive tackle Stroud to Buffalo is a significant loss that needs to be filled. The Jaguars will look at defensive tackle early and also could go for a defensive end on the first day.
Q: Was the Jared Allen trade a good idea before the draft? A: Absolutely. Allen made up his mind that he didn't want to be in Kansas City long-term, so the team got the best draft package available for the stud defense end. The Minnesota Vikings shipped their first-round pick and two third-round picks to the Chiefs. Now Kansas City can use its No. 5 overall pick on a defensive end prospect such as Chris Long or Vernon Gholston to replace Allen, then use the additional three picks acquired from Minnesota to fill other needs.
Q: With former Michigan offensive tackle Jake Long signed and sealed, where does the team go next? A: The Dolphins filled a major hole with their top pick, but when a team is coming off a 1-15 season, there are plenty of needs left to fill. Look for Miami to take a look next at inside linebacker and quarterback. Miami has the top pick in the second round, where signal-callers such as Brohm and Flacco could be available. Zach Thomas' departure to the Dallas Cowboys also leaves a large void at middle linebacker.
Q: With very few needs, what's the plan for New England? A: The Patriots have many options, including trading down for more picks. With the loss of Asante Samuel, a cornerback is the most likely pick in the first round. But if a player like defensive tackle Glenn Dorsey or running back Darren McFadden falls to No. 7, look out!
Q: Would the Jets consider McFadden, too? A: Yes. The Jets filled many of their needs in free agency, leaving the No. 6 overall pick to take the best available player. McFadden would be a great fit in New York, either as a starter or backup to Thomas Jones. Pairing the two together would be reminiscent of the recent and successful tandem of Curtis Martin and LaMont Jordan.
A: Would the Raiders consider McFadden, also? Q: Of course. It doesn't matter that Oakland has Jordan, Justin Fargas and Dominic Rhodes, owner Al Davis loves freakish athletes and McFadden fits the description. But Gholston also fits the description and is another possibility for the Raiders.
Q: Will the Steelers look at offensive linemen early? A: Here is a little-known fact: Pittsburgh hasn't drafted an offensive lineman in the first or second round since guard Kendall Simmons in 2002. The trend caught up to the Steelers as their pass protection was very shaky last season. If the Steelers want to keep their new $100 million-plus investment healthy this year, they need to get quarterback Ben Roethlisberger more protection.
Q: How much will linebacker Stephen Cooper's suspension affect their draft plans? A: Not much. Teams usually do not overreact to four-game suspensions by rewriting their entire draft plans. The Chargers have a young inside linebacker in Brandon Siler who could be capable of filling in short-term. But the team has enough talent to make up for the brief loss, and Cooper will be eligible to return to the active roster on Sept. 29.
Q: Will the Titans get Vince Young another receiver? A: With the No. 24 pick, Tennessee is in the ideal range to take a wide receiver in the first round this year. The position is deep but not top-heavy, so the Titans will have quality options available late in the first round. Possibilities include Michigan State's Devin Thomas and Texas' Limas Sweed, a former teammate of Young in college. James Walker covers the NFL for ESPN.com
2008 NFL DRAFT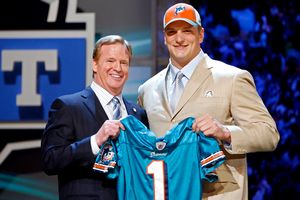 The 2008 draft lasted 14 hours, 26 minutes. Michigan offensive tackle Jake Long (above), selected by Miami, was the No. 1 overall pick. This year's Mr. Irrelevant -- the last pick in the draft -- is David Vobora, a linebacker from Idaho selected by St. Louis with the 252nd pick.


Round-by-round, team-by-team picks
•
Round:
1
|
2
|
3
|
4
|
5
|
6
|
7
•
AFC East:
Buffalo
|
Miami
|
N. England
|
NY Jets
•
AFC North:
Baltimore
|
Cinc.
|
Cleve.
|
Pitt.
•
AFC South:
Houston
|
Indy
|
Jax
|
Tennessee
•
AFC West:
Denver
|
K.C.
|
Oakland
|
San Diego
•
NFC East:
Dallas
|
NYG
|
Philadephia
|
Wash.
•
NFC North:
Chicago
|
Detroit
|
G.B.
|
Minnesota
•
NFC South:
Atlanta
|
Carolina
|
N.O.
|
Tampa
•
NFC West:
Arizona
|
S.F.
|
St. Louis
|
Seattle
Inside Radio City Music Hall
•
Panoramic views
Commentary/Features
•
Wickersham: Bears, Ravens take opposite turns
•
Williamson: Remembering Heath Benedict
•
Yasinskas: Falcons should be patient with Ryan
Day 2
•
Clayton: Six draft trends
•
Chadiha: 10 great marriages
•
Walker: NFC East draft review
•
Sando: NFC West draft review
•
Willamson: NFC North draft review
•
Yasinskas: NFC South draft review
•
Sando: AFC East draft review
•
Williamson: AFC West draft review
•
Walker: AFC North draft review
•
Yasinskas: AFC South draft review
Day 1
•
Clayton: Day 1 winners and losers
•
Williamson: Davis couldn't resist McFadden
•
Walker: Ravens had to work for Flacco
•
Sando: Long addresses Rams' D-line needs
•
Chadiha: AFC East hustle continues on draft day
•
Yasinskas: Ryan gives Falcons hope, identity
Mel Kiper
•
Kiper's team-by-team draft grades
•
Day 1 good, bad moves: Questionable Titans
News
•
2008 breaks previous trade record
•
Jets sign NCAA career rushing leader Woodhead
•
Lions pick Smith with first pick of second day
•
Miami, Long make it official
|
NFL Local
Video
•
Green: First-round pick instant analysis
•
Complete draft analysis
•
One-on-one with Jake Long
•
One-on-one with Chris Long
•
One-on-one with Matt Ryan
•
One-on-one with Darren McFadden
•
One-on-one with Glenn Dorsey
•
One-on-one with Vernon Gholston
•
Ed Werder on Cowboys
•
Norv Turner interview
•
Fantasy Spin
Audio
•
Jake Long
|
Chris Long
|
Matt Ryan
•
Darren McFadden
|
Vernon Gholston
•
Glenn Dorsey
|
Keith Rivers
|
Chris Williams
•
Lawrence Jackson
SportsNation
•
Vote:
Best first-round pick?
|
Potential busts?
•
Grades: How did your team fare?
Scouts Inc.
•
Analysis:
Round 1
|
2
|
3
|
4
|
5
|
6
|
7
Cheat Sheets
:
RB
|
DL
|
DB
|
LB
|
OL
|
REC
|
QB
•
McShay: Seven-round mock draft
•
Revisiting the 2005 draft
|
2005 re-draft