Commentary
In different ways, Ravens and Bears both roll the dice
The Bears and Ravens are similar in many ways, yet they took very different approaches in the draft. Which team did it right? Only time will tell, writes Seth Wickersham.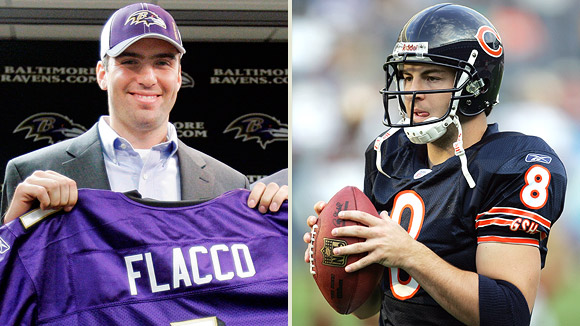 AP Photo, Getty ImagesThe Ravens have high hopes for first-round pick Joe Flacco. The Bears are hoping Rex Grossman, entering his sixth season, can finally deliver the goods in 2008.
The Bears and Ravens are basically in the same ship.
Both have Super Bowl-ready, if aging, defenses. Both had lousy 2007 seasons that were even more disappointing because they followed superb previous years. And both have huge questions at quarterback: Quarterback woes have cost each team stress, wins, fans, first-round picks, millions of dollars, locker-room chemistry and, in Baltimore's case, its coach's job.
At the end of the 2007 season, the word emanating from each team's locker room was the same: The window is closing. We need a quarterback. Now.
This striking similarity is what made each team's draft last weekend all the more interesting: Two teams in need of the same position, evaluating and seemingly competing for the same players, took completely opposite actions. The Ravens, after trying and failing to move up for Boston College's Matt Ryan, traded down in the first round -- fleecing the Jaguars for four picks in the process -- then traded back up to pick Delaware's Joe Flacco at No. 18.
The Bears, meanwhile, used exactly zero of their 12 picks on a quarterback. If both teams were single guys at a bar, the Ravens would have been wheeling from girl to girl, refusing to go home alone, while the Bears would have been hunkered down over a drink, rising only for the men's room.
Both moves are risky. Flacco, who is 6-foot-6 and 235 pounds with nimble feet and a slingshot for an arm, was a Division I-AA star against teams like West Chester, Monmouth and Northern Iowa. Nobody has any idea how playing against subpar talent will translate to the NFL. Still, new Ravens coach John Harbaugh isn't opposed to starting Flacco right away. And general manager Ozzie Newsome says, "I can honestly say we got one of the better players on our board."
Chicago has another year of answering questions about Rex Grossman, with an uneasy fan base itching for an answer. Most figure the Bears are entering a sixth year of deciding whether Grossman is their guy, but no -- by passing on every passer last weekend, the Bears have already decided.
"By our grades, I will agree that I didn't think it was a great quarterback class," said Bears GM Jerry Angelo. "I thought earlier on it was going to be pretty good, but the more we did research and evaluation, we just felt it was going to be very mediocre and I think you saw that on how the players were picked."
Two teams, two schools of thought. One plays aggressive while the other plays safe, with pros and cons on each side. Picking a quarterback early in the draft either makes a team or ruins it. There is rarely a middle ground. A coach and general manager put their jobs on the line by handing the franchise to a college kid, and if they can't find a player who's worth all that stress, it's easy to understand why they'd elect against it.
The pressure, the salary-cap hit and the sheer uncertainty of all the factors that make a successful quarterback -- consistent coaching, sufficient supporting talent, leadership ability, etc. -- can cripple a franchise. Just ask the Colts (Jeff George) … or the Browns (Tim Couch) … or even the Bears (Cade McNown and Grossman) and Ravens (Kyle Boller).
Heck, if the 49ers had known in 2005 that they'd be entering this season with their fourth offensive coordinator in Alex Smith's brief career, they probably wouldn't have picked him first overall. What seems brilliant on draft day is often ridiculed years later, and that's a big part of why the Bears decided against drafting a quarterback. Angelo and Lovie Smith would rather face questions now about why they gave Grossman one more year at $3 million than get drilled years later about why they gave $30 million to a quarterback of whom they were unsure.
But as the Ravens know, nothing gets a fan base jazzed like a first-round quarterback, with the inevitable comparisons to Peyton Manning and John Elway. The symbolic gesture of a new coach selecting a quarterback -- Ryan, Flacco and Chad Henne were all picked by new head coaches -- can't be underestimated. Despite some in Baltimore's war room quietly preferring Henne to Flacco, despite the fact that Flacco probably would have been available later in the first round and into the second, the Ravens won their post-draft press conference. The Bears didn't.
Nobody will know for years which plan was the right one. But these two teams don't have much in common, not anymore. One is turning the page, the other isn't.
Exactly what they wanted.
Seth Wickersham is a senior writer for ESPN The Magazine and a columnist for ESPN.com
ESPN The Magazine senior writer
Seth Wickersham joined ESPN The Magazine after graduating from the University of Missouri. Although he primarily covers the NFL, his assignments also have taken him to the Athens Olympics, the World Series, the NCAA tournament and the NHL and NBA playoffs.
2008 NFL DRAFT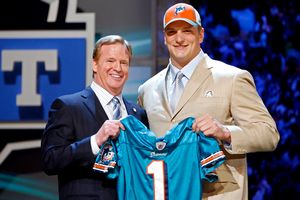 The 2008 draft lasted 14 hours, 26 minutes. Michigan offensive tackle Jake Long (above), selected by Miami, was the No. 1 overall pick. This year's Mr. Irrelevant -- the last pick in the draft -- is David Vobora, a linebacker from Idaho selected by St. Louis with the 252nd pick.


Round-by-round, team-by-team picks
•
Round:
1
|
2
|
3
|
4
|
5
|
6
|
7
•
AFC East:
Buffalo
|
Miami
|
N. England
|
NY Jets
•
AFC North:
Baltimore
|
Cinc.
|
Cleve.
|
Pitt.
•
AFC South:
Houston
|
Indy
|
Jax
|
Tennessee
•
AFC West:
Denver
|
K.C.
|
Oakland
|
San Diego
•
NFC East:
Dallas
|
NYG
|
Philadephia
|
Wash.
•
NFC North:
Chicago
|
Detroit
|
G.B.
|
Minnesota
•
NFC South:
Atlanta
|
Carolina
|
N.O.
|
Tampa
•
NFC West:
Arizona
|
S.F.
|
St. Louis
|
Seattle
Inside Radio City Music Hall
•
Panoramic views
Commentary/Features
•
Wickersham: Bears, Ravens take opposite turns
•
Williamson: Remembering Heath Benedict
•
Yasinskas: Falcons should be patient with Ryan
Day 2
•
Clayton: Six draft trends
•
Chadiha: 10 great marriages
•
Walker: NFC East draft review
•
Sando: NFC West draft review
•
Willamson: NFC North draft review
•
Yasinskas: NFC South draft review
•
Sando: AFC East draft review
•
Williamson: AFC West draft review
•
Walker: AFC North draft review
•
Yasinskas: AFC South draft review
Day 1
•
Clayton: Day 1 winners and losers
•
Williamson: Davis couldn't resist McFadden
•
Walker: Ravens had to work for Flacco
•
Sando: Long addresses Rams' D-line needs
•
Chadiha: AFC East hustle continues on draft day
•
Yasinskas: Ryan gives Falcons hope, identity
Mel Kiper
•
Kiper's team-by-team draft grades
•
Day 1 good, bad moves: Questionable Titans
News
•
2008 breaks previous trade record
•
Jets sign NCAA career rushing leader Woodhead
•
Lions pick Smith with first pick of second day
•
Miami, Long make it official
|
NFL Local
Video
•
Green: First-round pick instant analysis
•
Complete draft analysis
•
One-on-one with Jake Long
•
One-on-one with Chris Long
•
One-on-one with Matt Ryan
•
One-on-one with Darren McFadden
•
One-on-one with Glenn Dorsey
•
One-on-one with Vernon Gholston
•
Ed Werder on Cowboys
•
Norv Turner interview
•
Fantasy Spin
Audio
•
Jake Long
|
Chris Long
|
Matt Ryan
•
Darren McFadden
|
Vernon Gholston
•
Glenn Dorsey
|
Keith Rivers
|
Chris Williams
•
Lawrence Jackson
SportsNation
•
Vote:
Best first-round pick?
|
Potential busts?
•
Grades: How did your team fare?
Scouts Inc.
•
Analysis:
Round 1
|
2
|
3
|
4
|
5
|
6
|
7
Cheat Sheets
:
RB
|
DL
|
DB
|
LB
|
OL
|
REC
|
QB
•
McShay: Seven-round mock draft
•
Revisiting the 2005 draft
|
2005 re-draft
ESPN FAN SHOP