Commentary
On draft day, teams learn to expect the unexpected
In addition to intense preparation, the key to a successful draft is the ability to take advantage of unexpected twists, says former Broncos GM Ted Sundquist.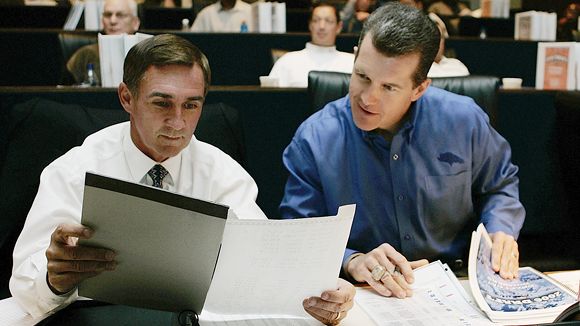 AP Photo/Ed AndrieskiWhen Ted Sundquist, right, and Broncos head coach Mike Shanahan saw an opportunity to land potential franchise quarterback Jay Cutler in 2006, they didn't pass it up.
Ted Sundquist is a veteran of 15 NFL draft war rooms. He was preparing for this weekend's draft when he was abruptly fired from his position as the
Denver Broncos
' general manager on March 12.
The following is Sundquist's version of how an NFL general manager approaches the draft -- from the beginning of the scouting process to the conversations with the team's eventual picks.
First-Round Hierarchy
A team's success can hinge on how well its draft picks pan out. Resident GM Floyd Reese breaks down the first round into three sections, and examines each one. Column

For Sundquist, the cornerstone of a successful draft is to be ready for any unexpected development. And on draft day, there always are unexpected twists, like in 2006, when the Broncos were presented with the opportunity to acquire Vanderbilt quarterback
Jay Cutler
. Denver secured its quarterback of the future by moving up five spots to No. 11 through an on-the-clock trade with the
St. Louis Rams
.
"The key is preparation," Sundquist said. "Any good draft occurs after everything is checked and balanced by the club. And that takes almost a full year. The draft doesn't just happen. It is a culmination of a year's worth of work."
Sundquist said teams rely on their college scouting departments to begin the scouting in earnest the previous fall, scouring practices and games. The draft preparation process kicks into high gear with college all-star games after the end of the NFL season. It then hits its peak with the NFL scouting combine in February and individual college pro day workouts, most of which are held in March. Teams take all that information into their draft meetings, which, in most cases, take up nearly the entire month of April.
"You get everyone involved in these meetings," Sundquist said. "You have the scouts, the team's key decision-makers and the assistant coaches. Every position coach gets a say in these meetings."
Sundquist said the Broncos' goal was to identify how each prospect would fit into the team's scheme.
"It is all about how that player could have success with your club," Sundquist said. "You can't worry about the draft boards around the league or where other clubs rate this player. It is all about how he fits into your club. You have to look at the big picture."
AFC West Draft Outlook
As he was making preparations for the No. 12 pick in this weekend's draft, Ted Sundquist knew the dynamics of the AFC West, a former power division, were changing. Oakland has the No. 4 pick and Kansas City has the No. 5 pick. "Two teams in the same division with top-5 picks is fairly unusual, especially in the AFC West," Sundquist said. "These are two teams with maximum leverage and they are two teams that will be able to draft impact players." With his unique perspective, Sundquist sizes up the first-round priorities for every AFC West team. Oakland, No. 4 pick: "Oakland took care of a lot of its needs in free agency. The Raiders have needs on both lines, but you got to remember in Oakland, Al Davis is making the call and taking account of that, you know he may be leaning toward [Arkansas running back] Darren McFadden. Al loves that speed. The running back may be difficult for the Raiders to pass up." Kansas City, No. 5 pick: "This is an interesting pick. What the Chiefs have had to do is to make a long-term evaluation of whether Brodie Croyle is their answer at quarterback. If not, they will have to hope [Boston College's] Matt Ryan is available and take a long, hard look at him. If Ryan is gone and so is [Michiga] left tackle] Jake Long, which he should be, the Chiefs may have to look at the defensive line and hope a Glenn Dorsey, Chris Long or Sedrick Ellis is available. One of those five players will be there and that's where the Chiefs may have to go." Denver, No. 12 pick: "The Broncos aren't used to picking so high, so it will be interesting to see where they go. There is need at defensive tackle there, but Dorsey and Ellis should be gone and there is a need at safety. But do you take a Kenny Phillips at No. 12? I'm not sure. They could go to the running back where a guy like Jonathan Stewart could be intriguing." San Diego, No. 27 pick: "You look at this roster and it is a pretty good football team. They are a little thin at safety and they could probably use another offensive tackle and maybe a young running back. But there are no great needs. With no picks in the second, third and fourth rounds, the priority there could be to trade out of the first round and try to get a couple of picks in the second round." -- Bill Williamson
This is the heart of the draft preparation process, Sundquist said. Scouts cross-check players, and Sundquist said Denver checked into every aspect of a player's life, talking to former coaches, trainers and even guidance counselors.
"You have to know everything about this guy you are considering giving millions of dollars to," Sundquist said. "You got to know his work ethic, his character. You got to know everything. You got to know what makes this person tick."
In the week prior to the draft, an organization hunkers down and finalizes plans. Sundquist said teams do browse through numerous mock drafts to help get other perspectives on where some players might go. As a team whittles down its potential choices for each round, trade scenarios are worked out and exploratory calls to other teams are made.
Although most of the work is done in advance, the Saturday of the draft is by far the most exciting non-game day of the year, Sundquist said.
In the Broncos' war room, according to Sundquist, there always was activity leading up to the team's first pick. Sundquist said he often reviewed game film of prospective picks and made last-minute character checks, just to reaffirm the Broncos' thoughts.
For Sundquist, the most exhilarating part of draft day was when the Broncos were put on the clock.
"That's when the blood is starting to flow," Sundquist said. "It's when the heart starts to pump harder."
Sundquist said he and Denver coach Mike Shanahan, who has the final say on draft picks, would finalize each choice early. But the process wouldn't end there, Sundquist added, revealing one of the more annoying secrets of the draft: Teams sit on their picks and wait to see whether a better opportunity presents itself.
The league cut down the first-round time limit from 15 minutes to 10 minutes this year. Still, Sundquist said, teams will continue to use the entire time allotted to allow for potential trades. Sundquist said most draft trades are made on the clock and most are initiated by teams trying to move up, not by teams trying to move down.
"It takes about two minutes to get your pick, and then you wait," Sundquist said. "What if there is a desperate team out there looking to trade up? You are always really excited about the guy you are drafting, but you never know what you may be offered. That's why the draft takes so long."
When the waiting is over, there are just a few more steps before a first-round pick is made. Sundquist said he always called the agent of the player Denver chose with two final questions.
"We'd ask the agent if his player was ready to play and if he was healthy, making sure there wasn't a last-minute, overnight, injury," Sundquist said. "That was important. You have to make sure you are getting what you expected."
Then Sundquist made a final call to the team's representatives at the draft in New York, informing them of the selected player's name so it could be written on a card and sent to the commissioner's podium.
Finally it would be time to call the player to inform him of where his new home would be. Sundquist always made sure he had five phone numbers to reach potential draft choices.
"This is the last step," Sundquist said. "You tell the player, 'You are a Denver Bronco.' From that point, all you hear is mumbled voices and a lot of hollering -- it's a satisfying call, ending a long process."
Still, there is no time to celebrate for the general manager. As soon as the first-round pick is made, it is back to the draft board, trying to figure out the next pick.
"It really never ends," Sundquist said.
Bill Williamson covers the NFL for ESPN.com.
ESPN Oakland Raiders reporter
Covered AFC West for five seasons for ESPN.com
Covered Broncos for Denver Post
Also covered Vikings, Packers, Seahawks
2008 NFL DRAFT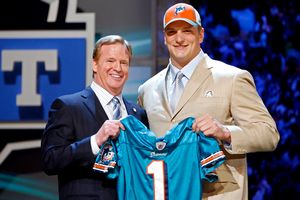 The 2008 draft lasted 14 hours, 26 minutes. Michigan offensive tackle Jake Long (above), selected by Miami, was the No. 1 overall pick. This year's Mr. Irrelevant -- the last pick in the draft -- is David Vobora, a linebacker from Idaho selected by St. Louis with the 252nd pick.


Round-by-round, team-by-team picks
•
Round:
1
|
2
|
3
|
4
|
5
|
6
|
7
•
AFC East:
Buffalo
|
Miami
|
N. England
|
NY Jets
•
AFC North:
Baltimore
|
Cinc.
|
Cleve.
|
Pitt.
•
AFC South:
Houston
|
Indy
|
Jax
|
Tennessee
•
AFC West:
Denver
|
K.C.
|
Oakland
|
San Diego
•
NFC East:
Dallas
|
NYG
|
Philadephia
|
Wash.
•
NFC North:
Chicago
|
Detroit
|
G.B.
|
Minnesota
•
NFC South:
Atlanta
|
Carolina
|
N.O.
|
Tampa
•
NFC West:
Arizona
|
S.F.
|
St. Louis
|
Seattle
Inside Radio City Music Hall
•
Panoramic views
Commentary/Features
•
Wickersham: Bears, Ravens take opposite turns
•
Williamson: Remembering Heath Benedict
•
Yasinskas: Falcons should be patient with Ryan
Day 2
•
Clayton: Six draft trends
•
Chadiha: 10 great marriages
•
Walker: NFC East draft review
•
Sando: NFC West draft review
•
Willamson: NFC North draft review
•
Yasinskas: NFC South draft review
•
Sando: AFC East draft review
•
Williamson: AFC West draft review
•
Walker: AFC North draft review
•
Yasinskas: AFC South draft review
Day 1
•
Clayton: Day 1 winners and losers
•
Williamson: Davis couldn't resist McFadden
•
Walker: Ravens had to work for Flacco
•
Sando: Long addresses Rams' D-line needs
•
Chadiha: AFC East hustle continues on draft day
•
Yasinskas: Ryan gives Falcons hope, identity
Mel Kiper
•
Kiper's team-by-team draft grades
•
Day 1 good, bad moves: Questionable Titans
News
•
2008 breaks previous trade record
•
Jets sign NCAA career rushing leader Woodhead
•
Lions pick Smith with first pick of second day
•
Miami, Long make it official
|
NFL Local
Video
•
Green: First-round pick instant analysis
•
Complete draft analysis
•
One-on-one with Jake Long
•
One-on-one with Chris Long
•
One-on-one with Matt Ryan
•
One-on-one with Darren McFadden
•
One-on-one with Glenn Dorsey
•
One-on-one with Vernon Gholston
•
Ed Werder on Cowboys
•
Norv Turner interview
•
Fantasy Spin
Audio
•
Jake Long
|
Chris Long
|
Matt Ryan
•
Darren McFadden
|
Vernon Gholston
•
Glenn Dorsey
|
Keith Rivers
|
Chris Williams
•
Lawrence Jackson
SportsNation
•
Vote:
Best first-round pick?
|
Potential busts?
•
Grades: How did your team fare?
Scouts Inc.
•
Analysis:
Round 1
|
2
|
3
|
4
|
5
|
6
|
7
Cheat Sheets
:
RB
|
DL
|
DB
|
LB
|
OL
|
REC
|
QB
•
McShay: Seven-round mock draft
•
Revisiting the 2005 draft
|
2005 re-draft
Nike Toddler Home Game Jersey Kansas City Chiefs Alex Smith #11 Shop »

MOST SENT STORIES ON ESPN.COM