Commentary
OL Long is Dolphins' best option with No. 1 pick
If the Dolphins keep the No. 1 pick, they would be wise to use it on Michigan OL Jake Long, writes Pat Yasinskas.
Originally Published:
February 22, 2008
By
Pat Yasinskas
| ESPN.com
INDIANAPOLIS -- In his own eyes, Michigan offensive tackle Jake Long is a skill player. He also takes pride in being a cheater.
That combination might be the reason most personnel evaluators view him as the top offensive lineman at the NFL scouting combine. The 6-foot-7 and 315-pounds Long was flagged for only two penalties during his college career. He had a false start against Northwestern last season and a holding penalty as a redshirt freshman. But that only means Long is a master at holding defensive linemen.
"Yeah, absolutely, I'll admit that I hold,'' Long said. "I get my hands inside and hide it that I'm holding. I try to hide it so the refs can't see it.''
That's where the skill comes in.
"I think it is a skill,'' Long said. "If you can get away with it and not get caught, it's absolutely a skill. I try to make sure I get my hands inside on every single play so if I do hold a little bit then the refs won't be able to see it.''
Long allowed only two sacks during his four seasons starting on Michigan's offensive line, playing his first two years at right tackle and his last two on the left. He was named Big Ten Offensive Lineman of the Year in 2006, beating out Penn State's Levi Brown and Wisconsin's Joe Thomas, both of whom were top-five picks in last year's draft. Long could have entered the draft a year ago, but decided he wanted one more year of seasoning at left tackle.
[+] Enlarge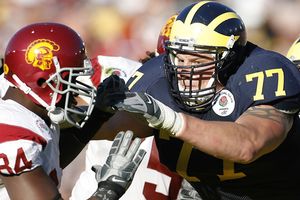 Greg Trott/WireImageJake Long (77), who has no apparent weaknesses, would help fix one of Miami's main problem areas.
So why are Boston College quarterback Matt Ryan, Virginia defensive end Chris Long (no relation) and Arkansas running back Darren McFadden commonly mentioned as the most likely players to be chosen with the first overall pick? It's because of their positions. Ryan plays a spot at which he touches the ball every play and McFadden's viewed as the kind of runner who can handle 25 carries a game. Chris Long might be the kind of pass-rusher who can disrupt a game.
But Ryan, McFadden and Chris Long aren't sure things. Chris Long might be one-dimensional (there are questions about his run defense) , Ryan's slow delivery and mobility could be cause for concern and McFadden hasn't shown much as far as blocking or receiving skills.
With Jake Long, there are no questions, and that's why the Miami Dolphins should take him with the top pick, assuming they hold onto that spot. Coming off a 1-15 season, the Dolphins could look to trade down, adding picks as they go through a major overhaul.
But, if you're a team with needs everywhere, why not take the one sure thing in the draft?
Long might not play a flashy position, but he's the safest pick.
Offensive tackle might be the easiest position to scout, and Long excelled in a strong conference for four years. Sure, offensive tackles can be busts, but for every Robert Gallery, there's an Orlando Pace, a Jonathan Ogden and a Tony Boselli.
Long's the kind of player the Dolphins can plug in right away and get a productive 10-year career from. He'd be their first solid left tackle since Richmond Webb, whose last season with the team was 2000, and he'd be a huge upgrade over last season, when Miami started Vernon Carey on the left side and L.J. Shelton on the right. With that duo, the Dolphins usually limited quarterbacks Trent Green, Cleo Lemon and John Beck to three-step drops and they still took a beating.
Shelton was released in one of the first moves Bill Parcells made after he took over Miami's front office. Carey can be serviceable on the right side, where he belongs. But that only works if the Dolphins get a franchise left tackle. New coach Tony Sparano made his name coaching offensive linemen and giving him Long would be a nice way to start his first draft.
It might take years for a quarterback to develop. The Dolphins already have a pass-rusher in Jason Taylor and a running back, if Ronnie Brown (or even Ricky Williams) can get healthy. Drafting Long might not excite Miami fans in April, but he can help the Dolphins immediately in September.
"You're guaranteed to have to pay so much money [to a No. 1 pick],'' said San Francisco general manager Scot McCloughan, who was part of the brain trust that used the first pick in 2006 on quarterback Alex Smith. "It's not just tough on the organization. It's tough on the kid as well. That's why it's so important to find the right guy. You're looking for a dang good football player. But you're also looking for an individual who can handle the pressure of being a high pick -- financial, from the media and from the fans outside.''
Long's shown he can handle pressure, even if he has to hold a little bit. The Dolphins should keep the pick and grab hold of Long.
Pat Yasinskas covers the NFL for ESPN.com.
ESPN Tampa Bay Buccaneers reporter
Previously covered NFC South for ESPN.com
Covered Panthers for The Charlotte Observer from 1999-2008
Began journalism career with The Tampa Tribune in 1990
SPONSORED HEADLINES
MORE NFL HEADLINES
MOST SENT STORIES ON ESPN.COM
2008 SCOUTING COMBINE

The annual NFL scouting combine ended Tuesday at the RCA Dome in Indianapolis. More than 330 prospects attended.
• Draft Central
• First-round order


Commentary/Features
•
Reese: Five things about scouting
•
Sando: Teams wary of high picks
•
Clayton: Combine wrap-up
•
Hashmarks blog
•
Reese: Five best talent evaluators
•
Clayton: Best ways to draft QBs
•
Chadiha: Gholston's ready for his closeup
•
Chadiha: CB could join 2 other Troy stars in NFL
•
Yasinskas: OL Long makes sense for Miami
•
Clayton: Deep left tackle pool
•
Yasinskas: Deaf player's pro aspirations
•
Sando: Combine superstars
•
Yasinskas: Workout warrior Mamula
•
Clayton: Pats, Colts among top talent evaluators
•
Sando: Combine questions (and answers)
•
Alipour: Helpful tips from Mario Williams
•
Reese: 10 great combine workouts
•
Reese: Five important intangibles
•
Kiper: Five players with something to prove

•
Research: Top combine performers since 2000
News
•
Vincent: No big HGH problem
Scouts Inc.
•
McShay combine buzz:
Day 6
|
5
|
4
|
3
|
2
|
1
•
Pos. rankings:
QB
|
FB
|
RB
|
WR
•
More:
TE
|
OL
|
DL
|
LB
|
DB
Video
•
McShay: Character concerns for McFadden?
•
Sando: Psychological tests
•
McShay: Stock rising, stock falling
•
Flacco and Woodson stand out among QBs
•
McShay: Breaking down McFadden
•
McShay: Speed sets WRs apart
•
Clayton: News and notes
•
Mosley: Relaxed times in Indianapolis
•
Yasinskas: No QB controversy in Washington
•
Chadiha: Catching up with front-office personnel
•
NFL hopeful's story of survival
•
Kiper: Five players to watch
•
Todd McShay's combine preview
•
Schlereth's top 5 teams at evaluating talent
•
Salisbury's top 5 teams at evaluating talent
•
LSU's Dorsey learning the drills
•
All access: Michigan OL Jake Long
•
QB Flacco trying to measure up
•
Proving ground for relative unknowns