Commentary
Rayfield Wright: Hall of Fame tackle, respected voice
A former seventh-round pick, Rayfield Wright became one of the best tackles in history. Now he's earning acclaim for another talent -- his skills as a motivational speaker, writes Matt Mosley.
Originally Published:
April 18, 2008
By
Matt Mosley
| ESPN.com
In 1967, Rayfield Wright was looking at football as his backup plan. The Cowboys were one of the first franchises to scout historically black colleges, and that's how the great Bob Hayes ended up coming to Dallas in 1965.
The Cowboys also had success identifying basketball players who could make the crossover to football. They went after a Kentucky basketball star named Pat Riley at one point, but he never made the transition. The Cincinnati Royals offered the 6-foot-7 Wright a chance to play professional basketball after his junior season at Fort Valley State, but he told them he couldn't leave early.
Wright, selected by the Cowboys in the seventh round of the 1967 draft as a tight end, would become one of the greatest offensive tackles ever to play in the league. Wright was inducted into the Hall of Fame in 2006, and his emotional speech is still being discussed.
[+] Enlarge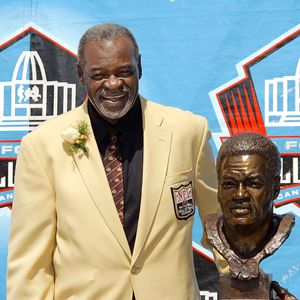 AP Photo/Mark DuncanRayfield Wright gave a moving speech at his Hall of Fame induction, and he's been in demand ever since.
After retiring in 1980, Wright spent several years in Arizona, where he was the state's director of NFL alumni. He moved back to the Dallas area five years ago, and purchased a house on five acres near Weatherford. He owns and operates a company called Rayfield Wright Sports and Nutrition, but he spends most of his time making speeches across the country and raising money for the Rayfield Wright Foundation. The foundation raises money for college scholarships. Just last week, Wright spoke at the Boy Scouts of America annual council at a hotel in Dallas. His 91-year-old Boy Scouts leader, David Walker, is the one who suggested that Wright speak at the meeting. "He was more than a scouts leader," Wright said. "He was a father figure for me when I really needed one." Wright has four children and three grandchildren. He estimates that he makes over 100 speeches a year, and his induction into the Hall of Fame only increased the demand. This spring, he'll deliver the commencement speech at Drake University. "No matter who I'm talking to, my message is designed to be inspirational and motivational," said Wright, who ranks No. 17 on ESPN.com's list of all-time draft steals. "I had a lot of people help me along the way, and I wouldn't feel right unless I was giving back." When he's not making speeches, Wright is working in his yard. "That's the one way I get away from everything," he said. "It's very seldom you hear a siren or anything. You see cardinals and blue jays during the days, and you hear them all night long. I like dealing with Mother Nature." Wright also works with the Make-A-Wish Foundation in his spare time. At 62, he's not interested in slowing down. "Right now, I'm trying to work on my golf game a little," he said. "I have some charity tournaments and I don't want to embarrass myself."
Matt Mosley covers the NFL for ESPN.com
RANKING NFL DRAFT STEALS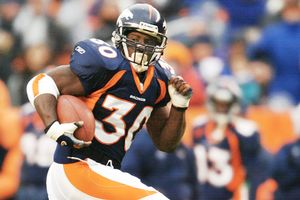 Terrell Davis was selected by the Broncos in the sixth round of the '95 draft with little to no expectations. He finished his career with four 1,000-yard seasons and two Super Bowls titles. Below are ESPN.com's top 50 NFL draft steals. In Part 1, ESPN.com ranked draft busts.

• Top 50 draft steals: 1-15 | 16-30 | 31-50
• Kiper: 10 guys who surprised me


• Williamson: Waiting was hard for Sharpe
• Walker: Byner use 'Fumble' as coaching tool
• Mosley: Wright a respected ex-player, voice
• Sando: Houston keeps football, life in perspective
• Zoom Gallery: Notable steals
• SportsNation: Rank the top 10 steals
• Hashmarks: Draft steals for the ages, pre-1967
• Watch: Marcellus Wiley analysis
•
Draft Central
FROM BRADY TO WESTBROOK
1.
Tom Brady, Patriots (2000)
2.
Joe Montana, 49ers (1979)
3.
Steve Largent, Oilers (1976)
4.
Shannon Sharpe, Broncos (1990)
5.
Ken Houston, Oilers (1967)
---
6.
Terrell, Davis, Broncos (1995)
7.
Andre Reed, Bills (1985)
8.
L.C. Greenwood, Steelers (1969)
9.
Charles Haley, 49ers (1986)
10.
Rodney Harrison, Chargers (1994)
---
11.
Charlie Joiner, Oilers (1969)
12.
Art Shell, Raiders (1968)
13.
Dan Fouts, Chargers (1973)
14.
Richard Dent, Bears (1983)
15.
Zach Thomas, Dolphins (1996)
---
16.
John Stallworth, Steelers (1974)
17.
Rayfield Wright, Cowboys (1992)
18.
Harry Carson, Giants (1976)
19.
Dwight Clark, 49ers (1979)
20.
Seth Joyner, Eagles (1986)
---
21.
Mark Clayton, Dolphins (1983)
22.
Mike Webster, Steelers (1974)
23.
Harold Carmichael, Eagles (1971)
24.
Earnest Byner, Browns (1984)
25.
John Taylor, 49ers (1986)
---
26.
Clyde Simmons, Eagles (1979)
27.
Hardy Nickerson, Steelers (1987)
28.
Matt Hasselbeck, Packers (1998)
29.
Jamal Anderson, Falcons (1994)
30.
Karl Mecklenburg, Broncos (1983)
---
31.
Bob Kuechenberg, Eagles (1969)
32.
Mark Schlereth, Redskins (1989)
33.
Hines Ward, Steelers (1998)
34.
Mark Bavaro, Giants (1985)
35.
Keenan McCardell, Redskins (1991)
---
36.
Trent Green, Chargers (1993)
37.
Greg Lloyd, Steelers (1987)
38.
Marc Bulger, Saints (2000)
39.
Tyrone Braxton, Broncos (1987)
40.
Ahman Green, Seahawks (1998)
---
41.
Larry Brown, Cowboys (1991)
42.
Brian Sipe, Browns (1972)
43.
La'Roi Glover, Raiders (1996)
44.
Jesse Sapolu, 49ers (1983)
45.
Leon Lett, Cowboys (1991)
---
46.
T.J. Houshmandzadeh, Bengals (2001)
47.
Troy Brown, Patriots (1993)
48.
Aaron Kampman, Packers (2002)
49.
Joe Horn, Chiefs (1996)
50.
Brian Westbrook, Eagles (2002)
---
RANKING NFL DRAFT BUSTS
In the first of a special two-part report on the draft, ESPN.com's ranked the top 50 draft busts.
•
Top 50 draft busts:
1-15
|
16-30
|
31-50
•
Kiper: 10 guys I can't believe failed

•
Walker: Shuler enjoying second stint in D.C.
•
Mosley: Leaf now at peace with NFL failure
•
Yasinskas: No room for football for Westbrook
•
Zoom Gallery: Notable busts
•
SportsNation: Rank the top 10 busts
•
Watch: Marcellus Wiley analysis
Nike Women's Away Game Jersey Dallas Cowboys Jason Witten #82 Shop »

MOST SENT STORIES ON ESPN.COM