Phillips couldn't outrun off-the-field troubles
From Ryan Leaf to Michael Westbrook,, ESPN.com ranks the top 50 draft busts.
Updated:
April 18, 2008, 12:19 PM ET
ESPN.com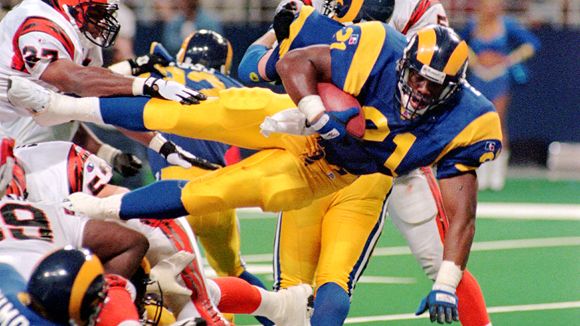 AP Photo/L.G. PattersonLawrence Phillips' off-field troubles overshadowed his on-field contributions. He rushed for 1,453 yards in four seasons.
Every year, players enter the NFL draft who are expected to be the next big thing. They're projected as top-10 picks; their scouting reports are flawless; and they are supposed to change the way their position is played.
But for every player who comes in, makes an immediate impact and becomes a perennial Pro Bowler, there are those who struggle to find their way and are out of the league in no time.
Here is ESPN.com's ranking of the top 50 busts in NFL draft history. These lists reflect players selected since the NFL and the old American Football League merged drafts in 1967.
---

1. QB Ryan Leaf (Washington State)
Drafted by: Chargers, first round, No. 2 overall, 1998
The Chargers gave up plenty to move up one spot to select Leaf, who many felt was a better prospect than Tennessee QB Peyton Manning. With a lifetime 4-17 record as a starter with the Chargers (4-14) and Cowboys (0-3), Leaf threw 14 TD passes and 36 interceptions and was sacked 65 times in 25 games in four NFL seasons. Meanwhile, Manning reportedly is doing well with the Colts.
•
Matt Mosley: Leaf at peace with his NFL failure
---

2. RB Lawrence Phillips (Nebraska)
Drafted by: Rams, first round, No. 6 overall, 1996
The former Cornhusker was extremely talented but was a controversial choice to begin with. He would flash his promise on occasion but simply couldn't run over trouble like he could potential tacklers.
---

3. QB Art Schlichter (Ohio State)
Drafted by: Colts, first round, No. 4 overall, 1982
The former Buckeyes star played in just 13 games, throwing three TD passes and 11 interceptions in parts of three seasons. But Schlichter's off-the-field gambling issues are what he is best known for. Just one year later (1983), the Colts were forced to use another first-round pick on a quarterback (QB John Elway), and that didn't turn out well for totally different reasons.
---

4. QB Heath Shuler (Tennessee)
Drafted by: Redskins, first round, No. 3 overall, 1994
Shuler started eight games as a rookie and certainly didn't look like an immediate bust, throwing 10 TDs and 11 interceptions. However, over the next three years with the Redskins and Saints, he would throw 21 interceptions to just five touchdown passes. He was out of the league by 1998.
•
James Walker: Shuler enjoys second stint in nation's capital
---

5. WR Charles Rogers (Michigan State)
Drafted by:
Lions, first round, No. 2 overall, 2003
Rogers put up monster numbers at Michigan State and was supposed to solve Detroit's issues at wide receiver. Instead, he became the first of four wide receivers chosen by the Lions in the first round of the draft, with only WR Roy Williams living up to his potential so far. The jury is still out on Calvin Johnson.
---

6. LB Keith McCants (Alabama)
Drafted by:
Buccaneers, first round, No. 4 overall, 1990
A terror during his college days with the Crimson Tide, McCants lasted six seasons in the NFL but never came close to making the impact many expected, totaling 13.5 sacks and an interception with the Buccaneers, Oilers and Cardinals.
---

7. WR Johnny "Lam" Jones (Texas)
Drafted by:
Jets, first round, No. 2 overall, 1980
Much more was expected from this speedster, who certainly could stretch the field but never became an elite receiver. In five lackluster seasons with the Jets, Jones caught just 138 passes for 2,322 yards and 13 touchdowns.
---

8. LB Mike Junkin (Duke)
Drafted by:
Browns, first round, No. 5 overall, 1987
When the Browns drafted Junkin, few would have thought he would have a less impressive career than older brother Trey, who retired from the NFL in 2002 after a 19-year career. Mike, on the other hand, lasted only three years in the league.
---

9. RB Bo Matthews (Colorado)
Drafted by:
Chargers, first round, No. 2 overall, 1974
What's wrong with this picture? In six seasons with the Bolts, Matthews ran for 1,372 yards and 11 touchdowns. In 1974, the Chargers picked up Don Woods after he was released by the Packers, and the former sixth-round draft choice rushed for 1,162 yards and seven TDs and was named offensive rookie of the year.
---

10. QB Jerry Tagge (Nebraska)
Drafted by:
Packers, first round, 11th overall, 1972
Although Tagge was a tremendous player with the Cornhuskers, his game never translated to the pros. In three seasons with Green Bay, he made appearances in 18 games, throwing just three TD passes and 17 interceptions.
---

11. QB Jim Druckenmiller (Virginia Tech)
Drafted by:
49ers, first round, No. 26 overall, 1997
During the 49ers' heyday, the organization was always excellent at looking at the big picture and keeping the team competitive. Although QB Steve Young was still a Pro Bowl player, he was no longer a young man, and the team looked to get its quarterback of the future. But the former Hokie simply couldn't play, starting one game when Young was injured and gone after two seasons.
---

12. QB Andre Ware (Houston)
Drafted by:
Lions, first round, No. 7 overall, 1990
After Ware put up huge numbers at Houston, the Lions made the mistake of thinking he could take his game to the NFL. In four NFL seasons, the 1989 Heisman Trophy winner made six starts, throwing five touchdowns and eight interceptions.
---

13. DE Reggie Rogers (Washington)
Drafted by:
Lions, first round, No. 7 overall, 1987
Of all the bad picks by the Lions, this might be the worst. Rogers lasted just two years with the team, playing in 11 games and recording just one sack. In 1988, Rogers was convicted of vehicular homicide after killing three teenagers while driving under the influence. He served 16 months in prison before returning to the NFL briefly with the Bills and Buccaneers in 1991 and 1992.
---

14. RB Joe Profit (Northeast Louisiana)
Drafted by:
Falcons, first round, No. 7 overall, 1971
In a little more than two seasons with Atlanta, there was little in the way of net returns from Profit, who ran for 197 yards and three touchdowns. He would finish his third season (and his career) in New Orleans with the Saints in 1973.
---

15. DE Huey Richardson (Florida)
Drafted by:
Steelers, first round, No. 15 overall, 1991
Chuck Noll's final first-round selection was expected to help the pass rush of the Steelers' 3-4 defense, but Richardson never panned out and, a year later, new coach Bill Cowher let him go before the start of the season.
Russell S. Baxter, Ryan McCrystal, Jon D. Kramer, Jon T. Stewart, Chris Fallica and Paul Kinney of ESPN Research contributed to this report.
SPONSORED HEADLINES
MORE NFL HEADLINES
MOST SENT STORIES ON ESPN.COM
RANKING NFL DRAFT BUSTS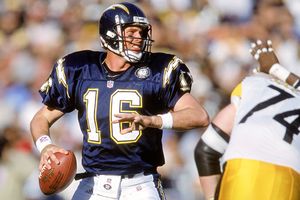 Ryan Leaf, selected No. 2 overall in the 1998 draft, never measured up to the hype. In the first of a special two-part Hot Read, ESPN.com's ranks the top 50 busts in NFL draft history. In Part 2, ESPN.com ranked the top 50 draft steals.

• Top 50 draft busts: 1-15 | 16-30 | 31-50
• Kiper: 10 guys I can't believe failed


• Walker: Shuler enjoying second stint in D.C.
• Mosley: Leaf now at peace with NFL failure
• Yasinskas: No room for football for Westbrook
• Zoom Gallery: Notable busts
• SportsNation: Rank the top 10 busts
• Watch: Marcellus Wiley analysis
•
Draft Central
FROM LEAF TO WESTBROOK
1.
Ryan Leaf, Chargers (1998)
2.
Lawrence Phillips, Rams (1996)
3.
Art Schlichter, Colts (1982)
4.
Heath Shuler, Redskins (1994)
5.
Charles Rogers, Lions (2003)
---
6.
Keith McCants, Buccaneers (1990)
7.
Johnny "Lam" Jones, Jets (1980)
8.
Mike Junkin, Browns (1987)
9.
Bo Matthews, Chargers (1974)
10.
Jerry Tagge, Packers (1972)
---
11.
Jim Drukenmiller, 49ers (1997)
12.
Andre Ware, Lions (1990)
13.
Reggie Rogers, Lions (1987)
14.
Joe Profit, Falcons (1971)
15.
Huey Richardson, Steelers (1991)
---
16.
Peter Warrick, Bengals (2000)
17.
David Klingler, Bengals (1992)
18.
Derek Brown, Giants (1992)
19.
Tim Couch, Browns (1999)
20.
Curtis Enis, Bears (1998)
---
21.
Steve Niehaus, Seahawks (1976)
22.
Blair Thomas, Jets (1990)
23.
Kelly Stouffer, Cardinals (1987)
24.
Tony Sacca, Cardinals (1992)
25.
Tim Worley, Steelers (1989)
---
26.
Jack Thompson, Bengals (1979)
27.
Walt Patulski, Bills (1972)
28.
Tony Mandarich, Packers (1989)
29.
Todd Blackledge, Chiefs (1983)
30.
Aaron Gibson, Lions (1999)
---
31.
Todd Marinovich, Raiders (1991)
32.
Andre Johnson, Redskins (1996)
33.
Leeland McElroy, Cardinals (1996)
34.
Craig Powell, Browns (1995)
35.
Mike Elkins, Chiefs (1999)
---
36.
Russell Erxleben, Saints (1979)
37.
Patrick Bates, Raiders (1993)
38.
Dan McGwire, Seahawks (1991)
39.
Trezelle Jenkins, Chiefs (1995)
40.
Cade McNown, Bears (1999)
---
41.
Reggie Rembert, Jets (1990)
42.
Akili Smith, Bengals (1999)
43.
Mike Mamula, Eagles (1995)
44.
Jonathan Sullivan, Saints (2003)
45.
John Clay, Raiders (1987)
---
46.
Alex Van Dyke, Jets (1996)
47.
Maurice Clarett, Broncos (2005)
48.
David LaFleur, Cowboys (1997)
49.
Jon Harris, Eagles (1997)
50.
Michael Westbrook, Redskins (1995)
---
RANKING DRAFT STEALS
In the second of a two-part special report on the draft, ESPN.com ranked the top 50 draft steals.
•
Top 50 draft steals:
1-15
|
16-30
|
31-50
•
Kiper: 10 guys who surprised me

•
Williamson: Waiting was hard for Sharpe
•
Walker: Byner use 'Fumble' as coaching tool
•
Mosley: Wright a respected ex-player, voice
•
Sando: Houston keeps football, life in perspective
•
Zoom Gallery: Notable steals
•
SportsNation: Rank the top 10 steals
•
Watch: Marcellus Wiley analysis